Of a morning, it's safe to say there are things you'd rather be doing than blowing hot air at your head to ill-effect. Blow dryers have become a necessity for a lot of us and our locks that need to be tamed. To be at least half presentable for work or school, hair drying can often take up many crucial, boring minutes that you often don't have. If you're sick of your hair dryer being a continual disappointment, there is a solution that may be able to make your mornings happy again. Learn about some of the best hair dryers on the market and how they compare in this hair dryer review by Canstar Blue.
What are some decent hair dryers on the market?
If you're tired of spending up to 20 minutes blow drying your hair only to be disappointed, then these following hair dryers may be for you:
| Model | Wattage | Price (RRP) |
| --- | --- | --- |
| Parlux 385 Powerlight | 2150w | $239.95 |
| VS Sassoon 3Q Brushless Digital | 2200w | $172.95 |
| Remington Silk Italia | 2300w | $99.95 |
| Wahl Compact Lite | 2000w | $99.95 |
Parlux 385 Powerlight
Feeling like you need to feel a bit luxe in the morning? Then splashing out on a premium Parlux may be up your alley. It includes many features to help you achieve better hair drying results sooner. The Parlux 385 features are:
Lightweight for easy manoeuvring. Your wrists can rest!
Ceramic and Ionic: Eliminates frizz and loose hair.
Powerful, long-lasting K Lamination motor. This motor claims to reduce power consumption but to still deliver great drying results.
The Parlux 385 is a high-end, high-performance blow dryer. You certainly feel its high-end nature in your hands just by looking at it! Is $240 a lot for something you'll likely spend only 10 minutes a day using? For a lot of people, yes, but we also suspect those who value their minutes and better-feeling hair in the morning may appreciate the Parlux.
VS Sassoon 3Q Brushless Digital
For gadget geeks and people who like technology crammed into their everyday appliances, the 3Q may be for you. At a touch over $170, the 3Q packs a lot of features in that brings the humble hair dryer into the 21st century. Its key impressive features are:
The brushless motor: VS Sassoon claims you can dry your hair 70 per cent faster with this new motor technology. The motor also generates fewer hot spots, which means your hair is dried more consistently.
Hair protection: Controlled airflow and Ionic technology are designed to reduce frizz, and protect your hair. Hair dryers can often make your hair brittle, so having this technology on board is handy.
Durability: VS Sassoon has rated this motor for 5000 hours of use. This salon-spec durability will mean that while you pay more for the initial price, you could be saving money in the long run by keeping with your hair dryer.
Overall the VS Sassoon 3Q is a feature-packed, technology-laden hair dryer. At over $170 it's a high-end model but we suspect those looking for a blow dryer that's feature packed could be impressed with the 3Q.
Remington Silk Italia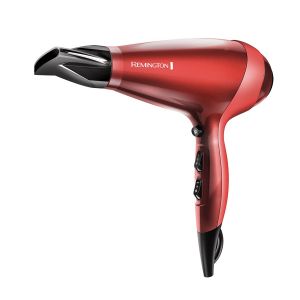 If you're feeling like you belong more in Venice, Italy than Moonee Ponds, Melbourne, then the Remington Silk Italia may be for you. It's a great mid-range hair dryer with a high-end motor. The Silk Italia crams a lot in for the price. Its key features are:
A salon-grade AC motor crafted in Italy. Like a Ferrari, this Italian Stallion packs a punch with 2200w.
Remington claims the motor lasts twice as long as regular motors.
Silk Ceramic technology provides even heat to your hair – no more patchy wetness dampening your day! Also has ceramic technology for frizz-free results.
Up to 140km/h airflow speed for quicker drying.
6-switch functions: 3 heat, 2 speed, plus a cool shot to lock in your look, and the turbo boost function for accelerated drying.
For less than $100, the Silk Italia with these features is great value for money. At a price that's palatable for many, we suspect that the Silk Italia may be a favourite among hair dryer buyers.
Wahl Compact Lite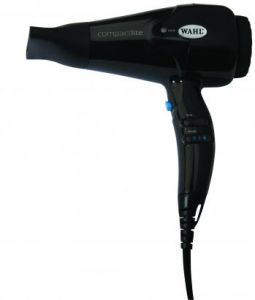 If you're feeling the bathroom bloat – that is, your drawers are stuffed full of appliances – then a hairdryer that's light on its feet may be for you. The Wahl Compact Light crams a lot of goodies into its slightly smaller frame. Its key features are:
A professional-grade AC motor with 2000w is enough to blow your hair to Timbuktu (maybe).
As with most top hair dryers, the Wahl has ionic technology to eliminate frizz and minimise damage that drying has on your hair.
A 'cold shot' button will help lock in your hairstyle of choice.
At this price range, it's hard to go past the Wahl Compact Lite. Coming in under $100, it packs a lot into its fairly smaller frame. Though technically still a 'full size' hair dryer, its compact frame makes it a viable choice to take travelling. Though, if you're in the market for a 12v hair dryer for light travelling, then we have you covered as well.
Dyson Supersonic Hair Dryer – Innovation Award Winner
What is a 12v hair dryer?
Simply put, a 12v hair dryer is one that operates on 12 volts, and is usually compact in build and cheap in price. Their compact design makes them popular for campers and grey nomads alike, due to the low power available at many campsites. Plus, a 12v hair dryer's portability is handy too.
You might be wondering why everyone doesn't just get a 12v hair dryer. While they are portable and light, the fact is that many of them lack in the power department. Many 12vs only pack around 100-200 watts, and aren't up to the task of any serious hair drying. If you're using your hair dryer every day then we suspect you'll be disappointed with a 12v's performance. A 12v hair dryer is great for portability and drying on-the-go, but they often sorely lack in the performance department. So, just to recap:
12v Hair Dryer Pros and Cons

Pros
Cons
Light and compact
Lacking power
Great for travellers and campers
Not so great for everyday home users
Often cheaper than a full-size hair dryer
Can be expensive for the power you get from them
However, if you're already in the loop as to what a 12v hair dryer is, then we suspect you'll be pretty keen on purchasing one. If you're hitting the open road or dreaming about a weekend getaway, but don't want your hair to go wild, then a compact model hair dryer may be able to at least rein in your mane. Here are some popular models of 12v hair dryers:
| Model | Specs and Features | Price (RRP) |
| --- | --- | --- |
| Award RV Warehouse 12v | Foldable and plugs into a lighter socket | $29.95 |
| Whitworth 12v | 220 watts, 2-speed, fold-up design, plug into a lighter socket | $28.60 |
What hair dryer is best for me?
After comparing these hair dryers, you may be allured by their impressive names, features and prices but nailing one that's best for you can be another issue entirely. Overall there are a few things you need to consider before rushing to the shops to buy the latest and greatest hair dryer. It might seem like a trivial matter, but hair drying – as these dryers have shown – can be a serious business with a serious price tag to match. You'll need to ask yourself:
What is my price range? Buying a hair dryer that costs many hundreds of dollars is great until you realise you're bald and work from home.
How often do I use a hair dryer? If every morning and possibly night, then you'll want a hardy performer.
How thick or long is my hair? This determines the power and features needed to blow dry your hair in a timely fashion, and this leads into the next question:
Is time a luxury in the morning? If so, then spending that bit extra to save 10 minutes or so may be very worthwhile for you. If you've got thick and long hair, spending extra on a more powerful model may also save you a headache and stress in the morning.
Do I travel a lot, and could a 12v hair dryer be adequate for me on the road?
There is no 'one size fits all' approach to buying a hair dryer. Everyone's hair is different, and so are our drying needs. If you're a heavy user of the hair dryer with thick, long hair then we suspect you'll want to spend that bit extra to ensure quality. Assessing your own needs is the most sure-fire way to find the best hair dryer for you.