There are many and varied ways to deliver washing detergent to your washing machine. You could use a liquid capsule, laundry liquid, washing powder, sachet, powder tablet … and cross reference all those with the sheer volume of brands in the marketplace and it's an almost endless choice!
One method of laundry detergent delivery is firmly in the sights of both Australian ACCC and international regulators, with regulators warning that liquid laundry detergent capsules or 'laundry pods' can be a toxic temptation for some small children.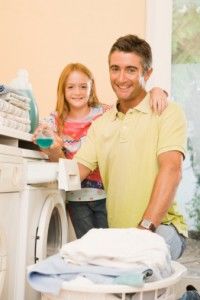 "Laundry capsules are small and often colourful, making them attractive to young children. Yet the damage they can cause may be shocking," said ACCC Deputy Chair Delia Rickard. "The product has only been widely available in the market recently and its risks are not necessarily well known. This is why regulators worldwide have identified it as a priority emerging issue and joined together to share information to help parents protect their young children."
According to the European Commission – project leader for the OECD Global Awareness-raising Campaign on Laundry Detergent Capsules  – there are approximately 16,000 reported cases of children accidentally being exposed to chemicals contained in the laundry capsules/packets each year. That's almost one child every half hour throughout the year and it represents a significant danger, potentially causing severe irritation or chemical burns to the skin, eyes or gastro intestinal tract, eye damage, severe distress, coughing and vomiting, internal bleeding, respiratory difficulty, lethargy or drowsiness.
Specific to Australia, data from Australian poisons call centres between April 2011 to February 2015 show 318 reported cases of exposure, with a record number in 2012 (108). Some cases were referred immediately to hospital while a number of others with acute symptoms (such as vomiting and diarrhoea) were advised to present if symptoms persisted.
What if your child has burst a liquid laundry detergent capsule?
If your child has managed to put a laundry detergent capsule in their mouth, the ACCC advises that you should:
Rinse the child's mouth and face thoroughly.
Do not induce vomiting.
If a child has capsule liquid close to eyes or on hands, rinse carefully with plenty of water.
Call a doctor, a Poison Control Centre or go to the medical emergency department.
And of course, prevention is even better than cure. Similarly to medication, keep laundry capsules stored up high, out of reach and ensure that they are always kept contained, not loose and potentially accessible. You can find out more on the ACCC's campaign page here.