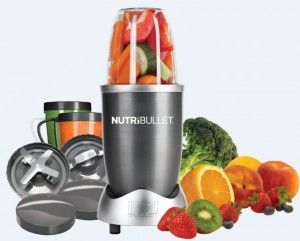 Blenders have seemingly never been so popular in Australia and so this year we decided to ask those who have recently purchased one to rate them across a range of customer satisfaction criteria.
Several brands stood out for offering great performance and consistency, but it was Nutribullet – yes, the one from the TV – which ultimately claimed our Most Satisfied Customers Award for blenders. So we caught up with a Nutribullet representative to discuss the product's phenomenal success in Australia, and around the world.
Q) What's the secret to Nutribullet's success in Australia? What is it about Nutribullet that appeals so successfully to consumers?
Success in Australia has mirrored the success of the brand in the US and Europe. The product has captured the attention of many celebrities in the US and UK – sportsmen and women, supermodels and of course, Kate and Wills! Australians have also caught on to the health benefits of drinking NutriBlasts.
Q) Our survey respondents told us that the performance of their blender (speed and quality) was their biggest driver of satisfaction. Nutribullet scored a five-star rating in this area. Do you agree that performance is the most important factor?
Performance is a definitely the most important factor. There are a lot of NutriBullet 'wannabes' on the market that do not perform nutrient extraction, they either juice or blend the ingredients. The NutriBlend comes complete with a user guide and recipe book which gets consumers off to a good start in understanding the concept and making their delicious and nutritious NutriBlasts.
Q) Three out of five our survey respondents said they bought their blender as part of a healthier lifestyle change. And for the majority of them, their blender helped them achieve their goals. What does your research tell you about why people buy Nutribullet?
We all know how difficult it is to try a new healthy eating regime. NutriBullet definitely helps people achieve their goals of changing to a healthier lifestyle. Many of our NutriBullet fans actually use it daily as it's so easy to produce great tasting, nutritious NutriBlasts.
Q) One in five survey respondents told us they decided to buy their blender after seeing a TV commercial. How important has TV advertising been to the success of Nutribullet in Australia?
NutriBullet is only available through our DRTV channel. Our consumers see the TV commercial and ring the 1800 number to purchase their NutriBullet. NutriBullet is not available for sale online or in retail in Australia. TV advertising is critical to the success of all of our brands. We build brands such as NutriBullet and Shark through the DRTV model.