Whether you're renovating your kitchen or moved into a new place with no allocated spot for an oven, a freestanding option might be the way to go. A freestanding oven can match any kitchen and is boasted for cooking performance, as well as more room inside the oven compartment. So, if you love cooking a huge roast on a Sunday – or just have lots of people to cook for – read on for our review of freestanding ovens.
What is a freestanding oven?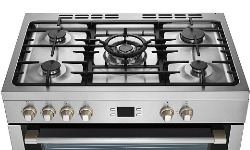 A freestanding oven – also known as an upright oven – is designed with the hotplates on top and the oven underneath. Freestanding ovens are available in electric, gas and dual fuel systems, although these are less common. If you don't have a cupboard to mount an oven in, a freestanding oven can be placed straight on the kitchen floor.
Why buy a freestanding oven?
Typically, freestanding ovens are less expensive to purchase and install than built-in ovens. You don't need to worry about finding all the right dimensions as it can easily fit into a space and only requires an electrician to wire it into the kitchen. It provides flexibility of movement and thus, is also easier to repair or replace. It can suit a more traditional look and there are also retro style freestanding ovens available than can act as the standout feature of the kitchen.
However, the appearance of a freestanding oven won't be as seamless as a built-in oven. By having gaps in-between the oven and the benchtop, it can become more difficult to clean when food or other items fall in between the gaps – no matter how well it fits into its designated space. Another drawback is that most freestanding ovens don't offer a combination of gas and electric cooktop/ovens, so your cooktop and oven will both be either gas or electric. There are some brands that do provide a mix of the two, but these appliances are harder to find and generally more expensive.
How much do freestanding ovens cost?
Cookers are typically referred to by size, in particular the width of the appliance. The following table acts as a guide for average prices:
| | |
| --- | --- |
| Oven Width | Price |
| 50cm – 60cm | >$700 |
| 70cm – 90cm | >$2,000 |
| 100cm – 150cm | >$5,000 |
General guide only
Who Sells Freestanding Ovens?
Smeg Freestanding Ovens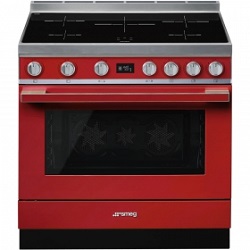 Smeg is an Italian appliance manufacturer with style. It aims to keep up with the latest trends including the black and vintage oven trends. It offers both gas and electric freestanding ovens, with some coming in a retro colour scheme. Expect a variety of sizes including 90cm, 120cm, 110cm and 150cm, as well as different types of hobs – gas, induction and ceramic. The Smeg pyrolytic varieties are also boasted for 90-minute auto-cleaning times.
The Smeg 90cm Portofino Pyrolytic Freestanding Cooker Coral Red (CPF9IPR) provides a 126L capacity, 16 total functions and five shelf heights. It's equipped with thermoseal technology, claimed to maintain "perfect" atmospheric balance in the cavity. The induction hob features five cooking zones. It's designed with an eclipse high visibility black glass with a number of colours to pick from – white, coral red, black, burnt orange, olive green, white and sunshine yellow. However, expect to pay close to $9,000 for this advanced model. For a more traditional stainless steel design, the Smeg FS9606XSN 90cm Freestanding Dual Fuel Oven/Stove comes with seven programs as well as five cooking zones and has a retail price tag of $2,590.
Bosch Freestanding Ovens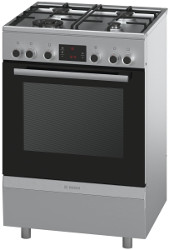 German manufacturing giant Bosch also offers various types of ovens, including freestanding dual fuel, electric and induction cookers. Bosch is one of the few brands that gives consumers the option between gas for both the oven and cooktop, or a combination of both gas and electricity. Its induction cookers are said to be more economical than traditional cooktops, while its gas cookers are claimed to provide faster cooking compared with electric cooktops. The freestanding option allows you to choose where to position the oven.
There are currently three ranges – Serie 4, 6 and 8 – and within each series you'll find both 60cm and 90cm-wide ovens. Expect stainless steel designs with prices starting from $2,399 for smaller sizes, and maxing out at $4,499 for the models with self-cleaning technology. The Bosch HSB738357A Freestanding Dual Fuel Oven/Stove in Serie 6 is a family-sized oven with a 112L oven cavity, costing $3,699 (RRP). It features eight cooking programs, including 'Eco', which is claimed to use less energy if there is only a small amount of food being cooked inside. This Bosch model is equipped with a dual wok burner, which uses up to 14 MJ/h. It also has a continuous cast-iron pan support with rubber feet for extra stability.
Westinghouse Freestanding Ovens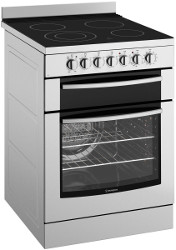 A subsidiary of Electrolux, Westinghouse offers 54cm, 60cm and 90cm-wide freestanding ovens. The large variety of freestanding ovens includes all types – gas ovens with hobs, electric ovens with gas, coil or solid hobs and dual fuel. Most of the range is claimed to be designed with 'acid-resistant' enamel, without any nooks or joints that trap grease in to help save time and elbow grease. The Westinghouse 90cm WFEP915SB model features two pyrolytic functions.
In the price category of $1,500 to $2,000, expect specially formed shelf supports and fully sealed oven cavities. Both the WLE547WA 54cm and the WFE647SA 60cm Freestanding Electric Ovens feature 80L capacities, with flat ceramic hobs, separate electric grills and 4-zone ceramic glass. The Westinghouse 54cm freestanding oven is also designed with a digital programmable timer and oven controls far from the reach of children, while the 60cm model has a sleek stainless steel design and two-hour mechanical timer.
Should I buy a freestanding oven?
If you're looking for large cooking capacity without needing to fit the appliance around any cabinetry, a freestanding oven with a cooktop may be an option for you. There are also smaller sized ovens available such as the 60cm models to suit households that don't require additional cooking space.
The oven volume, in particular, is a key aspect to consider. Not all freestanding ovens on the outside are equal in size on the inside. Furthermore, the internal height is also an important measurement to look at. Depending on what you're using the oven for, you may like to consider how much you would be able to place on each shelf, especially if you expect to be catering for a large family or event.
For further guidance on which oven brands are highly-rated in Australia, check out our customer ratings via the link below: