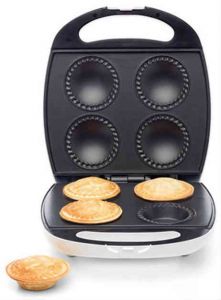 Kmart enthusiasts can rejoice – the discount retailer's famous pie maker is set to make a triumphant return this spring!
Boasted for creating pies, pizzas, pancakes and even Nutella-fiilled doughnuts in just minutes, Kmart's $29 pie maker sent social media into a frenzy earlier this year as stocks quickly sold out across the country.
The now famous pie maker, which boasts its own Facebook page with over 16,000 members, was designed to create a traditional pie. But with simple alterations, the appliance can cater to recipes ranging from breakfast, lunch and dinner.
Instead of using pastry and mince in the shells of the pie maker, some users have shared ways to create tasty treats by using bread, eggs, flour, pancake mixture and even muffin batter to create both sweet and savoury dishes.
The machine's versatility, along with its appealing price tag, has delighted many users, but left others who missed out disappointed.
"When your 3 Kmart's in the area are sold out of pie makers and they don't know when the next delivery is — why?!" one person asked the Kmart Pie Maker Recipes Facebook page.
"The pie maker continues to be sold out," another added. "Kmart have even removed it from their website now!"
A spokesperson later told news.com.au: "Due to popular demand the Kmart pie maker is currently sold out.
"Deliveries of stock will arrive in store across the next six weeks with a larger shipment due in September. We thank our customers for their patience."
#Kmart has cult status amongst #socialmedia users. The latest craze is the #Nutella doughnut, courtesy of the store's budget pie maker. Looks amazing. Just saying… https://t.co/tYWT54uigN pic.twitter.com/jo3IT0gWDJ

— Alex Merton-McCann (@Cybermum_AU) June 7, 2018
Kmart also sells waffle makers!
While you might not be able to get your hands on a Kmart pie maker for a while, the department chain does sell a waffle maker for the same price.
The small appliance is boasted to create "crisp and scrumptious" waffles with 1200W of power. Designed with non-stick cooking plates, and a cool to touch handle, the Kmart waffle iron also has a rotary feature to spread batter evenly for a top-notch waffle.
In addition, you'll find a ready indicator light to ensure ideal results, with an adjustable temperature controller.
However, like its pie makers, Kmart says stocks are limited – so get in quick!