In an Australia first, LG has released a combination washing machine and clothes dryer featuring a bonus mini washer mounted underneath. The LG TWINWash is a space and time efficient solution for those of us with regular small loads of things such as whites, delicates, or gym clothes – as well as for those who don't want to take up precious space with both a washing machine and dryer.
It's difficult to justify buying two separate washing machines, but it can be pretty inconvenient to run sequential loads just to keep the whites and colours separate, or to run a delicate cycle for your woollen jumper. It can also add to the clutter when you've got a small space and need to choose between adding a big clunky dryer or having to dance around wobbly fold-out clothes lines all over the place every time you do the laundry.
The LG TWINWash uses the brand's Inverter Direct Drive Motor, which has fewer moving parts than the traditional belt and pulley system and thus, according to LG, is quieter and more durable.
The high-end appliance doesn't cut corners on any of the features that make it look slick and work at the top of its game. This all comes at a price, with a retail tag of $3,999.
Basic tech specs
The biggest things you'll need to consider before buying a new washing machine are capacity, energy and water use, and warranty.
Capacity
The main washer is at the highest drum size you can find in a domestic washing machine at 16kg – in fact that's broaching into the lower range of commercial washing machine sizes. For a comparison, 1kg of laundry is usually about five shirts, or one shirt and a pair of jeans, or two bath towels. Bigger items need more capacity – a single doona needs a minimum 6kg washing machine, up through to at least 9kg for a king doona. This means that an individual person could go weeks between wash loads using the TWINWash. More realistically, this can reduce the workload for a large, busy family.
The mini washer has a capacity of 2.5kg, which is a good size for special laundry needs – most people don't have piles of whites or delicates to wash. It's also handy for clothes that need frequent washing, such as gym clothes or the kids' school uniforms.
While the dryer is built into the same drum as the main washer, it doesn't have the same capacity – drying clothes requires more space for air to circulate between items to dry out properly. The dryer capacity is 9kg, with the drum including a handy marker to indicate where you can fill up to for drying. In practice, this could mean splitting a full wash load to dry in two loads, or hanging some items up and drying the rest.
Energy and water
Both energy and water ratings are good for the TWINWash price point but not quite the very best for both the drying and washing functions. Energy and water ratings above these for separate washing machines and dryers are, however, pretty uncommon.
Energy rating: 4 star (wash), 2.5 star (dry)
WELS water rating: 4 star
Energy consumption is about 621kWh per 365 uses, while the dryer chews up 373kWh per 365 uses. Water consumption is on average 164L per wash, and 16L for drying.
Warranty
LG promises a two year warranty on parts and labour, plus an extra eight years parts warranty on the Inverter Direct Drive Motor.
Design & external features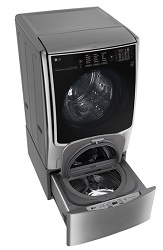 The LG TWINWash comes with all of the exterior characteristics you would expect from a high-end appliance:
Anti-fingerprint stainless steel finish
Electronic touch button controls
Digital display
Door lock
Child lock
While it's a larger than usual appliance, it's designed with the average home in mind so that it can fit into most standard washing machine spaces. At 700mm wide, it's no wider than the standard washing machine, so widthways will have no trouble fitting into pre-fitted laundry spaces. The difference appears in height and depth – at 835mm deep, it's going to stick out a bit compared to the standard 500-700mm depth. Likewise with height, if you've got a laundry space built under a counter, the TWINWash probably won't work – the 1340mm height is well above the standard 800-1100mm height.
Fortunately it's not so common to have laundry spaces with such a height restriction, as many homes have a dryer that stacks on top of their washer so laundries are generally built to accommodate. Even if your home has a counter in the way, it may not be too tricky to have it removed. The door diameter is 403mm.
Given the number of functions built into one device, the TWINWash is a dense beast at 105kg for the main unit and 48.7kg for the mini washer. At least the two units can be separated – the mini washer is designed as a pedestal that the main unit sits upon.
Wash cycles & dry options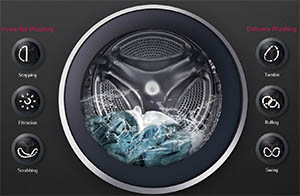 LG washers use what the brand describes as '6 motion technology' – a set of six washing motions based on hand washing techniques, which each cycle option optimises in different combinations for the best wash result.
In the TWINWash main unit, we're presented with a staggeringly long list of specialised wash programs – fifteen in total, plus fourteen additional controls.
Cotton
Baby care
Speed wash + dry
Bedding care
Speed wash
Sports wear
Single shirt dry
Duvet
Rinse + spin
Wool
Hygiene
Cold wash
Allergy care
Refresh
Downloaded
Additional controls:
Steam
TurboClean
Remote start
Time delay
Add item
Turbo dry
Air dry
Time dry
Soak
Pre wash
Intensive
Light
Tub clean
Child lock
The mini washer is optimised for the kinds of wash loads it's likely to be use for, with six wash programs and two additional controls:
Light soil
Active wear
Speed wash
Rinse & spin
Hand wash
Tub clean
Additional controls:
The washer also includes load sensing and auto balance technologies, as well as drum lights and water recirculation. Spin speed is variable, with a choice of no spin, or 400/600/800/1000 RPM (revolutions per minute). Temperature is also variable so you can provide best care for your clothes and linen, with a choice of cold, 30⁰C, 40⁰C, 60⁰C and 95⁰C. The mini washer uses only cold water.
Some of these features aren't necessarily self-explanatory, so let's go into a little further detail.
TrueSteam uses steam particles to fluff up fabric fibres and get in deeper to lift out stains.
TurboClean uses short bursts of water spray from nozzles at the front of drum during the rinse cycle to help make wash time quicker.
Add item allows you to pause the machine at any point before the final rinse cycle, in case you find that errant sock that didn't make it into the washing basket.
Smart networking features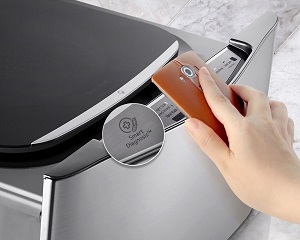 You've probably already noticed that an increasing number of appliances at the higher end of things are including Wi-Fi-enabled features which work with your smartphone. LG's SmartThinQ function allows you to remotely start and monitor your wash or dry progress, track energy consumption, diagnose and troubleshoot any issues, and download additional wash cycles. For those of us who frequently chuck a load on and forget about it, you can set the TWINWash to send a message to your phone when the wash or dry cycle is finished.
The Smart Diagnosis feature means that with your smartphone and the LG Smart Laundry app the washing machine can self-diagnose, potentially saving you time and money on calling out a repairs specialist.
Should I buy the LG TWINWash washer dryer combo?
Washing machines should be considered an investment, as they're a purchase for long term use with the average lifespan being about ten years. As such, it's important to be mindful of your future needs as well as how to get the best wash for your buck.
The LG TWINWash is high end, with a lot of features – but it's also very expensive and very big. It may not be great for a single or couple, as your laundry needs are unlikely to necessitate it when you could save a lot of money and sacrifice little convenience by going for something smaller.
If space and efficiency is a greater concern to you than money, then the TWINWash is certainly worth considering for adding a dryer and a small-load washer to your laundry.