The decision to try to lose weight is almost always accompanied by the word 'diet' but according to the Dietitians Association of Australia (DAA), we need to forget about dieting and start remembering our kitchens.
This is based on a study which showed that those who regularly cooked dinner at home (regularly meaning six or seven times a week) had a much healthier daily intake than those who rarely or never cooked at home (one or no times a week). The former group was found to take in around 570kJ, 5g fat, and 15g sugar less than the latter group, which is significant considering the recommended daily intakes of those are 8700kJ, 40-85g, and 25-37.5g respectively.
"Cooking at home more often is a great way to improve your nutrition and keep your weight in check," said DAA Spokesperson, Professor Clare Collins.
"You can think of it as a healthy weight weapon – it's vitally important in the fight against obesity and conditions like heart disease, diabetes and high blood pressure."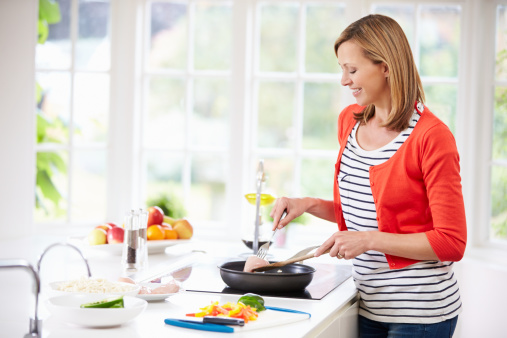 "At home, you have control over what goes into your meal and how much you serve up. So with a little know-how, you'll be more likely to cook and eat healthier foods, like vegetables – and in the right amounts," said Professor Collins.
However, when you're cooking a meal for yourself, remember that homemade doesn't necessarily guarantee healthy. There are at least a few mistakes to avoid when cooking so that all your hard work isn't wasted.
Cook-snacking – The meal you're cooking might be healthy on its own, but if you're constantly snacking while cooking it, you'll most likely nullify the benefits of your nice healthy meal. If you do need to snack though, make sure it's something healthy like low-calorie raw veggies (capsicum and cucumber are good choices).
Too many "tasty toppings" – Yes, we all love cheese, and adding bacon to a meal is a guaranteed crowd-pleaser. A dollop of sour cream and an extra splash of salad dressing – all these tasty toppings and additions can really stack on the kilojoules. Go low fat, low sugar or just avoid the optional extras altogether.
Overloading the plate – Yes, you can have too much of a good thing. Even the healthiest meal can add to your waistline if you eat too much of it. The National Health and Medical Research Council outlines comprehensive dietary guidelines for Australians – check it out.
Too many courses – That tasty entrée or creamy dessert is great as an occasional treat – but they shouldn't be seen as a compulsory part of your evening routine.
If you can begin cooking dinner for yourself a few more nights a week, you've already made an important step towards better health. Try and see how many days a week works for you, and then work on increasing that number; the results will be nothing but positive, and cooking your own meals can save you money as well as be better for your health.