If you're inclined to rush in the morning, like many of us, you might be looking for a breakfast solution. It's easy to be swept up in a blender frenzy, however, and there's some truly shonky blenders out there. This is where the Magic Bullet series comes in to save the day.
You have probably dismissed the Magic Bullet as infomercial television fodder, but there's a lot more to the brand than just that. The Magic Bullet is a serious player in the blender game. You can also now buy them in-store instead of on TV. Don't overlook Magic Bullet when it comes to buying a blender. Here's a rundown of how they stack up in this review by Canstar Blue.
What does the Magic Bullet do?
In all this 'Bullet' blender madness, it's easy to mistake one brand with the next. Here's an overview of exactly what Magic Bullet produce:
| Model | Price |
| --- | --- |
| Magic Bullet | $78 |
Source: Appliances Online
There's one model – that's it. No 'Pro' version no 'Lite' version – just the Magic Bullet. Can the Magic Bullet be the silver bullet blender in your kitchen?
At $78, we're interested to see whether the brand's claims of 'does any job in ten seconds or less' ring true or not. Let's have a look at the Magic Bullet's features:
250 watt motor
11 piece kit with a range of cups and a 10 second recipe book
One-year warranty
For the price, the Magic Bullet significantly lags behind in the power stakes compared to some other blenders. That's not to say it's underpowered, but can it do any job in 10 seconds or less as the brand claims? Besides making purees and smoothies, it's hard to imagine it would be able to hack up tough veggies for a soup in less than 10 seconds, but it will likely see you through most standard chores.
The included accessories are a huge bonus, though. With a range of cups and mugs, anything you make can easily be transported to sip on throughout the day. This is perfect for those people who are making a smoothie to go, or for those who like making large batches for storing in the fridge or freezer.
The Magic Bullet sits at the slower end of the blender power range, but it's propped up by its included kit that makes portable smoothies an easy possibility. For $78, it's not a huge investment, but it's worth shopping around to see what can get you the best bang for buck. If you're still in doubt and have some time to kill, get a load of this infomercial – its happy smiling faces might sway you over:
Magic Bullet vs NutriBullet: How do they compare?
In the blender world, brands can easily be confused because of their similar names, like 'Nutri' this and 'Bullet' that. But don't worry, we've actually been there ourselves. So, we're passing on the knowledge we've gained to compare the Magic Bullet with its closest NutriBullet rival, the original and arguably still the best NutriBullet. The fact is, both are made by the same company – Homeland Housewares – but the Magic Bullet has become a sort of rogue red-headed stepchild. Let's put their specs side by side:
| Specs | NutriBullet | Magic Bullet |
| --- | --- | --- |
| Power of motor | 600w | 250w |
| Size of kit | 12 pieces | 11 pieces |
| Warranty | One-year | One-year |
| Price | $135 | $78 |
Both blenders seem neck and neck as far as auxiliary benefits are concerned. However, the most obvious difference is the price and this seems to be directly related to the motor size. Overall, if you have some tougher blending assignments, then the NutriBullet will be more likely to handle it well. Moreover, if price is your concern and you only need to use a blender for smoothies, then the Magic Bullet is a cost effective alternative. The Magic Bullet won't hack those tough veggies so easily though. It's like getting a three cylinder car to tow a boat uphill – it might get there eventually, but it's not ideal.
Oh, it's also worth pointing out that the latest NutriBullet model to hit the shelves, the NutriBullet Rx, is almost twice as powerful as its younger blender brother. Put that in your blender and blend it…
The Magic Bullet and NutriBullet are pretty much the same except for price and power; the bottom line is you'll need to assess your own needs before deciding on which blender to purchase. If you've decided on the Magic Bullet then we have some further food of thought for you.
Is the Magic Bullet worth the money?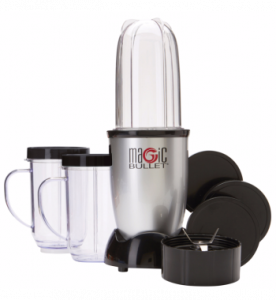 Beyond all the media hype and infomercials, the real question of whether the Magic Bullet is worth the money or not remains. At $78, it's certainly not expensive, but it's not among the cheapest either. All things considered, if you are looking at the ratio of power to price, then there are better examples out there. However, the extensive kit and inclusion of a recipe book helps Magic Bullet add some chutzpah into the box. Before you part with your dollars, you'll have to consider if the price of the Magic Bullet and its modest power level is suitable for your blending needs.