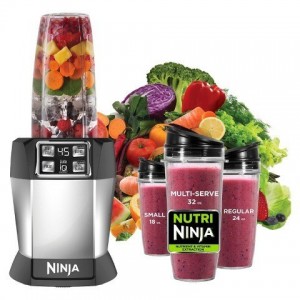 The battle of the blenders is heating up and a new Canstar Blue survey has revealed the brand Aussies love most.
Ninja has chopped its way through the competitive crowd to claim our Most Satisfied Customers Award for 2015. Best known for its Nutri Ninja "nutrient and vitamin extraction" blenders, it beat eight other big name brands to take the title, including NutriBullet, Philips and Breville.
The Nutri Ninja range was only launched in Australia in November 2014 and the brand has immediately taken NutriBullet's crown from last year.
The ratings are based on a survey of 1,000 Aussie consumers who have bought a blender in the last two years, with Ninja receiving five-star ratings for performance, consistency, ease of use, ease of cleaning, warranty and other functions, as well as overall customer satisfaction.
The blender rev-olution
The ratings come at a time when blenders are becoming increasingly easier to buy, with JB Hi-Fi and Dick Smith the latest to join the ranks of retail giants in stocking small appliances, in a move which should increase price competition. NutriBullet, previously only available through 'direct response television' advertising, is also now available to buy in stores following a change of distributor. And Ninja was launched into retail stores first, in November 2014.
The survey found that one in three Australian adults have purchased a new blender in the last two years and spent an average of $151. However, 45% of consumers said they don't use their blender as much as they first thought they would.
"Amid all the talk of nutrient and vitamin extraction, consumers are being drawn to blenders by the prospect of daily smoothies and healthier lifestyles," said Head of Canstar Blue, Megan Doyle. "For many people, their blender is the inspiration they needed to improve their diet with more fruits and vegetables. But for others, their blender is gathering dust in a kitchen cupboard.
"Of the 1,014 adults we surveyed, 27% were convinced to buy their blender after seeing an infomercial, while 26% admitted it was an impulse purchase. However, many consumers are getting the most out of their blenders and those who own a Ninja are the most satisfied with their purchase."
Power struggle
The survey found blender performance to be the greatest driver of overall customer satisfaction, with value for money a distant third.
Performance (i.e. speed and quality): 31%
Ease of use (i.e. to understand and operate): 19%
Value for money: 15%
Other functions (e.g. ice crushing): 13%
Consistency (i.e. produces the same results every time): 8%
Warranty and service: 8%
Ease of cleaning: 6%
"Ninja and NutriBullet have changed the way people think about blenders, making them the latest must-have, trendy kitchen appliances. Now consumers are demanding more and more power and innovation, leaving the manufacturers competing over watts and revs," said Mrs Doyle. "Some traditional kitchen appliance brands like Philips and Breville are reacting to this change in kitchen culture and are now producing some extremely powerful blenders.
"But blenders also need to deliver consistent results, be easy to operate and clean, and come at a reasonable price. If they don't deliver the convenience they promise, people will simply give up, and those dreams of daily smoothies and healthier lifestyles will disappear into the kitchen cupboard with their blender."
Our findings featured in a special Channel 7 report on blenders, which you can watch below…

Other articles you might like
Aussies favour cheap approach to weight loss shakes