Review of Kogan Portable Heaters
Founded in 2006, Kogan has become one of Australia's biggest and most popular online retailers, offering a wide range of products from TVs and mobile phone plans to office supplies and heaters. Kogan produces three types of electric portable heaters – oil column, ceramic and panel heaters. Can they keep you warm during the winter months without breaking the bank? Sure. But how do they really stack up? Find out with Canstar Blue's review.
Kogan Column Heater
Oil column heaters are still a popular choice among consumers to help stay warm and snug during the chilly winter months. They are often on caster wheels for easy moveability, and use electricity to run, not oil. The silicone oil flows around the heating columns and is used as a heat reservoir. These heaters generally have lower surface temperatures, making them quite suitable for children's rooms. However, oil column heaters can also be susceptible to being a potential fire risk if materials are placed over them.
Kogan Premium 2400W Oil Heater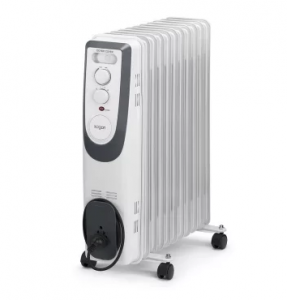 This model has three power settings – low, medium and high – with 11 heating fins. It features an adjustable thermostat, aiming to help you save energy by heating the room to your required temperature and a power cord 153cm in length. As a safety feature, the Kogan Premium 2400W Oil Heater has a tip over safety switch to automatically turn the heater off if it happens to fall over. For easy moveability around the home, the model is also designed with caster wheels, cord storage and a slim profile. Its maximum heating power is 2400W.
Dimensions: 490 x 250 x 610mm
Warranty: 1 year
SRP: $59
Kogan Panel Heaters
Panel heaters are Kogan's largest range with a variety of sizes on offer. Panel heaters are also known as 'convection' heaters as they use air convection currents that circulate throughout the body of the appliance and disperse hot air upwards. These types of portable heaters are ideal for living spaces including lounge rooms and dining areas.
Kogan 2000W Black Glass Electric Panel Heater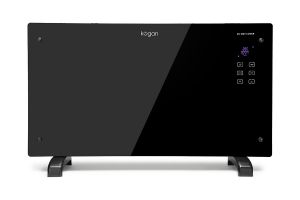 With a sleek and stylish design, Kogan's 2000W Black Glass Portable Electric Panel Heater aims to blend with the décor of your home. It can be wall mounted for neat, space-saving use, or left freestanding for moving around the home as desired. It is a water-resistance unit according to IP24 standard, with overheating protection and a frost-free function. The Kogan 2000W panel heater is designed with a special 'X' shaped heating element, which Kogan claims heats up quickly and efficiently. There are two heat settings – 1000W and 2000W – and a thermostat control to adjust and maintain your desired room temperature.
As an option, the Kogan 2000W Portable Electric Panel Heater also comes in a white tempered glass casing. Both models feature a remote control and are designed with a touchpad control panel as well as a LCD display.
Dimensions: 820 x 80 x 470mm
Warranty: 1 year
SRP: $149
For a smaller living space, Kogan also offers this model with a 1500W heating power option. It has the same features but with two heat settings of 750W and 1500W. Additionally, the Kogan 1500W Black Glass Portable Electric Panel Heater has an adjustable on/off timer control function, allowing you to program its use time for up 24 hours.
Kogan 2000W Portable Electric Panel Heater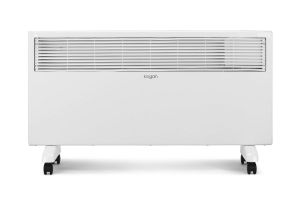 The Kogan 2000W Portable Electric Panel Heater is also available as a freestanding or wall mountable model. It comes with castor wheels, durable metal housing and a tip over switch for safety. It has two heat settings – 1000W and 2000W – as well as a thermostat control and the 'X' shaped aluminium heating element. It claims to be water resistant with overheat protection. In the kit it comes with two stands and assembly accessories.
Dimensions: 942 x 540 x 262mm
Warranty: 1 year
SRP: $59
If you're after something smaller, Kogan does offer this model in a 1000W and 1500W heating power option, which reduces its physical size.
Kogan 2000W Premium Portable Electric Panel Heater
This model features all the functionality of the above Kogan 2000W Portable Electric Panel model with the addition of a LED display and a weekly programing control to adjust for your weekday and weekend routines. So instead of a manual temperature control at the top like on the previous model, you will find a digital display.
Dimensions: 940 x 800 x 439mm
Warranty: 1 year
SRP: $59
Kogan Ceramic Heater
Ceramic heaters tend to be the most compact of the lot and potentially more energy efficient. Ceramic heaters use fire-resistant ceramic plates and have a fan-assisted airflow, which moves the heat around the room. Kogan has one option in this range – the Kogan 200W Ceramic Fan Heater – ideal for bathrooms and underneath desks.
Kogan 2000W Ceramic Fan Heater
If you're on a budget, you may like to keep Kogan's 2000W Ceramic Heater in mind. It has a compact design to allow you to easily move it from home to office and room to room, weighing only 1.46kg. It has three heat settings – fan, low, and high – with a maximum power of 2000W. It is designed with a variable thermostat and a safety tip over switch.
Dimensions: 228 x 175 x 135mm
SRP: $29
Are Kogan portable heaters a good move?
With the range starting from just $29, Kogan's portable heaters are certainly very affordable compared to other brands, keeping up to the company's claim of offering "market-smashing" prices. Simplicity is the aim of the game with Kogan and if you're looking for a fuss-free heating solution, it's hard to gone wrong.
Depending on the size of the area you want to heat, you can decide on the model according to its wattage. As there are no energy star ratings available for portable heaters, it may be wise to keep in mind that the higher the wattage, the more power the appliance will need to use to operate itself. You may like to have a read of online reviews and ratings – such as ours – before making a decision, to help gain an insight into how other Aussies found using Kogan portable heaters and a number of other brands in the market.
Portable Heaters Reviews & Ratings
About the author of this page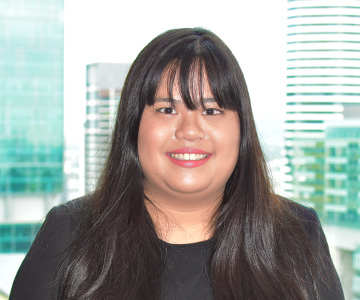 This report was written by Canstar Blue's home & lifestyle journalist, Tahnee-Jae Lopez-Vito. She's an expert on household appliances, grooming products and all things grocery and shopping. In addition to translating our expert research into consumer-friendly ratings reports, Tahnee spends her time helping consumers make better-informed purchase decisions on all manner of consumer goods and services, while highlighting the best deals and anything you need to be aware of.
What do customers think about Kogan Portable Heaters?
In 2019, Australian customers gave Kogan 3 out of 5 stars for overall customer satisfaction for portable heaters.
Kogan Portable Heaters
Canstar Blue
Award:
Overall Satisfaction