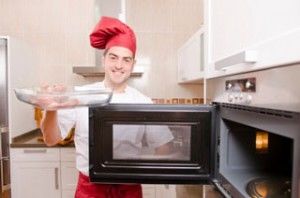 Australians seem to be particularly reliant on their microwaves, with more than two in three (69%) claiming they don't think they could live without them in their kitchen.
This is based on a sample of 706 people surveyed in late 2013 who had purchased a microwave in the previous two years.
Gen Y and Gen X are most reliant on this wondrous invention, with 71% and 72% respectively saying they couldn't live without it. Baby Boomers appear to be slightly less reliant, with only 65% saying they couldn't live without theirs.
Given that three in four respondents use their microwave every day, the best question is: What is everyone using this appliance for? Seventy eight percent of respondents reheat food more often than cooking in their microwave, while a little more than half (51%) eat a microwave cooked meal more than once a week. In fact, 38% say they always use their microwave rather than their oven.
To complement their microwave usage, Australians are taking the appropriate steps to ensure their machine remains clean. Close to two thirds of respondents clean their microwave at least once a week, and 81% cover their food before heating it – avoiding annoying mess and splatters.
In 2013, LG was awarded the Canstar Blue Most Satisfied Customers Award – Microwaves, achieving five stars across all rated criteria, including value for money, heating power, appearance and design, functionality, ease of use and warranty. Breville, Panasonic, Samsung and Sharp were also rated. Make sure you read our full results if you are considering purchasing a new microwave.