The NutriBullet brand has been little short of a revelation. It ignited a blender-frenzy that sent shoppers bananas, heading out to the stores to buy one (or over the phone) before driving to the supermarket to buy some… bananas. Plus other fruits & veggies. In fact, kale and other green things owe quite a lot to the NutriBullet for bringing them back into fashion.
NutriBullet made other manufacturers of blenders and food processors stand up and take notice. You could say it left them in the spin! NutriBullet has proved great for competition, with a number of other brands fighting back in a bid to win that place on your kitchen bench. Technology and performance has been improving across the broad, and consumers now enjoy a very high-quality blender market.
But NutriBullet hasn't stopped there. It has returned in new and improved formats, and the latest addition to the family is the NutriBullet Rx – a more dynamic, versatile and powerful version of its predecessors, which promises to deliver a new frontier in nutrition extraction. But how does it stack up? First, let's watch the video…
What does the NutriBullet Rx do?
Many people are excited by the Rx's enhanced nutrition extraction capabilities – and rightly so. It will blend the good stuff out of your grub like never before, but you do still need to put relatively good food in there in the first place, if your aim is a healthier lifestyle – blending a pizza isn't going to leave you any better off (deliciously bad recipes are available).
The Rx's basic capabilities are increased in comparison to its older counterparts because of several features. These features might make the Rx much more useable for a wider variety of applications. These features include:
A 1700 watt motor
Hands-free SMART technology
A new heating cycle for making hot soups and sauces
While these features may not 'WOW' you enough to warrant upgrading from the model you bought a couple of years ago, we'll explain a little further about how they could be handy.

The 1700 watt motor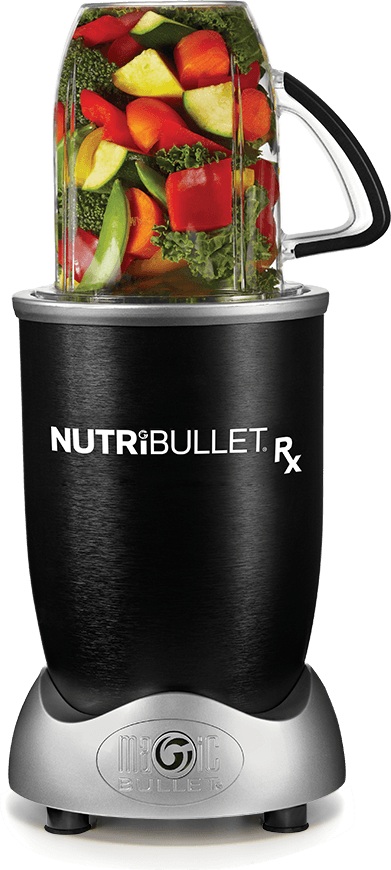 The 1700 watt motor is a significant step-up from standard NutriBullet models which feature 600 and 900 watt motors respectively. Just pause for a moment and take that in – 1700 watts is basically double the power, which means liquefying anything in your pantry or fridge is now made a lot easier. The first automobile ever made – the Benz Patent Motorwagen – made 600 watts in 1886. By using the NutriBullet Rx, you are blending food with over twice the power people were driving cars with 130 years ago. That's something to the tell the kids about!
The super-quick 1700 watt motor also means your morning could potentially be a lot less stressful when trying to make breakfast. With a larger motor also comes a larger cup to blend all your interesting concoctions in. This potentially makes larger batches of blend-worthy foods more manageable.
The 1700 watt motor opens up a lot of blending opportunities, which is sure to produce some interesting new NutriBullet recipes in the future. Needless to say, you don't need to worry about lumps in your morning smoothie…
The hands-free SMART technology
This new technology takes away a lot of the guesswork around whether you've blended your superfoods for the right amount of time or not. As we mentioned, no one likes lumps or chunks.
The SMART system enables the Rx to autonomously operate at the optimal speed and time to break down the food in the cup. Imagine the smoothest smoothie you can possibly think of. The NutriBullet Rx is aiming high.
The new heat cycle
The new heat cycle puts another spin onto the convenience of the Rx. The Rx features a seven-minute heating cycle that turns your freshly blended vegies and spices into a rich and tasty hot soup. You no longer have to bounce around the kitchen using lots of dishes, the Rx is somewhat of a 'one stop shop' if all you want is a hot soup for dinner. The NutriBullet of old was pretty faultless, but if you really needed to pick holes, you could point to its inability to heat food. That's history now.
The new heat cycle also makes the goal of homemade dips and sauces more attainable – perfect for parties and showing off. If you're still in the winter blues, the Rx's heat cycle could warm your soul.
What's in the box?
The NutriBullet Rx comes in a 10 piece kit. These pieces are:
High Torque Power Base. This is where the SMART technology is housed and where the buttons are located to activate soup mode and the heat cycle.
Extractor Blade. Where would we be without the blade to blend in the first place? The blade is twist-on and fits all Rx vessels.
SouperBlast Pitcher. This comes with a vented two-piece lid. This allows heat and pressure to escape while making soup. The pitcher spout allows for mess-free pouring.
30oz (890ml) Short Cup. This is for those smaller concoctions. It comes with a 'comfort lip' that makes drinking straight from the cup ideal.
45oz (1330ml) Oversized Cup. This is great for making large batches, either for multiple days or multiple people.
Re-Sealable Lid. This twists on to both of the cups, which locks in the freshness while storing or transporting. This could enable you to take your smoothie to work.
Pitcher Lid. This keeps the contents inside the pitcher fresh, which could give you juice for days.
Blade Remover. This allows you to safely remove the extractor blade and either service it or clean it.
NutriBullet Rx User Guide. No point buying one if you do not know how to use it, right?
Nature's Prescription Recipe Book. This will get you started with some interesting NutriBullet recipe ideas. It features over 150 pages of information to get you started on the nutrition kick.
Is the NutriBullet Rx worth the money?
The NutriBullet Rx is a powerful machine – nearly doubly as powerful as the next model down. It's also double the price. While the Rx has a RRP of $400, you might be able to get it for much less. At the time of writing, The Good Guys prices the Rx at $289, while the 900W model is $149. You'll have to weigh up in your own mind whether or not double the blending power is really worth double the money.
Whether people truly need that power on a daily basis is another issue. While we can't peer into the kitchen of every household in Australia, we can assume that families regularly using a blender might enjoy the benefits of a more powerful motor, capable of putting food on the dinner table even more quickly, and with better results. On the other hand, if you are the sort of people who rarely uses their existing NutriBullet, we suspect you may be content without the Rx.
However, the Rx caters towards a niche market of people who we believe would enjoy the upgrade immensely. This applies to busy folks who crave an easy smoothie experience on the go, and soup lovers tempted by the heat cycle technology… or for those who entertain a lot and like to make their own dips.
Overall, if you're a first-time NutriBullet buyer, then we suspect you may just want to go straight for the top model if the price isn't too prohibitive. Who doesn't want the best, right? Though, if you've already got a NutriBullet, you'll have to assess your own blending needs before taking the plunge and upgrading.