According to at least one market research house the answer is "yes", with US-based Research and Markets adding Residential Robotic Vacuum Cleaners to its list of research reports from 2014 onwards. For the record, their expectation is that the market will experience double-digit growth in the near term, driven by time-poor households taking advantage of automatic cleaning options.
With Australian Bureau of Statistics figures indicating that men do almost three hours and women do a little more than five hours of unpaid work each day, a robotic vacuum cleaner could be a good option for Aussies short on time. Certainly our neighbours over the ditch seem to think so, with Canstar Blue's most recent survey finding that 12% of New Zealand respondents had bought an automatic cleaner/robotic vacuum to replace their more "old fashioned" model.
No doubt Australians will follow suit – perhaps leaving them more time to take the dog for a walk…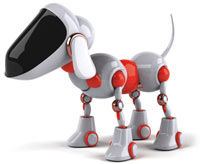 Interested in a robot vacuum cleaner, but not sure if it's right for your circumstances? Our guide may put your fears to rest.