Samsung has shown off some new trendy designs for its QLED TVs that could make an appearance in Australian homes.
Samsung Electronics teamed up with leading design and architectural magazine Dezeen in a competition to find the next graphic imagery for its QLED TV's 'Ambient Mode'.
The competition saw entries from all over the globe, being open to designers and creative types worldwide. Shortlisted entrants were invited to the final round of the competition at IFA in Berlin, with the grand prize winner announced on Friday (August 31).
Ambient Mode is the innovative feature of Samsung's 2018 QLED TVs that is aimed to transform the traditional black display of the 'off' screen into a "dynamic, animated interior design feature".
Ambient Mode is claimed to mimic the appearance of the wall it sits on, while also displaying chosen imagery or information, such as the time or weather.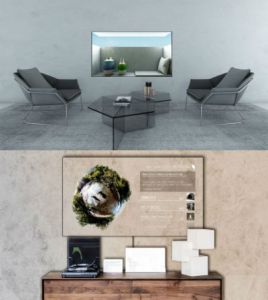 The judging panel included designer Neville Brody, Serif TV designer Erwan Bourollec, and the Head of Samsung's Corporate Design Centre, Dontae Lee. All were in search of designs that fit Ambient Mode's mission to echo its environment and blend seamlessly into the "aesthetic" of user's homes.
"We weren't looking for a design that was going to dominate or be too overpowering," said Mr Brody. "The most important feature for us was whether or not the design could really make any environment warm and relaxing, just like Ambient Mode has been designed to do."
The competition elicited a diverse and exciting range of creative responses to Ambient Mode, Samsung said.
"The great thing about all the designs is the potential they all had to be completely customisable," Mr Brody added. "From the objects or animals involved to the background design, all had the potential to be as personal to users as possible."
Choosing a winner was not an easy task, but it was Swift Creative's design that "offered a level of detail you could get involved in, but at the same time stayed there as a very natural part of the environment," explained Mr Brody.
The judging panel believed that with these new designs, Samsung TV's will offer users even more options to personalise and enhance not just their screens, but their living spaces too.
"Samsung TVs today are truly beautiful," stated Mr Brody. "They are moving the display screen away from being just a piece of technology and towards something that fits more seamlessly into people's lives. It is a tremendous opportunity for creatives and consumers alike."
Winning Design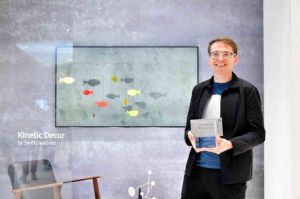 UK-based Swift Creative, the team behind winning design 'Kinetic Decor', was inspired by the family connotation of the mobile design as well as their Scandinavian background.
"Our design taps into the fundamental Scandinavian pleasures associated with everyday living and the simple comfort of relaxing at home with friends, using technology to support, not intrude on, this experience," said Matthew Cockeril.
Its 'mobile' concept relies on light cues and motion sensors to determine the activity of the chosen objects or animals (completely customisable) on screen.
Considering the challenges involved in designing for the Ambient Mode, the Swift Creative team noted that "treading the fine line between representing something physical and something digital – key to the Ambient Mode offering – required careful thought and conceptualisation".