Buying a fridge isn't just about how big it is anymore. Back in the day you'd open the door to the fridge at the appliance shop and go "Yeah that's good", or you might take along a tape measure to see what will fit the fridge space at your place. Nowadays, however, it's more about what's on the inside, with 'Smart Fridges' the order of the day. And in the days of having technology at our fingertips, it's perhaps no surprise that Samsung has released the next generation of its Family Hub.
What is the Samsung Family Hub Fridge?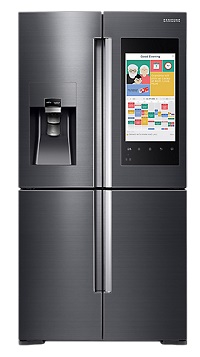 If you've ever wanted to listen to some tunes while cooking or hanging out in the kitchen, the Samsung 'Family Hub' refrigerator could be the new fridge for you. Amongst its various exciting fridge features, it has integrated apps accessible through its 21 inch screen built-in to one of the doors. It's a French door fridge, of course.
The Family Hub's doors have an ice dispenser on one side, and that massive 21 inch screen on the other door to do all manner of things including:
Built-in-cameras: allow you to monitor fridge stocks. Every time the fridge door closes, a photo of what's inside is taken. These pics are accessible by a smartphone so you will always know what's in the fridge. Mindblowing! And very helpful when you go shopping.
Connect with family: let your fridge truly become the 'hub' of your home. Like a town crier, you can leave notes and reminders for your loved ones using the integrated screen and stay communicative in this busy day and age.
Calendar, clock and weather: a screen wouldn't be complete without these three. Stay fully in-tune with the world around you.
Voice-activated controls: allows you to add items to your shopping list, play music and search the internet.
Apps: a Samsung-powered device wouldn't be complete without some apps. In this instance you can order groceries online via the fridge, so if you see you're running low on milk, you'll have some more delivered with the press of just a couple of buttons. Connectivity with apps like Uber and Nespresso are also available as well as recipe and music apps!
And of course, with built-in speakers, the Family Hub fridge comes to life and can be a great party asset, allowing you to play your favourite internet radio station or connect to Spotify. You can also watch television on it as well. This is done through the screen mirroring your Samsung smart TV, so from live TV to Netflix, you'll be able to watch your favourite shows from the kitchen. But all this does come at a cost. Expect to pay around $5,000 for the Family Hub in Australia.

Other 'Family Hub' Features
Oh yeah, the Family Hub is a fridge first and foremost. Beyond all the 'smart' wizardry, the Family Hub is also a very capable fridge not to mention its trendy black design.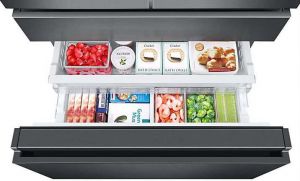 Triple Cooling System: uses three evaporators for precise temperature and humidity control
Entertainer's Drawer: the mid-drawer is equipped with four pre-set temperature settings and space storage options to optimise for different types of produce
Food Reminder: allows you to enter expiry dates of items stored in the fridge, along with their location, which will enable the fridge to remind you of when food needs to be consumed
It boasts cavernous French doors, with capacities from 634L up to 671L, which is massive! Amongst all this hype and fanfare, you may be wondering how much energy a big, smart fridge uses. With a hefty price tag, the Family Hub also boasts an energy consumption to match – expect the 634L variety to use around 606kWh a year. Based on an electricity price of 33c/kWh, you could expect the fridge to cost around $200 to run annually! This is a fair chunk of change on top of what you already paid in the first place, but other, non-smart TVs of this size would also use similar amounts of electricity.
Should I buy a Samsung Family Hub fridge?
If you want more from your fridge than just a home for your groceries, then the Samsung Family Hub is certainly an attractive purchase. With Samsung's 'smart' integration, the Family Hub has the ability to become the focal point of your whole house, and could serve as a trusty tool to communicate and entertain with your family. However, this comes at a cost, with prices expected to reach $5,000 for Aussies.
Make sure you consider what fridge capacity you need (there's no point buying the Family Hub if you're a small household), and whether or not you will actually use its features (there's no point having in-built music streaming if you're not going to use it).
The key lies within the name – 'Family' Hub. If you're part of a smaller household, then we suspect you won't get full use out of the massive capacities on offer. However, if you're part of a larger household and you're in the market for a do-anything fancy fridge, then the Samsung Family Hub could be a great choice. It's about as 'cool' as fridges come.