If waiting on your laundry is like watching paint dry, Samsung has introduced a new range of washing machines that are claimed to cut the washing time in half!
The home appliance giant has revealed the local availability of QuickDrive – the latest in its series of innovative laundry appliances.
The Samsung QuickDrive range is boasted to reduce cycle times by up to 50 per cent compared to Samsung's previous washers, while still providing a full performance clean.
The Super Speed cycle cuts the time of a lightly soiled 5kg wash to just 39 minutes, while the 15-minute Quick Wash cycle allows consumers to wash up to 2kg when in a hurry, ideal for a school sports uniform needed for a big game or carnival the next day.
QuickDrive washing machines also offer Samsung's latest in Internet of Things (IoT) connectivity, with Samsung SmartThings compatibility and the Q-rator laundry assistant app.
In addition, QuickDrive machines feature the Samsung AddWash door, allowing consumers to add any forgotten items or detergent and fabric softener to their front loader during the wash cycle.
QuickDrive's performance is stated to be made possible by its Q-Drum, which consists of a 'main drum' and a 'back plate' that rotate independently, in the same or opposite direction. The main drum moves clothes from top to bottom, while the plate in the back introduces a back and forth movement.
This differs greatly to standard Samsung washers that move clothes only up and down over the course of the cycle.
This innovation is claimed to create a "dynamic action" powered by double forces, washing quickly, powerfully and gently.
Director of Home Appliances for Samsung Australia, Jeremy Senior, explained: "QuickDrive represents a fundamental change in how we can design and engineer washing machines in order to save people time. It helps dramatically cut the time to do laundry, giving our customers time back in their busy lives.
"Our products are designed based on insight about real people and real lives. QuickDrive brings meaningful innovation into the home to help best manage and speed up our home chores.
"We're also excited to introduce the new Q-rator laundry assistant to provide more useful connectivity features that help you select the optimal wash cycle for each load and allow you to start, stop and monitor your wash remotely."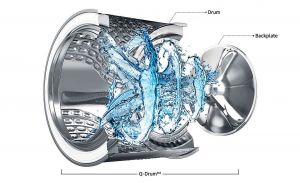 Other features
Besides increasing the speed of washing, QuickDrive features a range of convenient features including Samsung's new Steam Cycles, claimed to reduce various allergens and up to 99.9% of certain common bacteria on the Hygiene Steam and Bedding cycles.
Samsung's Q-rator system (an Al-powered laundry assistant) provides three other smart functions that help manage laundry more conveniently:
Laundry Recipe: recommends the optimal wash cycle for each load based on the information inputted by the user, such as colour, fabric type and degree of soiling
Laundry Planner: enables consumers to manage laundry finishing time, avoiding wet clothes hanging around getting musty when you're not home
HomeCare Wizard: monitors the washer and alerts users about potential problems as well as provides troubleshooting support
In addition, the motor itself works without brushes, which is stated to help reduce the number of separate moving parts and friction, making for a low vibration motor with a quiet wash cycle.
How much do Samsung QuickDrive washers cost?
QuickDrive is available from major retailers, with the following recommended retail price tags:
Samsung 8.5Kg QuickDrive Washer with Steam and Crystal Gloss door WW85M64FOPW: $1,999 (RRP)
Samsung 8.5Kg QuickDrive Washer with Steam and Crystal Blue door and drum light WW85M74FNOR: $2,199 (RRP)
Samsung 9Kg Heat Pump Dryer DV90N8289AW: $1,999 (RRP)
The digital inverter motor comes with an 11-year parts warranty. Samsung is also offering a 30-day Money Back Guarantee on the QuickDrive until 30 September 2018.