Ever wanted a TV that sits on a metal stand in the middle of your living room? Now's your chance.
Samsung has revealed a bizarre new TV that's apparently designed to make us reconsider the way we think about televisions and their impact on the aesthetics of our homes.
The global tech giant says the 'Serif' TV delivers a new format in design and functionality to create a focal point in the décor of your home. Keeping up?
The Serif TV was developed through a collaboration with two Paris-based industrial designers, Ronan and Erwan Bouroullec.
The iconic "I" shape profile of the Serif is claimed to integrate into your personal style and interior décor, giving you the freedom to place it anywhere in your living space (maybe not if you have kids), either using the metal stand (included with the product) or placed on a counter or traditional TV stand.
Director for Audio Visual at Samsung Electronics Australia, Hass Mahdi, explained: "The Serif TV is a completely new way for Australians to think about how televisions can play a role in the décor of the home as it combines brilliance in industrial design, the latest in Samsung QLED panel technology, and a format that delivers a harmonious integration with its surrounds.
"The Serif extends Samsung's evolving lifestyle TV range and builds on the success of The Frame, as well as our wider QLED 4K and 8K TV ranges."
If all that sounds great to you, the Samsung Serif TV comes in a white finish, with two sizes – 55-inches and 43-inches. It's available from the Samsung website and select Harvey Norman and The Good Guys locations, priced at $1,599 and $2,399 respectively.

Serif TV Features
QLED Picture Quality
Similar to other TVs from Samsung, the Serif features QLED technology for its picture quality, said to deliver "incredible" brightness and vibrancy. The inclusion of support for HDR10+ video formats further boosts the visual quality with clear and crisp details in a range of natural and artificial lighting conditions, according to the brand.
Ambient Mode
The Serif panel also offers an update to Samsung's Ambient Mode function – which transforms the TV panel when switched off from the normal viewing mode – with two "exclusive" Bouroullec created designs. The "Fabric" and "Leaf" graphic images can be displayed in five different colours including blue/black, white, salmon, olive, and light blue.
Customers can also set up the Serif TV to analyse the colour and pattern of its surroundings to display complementary imagery and themes. Plus, it allows you to choose to display a range of images from six categories or simply show the time or the latest weather updates.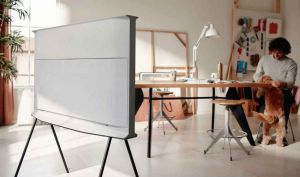 Samsung Smart TV
In addition to Samsung's Smart TV Hub, the Serif TV has Near Field Communication (NFC) which enables users to play music from their compatible smartphone by placing their device on the TV.
Offering Bixby, Google Assistant, Amazon Alexa and Apple Airplay 2 functionality, the Serif is also said to allow you to control your SmartThings-enabled devices directly from the screen, which acts as a control centre to manage smart appliances and security functions in the home.