Tossing up between a handstick and an upright vacuum? Why not have the two in one? The ION P50 vacuum is Shark's first cordless upright vacuum boasted to provide the performance of an upright vac with cordless convenience. While cord-free handsticks are dominating the vacuuming space right now, Shark seems to see merit in uprights, incorporating a few stickvac features in its latest model. Read on for all the specs to decide if this is one for you.
Introducing the Shark ION P50 Cord-Free Vacuum

Upright vacuums are known for heavy duty cleaning but with a bulky design. Stick vacuums, on the other hand, are targeted more towards those quick messes, incorporating a slim and lightweight design, which makes them easy to store away. Shark's P50 aims to embody some of these user-friendly aspects, while maintaining a large dust bin capacity and a long run time. Plus, when you remove the canister, it transforms the vacuum into three modes:
Upright Vacuum mode
Stick Vacuum mode
Handheld Vacuum mode
How does the Shark P50 work?
Some of the technology involved in making this vacuum work includes:
Digital fingertip control: digital controls allowing you to transition between floor types and power settings.
Versatile above-floor cleaning: transitions into a handheld vacuum with one-touch removal of handle or wand. Plus, the flexible hose enables cleaning of any area between floor and ceiling.
Anti-allergen complete with seal technology: claimed to trap 99.99% of dust and allergens inside the vacuum, not putting them back into the they air you breathe, ideal for pet owners and allergy sufferers.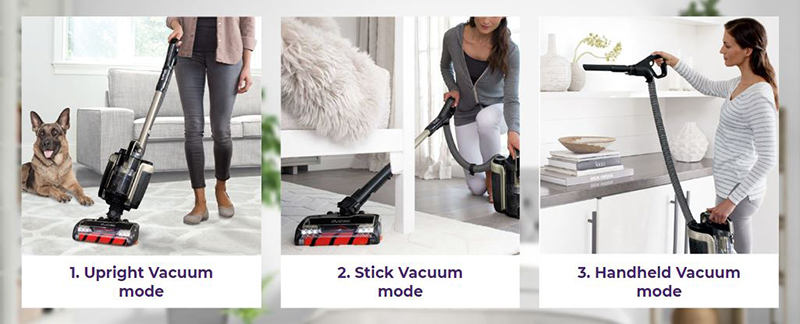 How long does the Shark P50 battery last?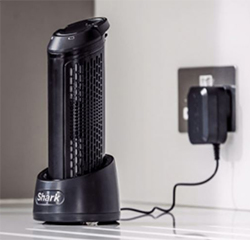 In terms of battery life, Shark's P50 is equipped with a removable rechargeable battery that provides up to 50 minutes of runtime. Currently stick vacuums can run from around 20 to 75 minutes, so this unit sits towards a longer runtime compared to your average cordless vacuum.
It can be recharged by plugging the charger directly into the vacuum or removing the battery from the unit and plugging the charger directly into the battery. Charging accessories including the charging cradle can also be used to hold the removable battery upright while it charges.
It also comes with a 'Charge & Go' dock, allowing you to plug the charging cable into the port and place the vacuum on the dock. The dock also comes with accessory storage for quick and easy access.

Shark P50 Design
Similar to other Shark vacuums, the P50 is equipped with the Duoclean head. It incorporates two brush rollers to clean hard and soft floors, ensuring to pick up all particles from small to large. In particular, it's boasted to clean:
large particles: from cereal to pet food, Duoclean is stated to pull in piles of large particles
small particles: such as sand, dirt, even glitter
stuck on dust: the added soft brushroll tackles dust and stuck-on debris for a polished look
Other features
At the front of the vacuum nozzle, you'll find LED headlights to illuminate your work area and make it easy to spot hidden debris. You can change surface and suction level settings while you're vacuuming via the handle. In addition, there's also an Ion Boost Mode if you need a boost of suction power. And when using the vacuum above floor areas with the handle or wand, it defaults to the Ion Boost setting but you can turn this off by pressing the button once.
The vacuum comes equipped with three filters including two pre-motor filters and one HEPA filter. It's recommended you clean filters regularly to ensure the vacuum suction power remains at its optimal level.
It has a 0.6L dust bin capacity, which is stated to be two times larger than its predecessor to handle multiple rooms and floors. It also features an easy to empty design where one push of a button releases the debris into the bin. You can also open to top part of the dust bin if any lint or pet hair gets caught in the lint screen as shown in the video below:
Shark P50 Accessories
The accessories included with this model are:
'TruePet' motorised brush (designed to lift pet hair, dust and other ground-in dirt from carpeted Stairs and Upholstery)
Duster Crevice Tool
Dusting Brush
Upholstery Tool
Ion Power Core charging cradle, charger and battery
This helps to tackle a number of different messes around the home.
How much does the Shark P50 cost?
The Shark ION P50 vacuum retails for $599.98 (RRP). Currently, the corded upright vacuum range on Appliances Online starts from $599 and goes up to $799, meaning the P50 is at the lower end of the price range. However, this is still a large sum to pay, especially when cordless handsticks can be had for as little as $99. But keep in mind, cheap handsticks typically have shorter runtimes while Shark's P50 boasts up to 50 minutes and has a three-in-one design.
Shark ION P50 Cord-Free Powered Lift-Away DuoClean Vacuum: $599.98 (RRP)
Should I buy the Shark P50 vacuum cleaner?
For some, paying $600 for a new vacuum sounds pretty hefty. However, if you consider your vacuum a long-term investment, it might be wise to spend a little more upfront and save yourself from replacing a cheap model more frequently. You typically get what you pay for when it comes to vacuum cleaners.
More and more brands are optimising their vacuums with user convenience in mind, such as designing their new models without a power cord. This saves you from needing to re-plug your vacuum when you switch rooms, plus no chance of tripping over the cord. The P50 offers up to 50 minutes of runtime and packs a number of different features. Before jumping into any purchase, you might like to check out how Shark rated in our vacuum cleaner ratings along with other leading brands, which can be found via the link below.