Shark has released its ION W1 Cordless Wand, combining portability with power, and no we're not talking about Harry Potter here, but we may as well be. The Shark ION Wand Vac might bring the magic for some when it comes to zapping up dirt and dust around the house with ease. It weighs just under a kilogram, but how does this handheld vacuum stack up to the rest? Let's review the specs and features to find out.
What is the Shark ION W1 Wand Vac?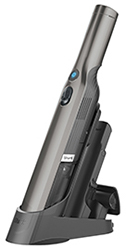 The Shark ION W1 Wand Vac (WV203) is a handheld vacuum cleaner boasted for its super lightweight design. It comes in at a total of 650 grams for heightened balance and control. It's aimed to offer quick manoeuvrability for the everyday messes such as pet hair on the couch or spilt cereal on the kitchen bench. While you might not be able to vacuum the whole house with this small appliance, it may be a useful tool for when you need a quick fix without needing to get out the bulky barrel vacuum or a handstick.
You may also be interested in:
How does the Shark W1 work?
This unit is aimed to pack a punch despite its compact size and cord-free design. It's stated to have a 115W high speed, brushless motor that offers two times more suction power compared to previous models, according to the brand. With additional tools, it lets you vacuum in between couch cushions, under appliances such as your fridge as well as car seats and mats.
How long does the Shark W1 battery last?
The Shark W1 vacuum features a lithium ion battery stated to provide up to 20 minutes of runtime in a single charge. It comes with a dock boasted for fast charging, plus onboard accessory storage for quick access. On average, handheld vacuums run from around 10 to 30 minutes. However, 2-in-1 handstick vacuums that turn into handhelds for smaller cleaning tasks may offer longer runtimes, depending on the brand.
Shark W1 Design
Shark's Wand vacuum has a slim design with just two buttons on the front. One is the on/off button and the other is a release button for the dust bin. With a single touch, you can empty the contents straight into the bin without getting your hands dirty in the process, according to Shark.
Shark W1 Accessories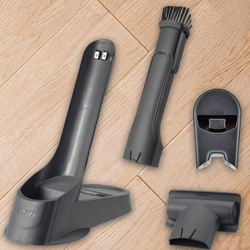 The Shark W1 comes with a number of accessories to handle different cleaning needs, including:
Duster crevice tool: designed to help clean hard to reach areas including corners, high ceilings, under appliances, crevices and tight spaces in cars.
Multi-surface pet tool: to help remove pet hair on carpets, upholstery and other delicate surfaces as well as pick up other larger debris
Mattress tool: aimed to help clean mattresses and upholstery
Scrubbing brush: specifically designed with bristles to clean debris from window sills, plus scrub carpets and floor mats
Soft dusting brush: claimed to gently remove dust from shelves, baseboards and window frames
Ion Charging Dock: features dual onboard accessory storage
How much does the Shark W1 cost?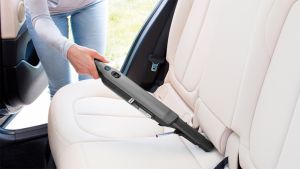 The Shark ION W1 Cordless Handheld Vacuum costs $249.99 (RRP). At the time of writing it also has an introductory offer of $199.99. Other handheld vacuums on Appliances Online start from $149 and max out at $249, which puts the Shark unit at the top of the price scale.
However, two-in-one handstick vacuums that can turn into handhelds are considered to be part of the same category. For handsticks with longer runtimes, expect to pay around $500. But models that offer a similar battery life to the Shark W1 (up to 20 minutes) can be had for much less.
Shark ION W1 Cordless Handheld Vacuum: $249.99 (RRP)
Should I buy the Shark ION W1 Wand vacuum?
The Shark ION W1 Cord-free Handheld Vacuum certainly catches the eye with its slimline appearance, making it easy to clean up those small spills around the house. It's lightweight and has a minimalistic design compared to other handhelds, but it's not a vacuum that you could clean the whole house with.
Its 20-minute runtime is fairly short, but might suffice depending on what you're vacuuming. But paying $250 for a fairly small vacuum like this one might have you questioning if you really need it. With many handstick and upright vacuums being able to transform into handhelds, it's important to consider your budget and what you're looking for in a vacuum before jumping into a purchase. It would be wise to do your research so that the vacuum doesn't end up sitting in the garage getting no use in your household.
Nevertheless, if you have pets or kids that are prone to leaving mess around the home, or if you are looking for something small to vacuum the car on the weekends, it might just be the tool you're looking for. Our vacuum ratings might also lend a helping hand with your decision, so follow the link below to find out what brands are keeping Aussies happy in the vacuuming space.