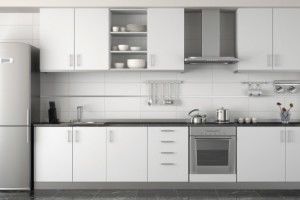 Thanks to all manner of handy small appliances available to solve any kitchen dilemma, cooking can be positively painless nowadays. However it can be hard to know what to look for when purchasing any of these time-saving wonders. We've put together some top tips on what to look for when adding another appliance to the mix.
Rice cooker
As rice generally becomes sticky when cooked, a rice cooker with a non-stick pan will allow you to easily clean the rice cooking bowl. Just remember to fill it with water after removing all the rice, because it becomes quite hard to clean quite quickly.
Measurement markings on the inside of your rice cooker mean you don't have to worry with measuring out quantities before placing them in the bowl, saving on washing up time. A good rule of thumb (although this will vary based on model and the type of rice being cooked) is to use one part rice, one and a half parts water and a little bit of salt.
Most rice cookers will come with a function to turn off automatically once the rice is cooked, while also keeping the cooked rice warm if it's ready to be served. If you regularly cook for a large number of people, ensure the rice cooker's capacity allows you to make an adequate amount of rice in a single batch.
Induction heating will mean the rice cooks evenly, as opposed to cooking from the bottom up. This means you won't have burnt rice on the bottom of the rice cooking bowl.
You could also look into purchasing a multifunction cooker, which comes with a steamer basket to steam vegetables while your rice is cooking, and can also be used as a slow cooker.
Slow cooker
Similar to a rice cooker, you need to ensure your slow cooker has a large enough capacity to cook the amount of food you regularly require.
A snug, well fitted lid (generally thick glass or plastic) will mean little steam is released during the cooking process. With a clear lid, you will be able to check on your meal without lifting the lid and slowing the cooking process.
A programmable slow cooker will allow you to time when you want it to turn on and off, meaning you can come home to a perfectly cooked meal after a long day's work. Alternatively you can purchase a slow cooker with an auto off function, so it will turn off once the cooking process if complete and keep your meal warm until it's ready to be eaten.
Most slow cookers will come with a removable pot inside the main body of the appliance to allow for easy cleaning. You may also wish to look for a slow cooker with a dishwasher safe pot.
A slow cooker that has a searing pot will allow you to sauté your onion and garlic or brown your meat before beginning the slow cooking process; this will mean you have fewer pots and pans to clean once you're done.
Food processor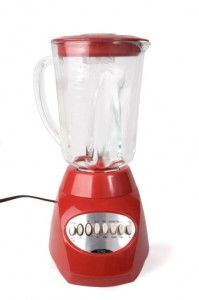 One of the most important things to look for in a food processor is that is comes with a variety of attachments/blades. Different attachments will allow you to grate vegetables, make chunky potato chips, or even whisk cream.
A processor with an internal storage drawer makes keeping all your attachments in one place much easier.
Look for a machine that comes with an extra, smaller bowl, to allow you to make smaller quantities of any given dish. This attachment is perfect for dips, pestos and dressings.
Rubber feet will mean your food processor will stay firmly on the bench, reducing the risk of it being knocked out of place while in use.
A food processor with a double chute, meaning it has a large chute and a smaller chute that fits inside, will allow you to easily guide smaller pieces of food into the processing bowl.
Some food processors will also have a juicing function, something to look out for if you are also in the market for a juicer.
Toaster
The first thing you need to consider when looking to purchase a new toaster is the number of slots you require. Two and four slot toasters are generally the most popular; however for big households there is the option to have six.
Look for a toaster that is easy to clean. Such toasters have a removable crumb tray to easily discard excess crumbs and a smooth surface that can be wiped down quickly.
Consider purchasing a toaster with extra wide slots if you prefer to use thick café style bread.
A toaster that has a centering device will mean your toast will cook evenly every time.
Moisture sensors are one of the latest toaster technologies, with an automatic pop up function when the toaster senses the bread is cooked. This is done by detecting when there is no longer any moisture present.
Kettle
When purchasing a new kettle it is important to know how much water you need to boil most of the time, this way you can pick a kettle that is the right size for you. Measurement markings down the side of the kettle are also useful so you can view how much water you are boiling.
A kettle can make a real statement, so look for a kettle that has a design to complement the other fittings and fixtures in your kitchen.
If you simply can't wait for that morning cuppa, look for a kettle that has a faster heating speed; this will mean you won't have to wait as long to bring your water to the boil.
Similar to a well-designed teapot a good kettle will easily pour water without spillage. A kettle with a longer spout will generally mean an easier pour.
Boiling water actually draws a lot of power! See if you can track down a kettle with a great energy rating.
Blender
Heavier is better when it comes to the base of a blender, as it will mean it remains steady on the bench while in use.
Ensure the blender has enough power to perform the tasks you require it to. If you're looking to make smoothies, milkshakes and soups, a minimum of 500 watts is desirable.
Look for a blender with a variety of speeds so you can have more control over the consistency of your mixture. Touchpad buttons are also a good option as they are easily cleaned.
A blender with a clear glass or thick plastic jug will allow you to check the consistency of your mixture while it is blending, and will be easier to clean.
Measurement markings down the side of the jug will allow you to view how much of each ingredient you have added to your mixture, meaning fewer measuring cups are required, and ultimately less washing up.
The size of blenders can vary greatly so look for one that is big enough to cater to your needs.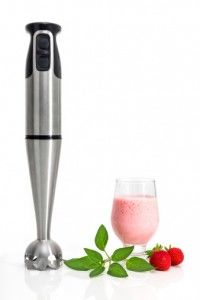 Stick blender
The most important decision to make when it comes to a stick blender is whether you require a plug in or a cordless variety. There are benefits to both, one that can be plugged in to the wall will have more power, whereas a cordless one can be used anywhere in the kitchen.
A stick blender that fits easily into your hand is very important. When you're shopping around make sure you pick up the different varieties to ensure it's not too hard to hold on to while cooking.
Look for a stick blender that comes with a variety of attachments. This can include bowl attachment to make it double as a mini food processor or a whisk.
The power of your stick blender is not as important a factor as it is with a stand blender, however you may find it slightly easier to blend mixes if you go for a more powerful variety.
Juicer
There are three types of juicers you should look to consider when purchasing a juicer:

A centrifugal juicer, which will juice most fruit and vegetables by grating them and using a centrifugal force to push out the juice. These are generally the most affordable and popular type of juicer.
A masticating juicer works by effectively "chewing" or grinding the fruit and vegetables and then squeezing the juice out through a mesh strainer.
A triturating juicer has interlocking gears that grind up the fruit and vegetables. This type of juicer will get the most juice from fruit and vegetables of any of the juicers.
An important consideration when purchasing a juicer is its wattage. A juicer that is too powerful will oxidize the juice, destroying its nutrients. The recommended wattage is around 400-500 watts.
A juicer with a pulp regulator means you can control how much or little pulp makes it in to your juice.
By picking a juicer with a larger chute you will save time on having to chop your fruit and vegetables in to smaller pieces.
A dishwasher safe juicer means you can put all the removable parts in the dishwasher to save on washing up.
Look for a juicer that comes with a clear juice catcher, that way you can see how much juice you've made without having to constantly remove the compartment to check.