In this modern age, where even cheap coffee machines can provide you with cups of high-quality espresso, an expensive coffee machine might seem like an unnecessary indulgence. But we humans can enjoy a little indulgence here and there, especially when it comes to our coffee.
Coffee machines come in all shapes and sizes, as well as prices, but what is the most expensive coffee machine? Can you even buy the most expensive coffee machine to use at home? We decided to put together a list of some of the most expensive coffee machines available in Australia, with links to where you can buy them.
Keep in mind that other expensive coffee machines may be out there, and while a high price tag brings a promise of quality, you should do a fair amount of research before spending so much money on a coffee machine. You'll want to make sure your coffee machine features and capabilities match the price you pay.
Five most expensive coffee machines you can buy
Here is a list of some coffee machines priced at a premium:
ILVE ILEM46BV Built-In Coffee Machine: $7,199 RRP*
La Marzocco Linea Mini: $6,750 RRP*
Jura GIGA 6: $6,319 RRP*
V-ZUG Supremo XSL 60: $5,999 RRP*
Fisher & Paykel Built-In Coffee Maker: $5,949 RRP*
1. ILVE ILEM46BV Built-In Coffee Machine − $7,199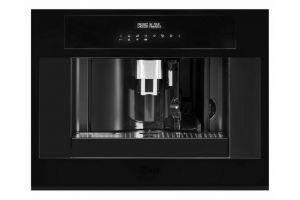 Priced at $7,199, the ILVE ILEM 46BV is an expensive coffee machine. Aesthetically looking somewhat like a microwave, the ILEM46BV matches the rest of the ILVE kitchen aesthetic and is designed to be built into the wall of your kitchen.
The ILEM46BV features several automatic grinding pre-sets (giving you the option of short, medium, or long) and is fully automatic, saving you the trouble of making the coffee all yourself.  The machine is controlled via a touch-screen control panel, which will also alert you when it requires cleaning. The ILEM46BV can contain up to 200 grams of coffee beans, and the water tank can hold up to 1.8L of water.
2. La Marzocco Linea Mini − $6,750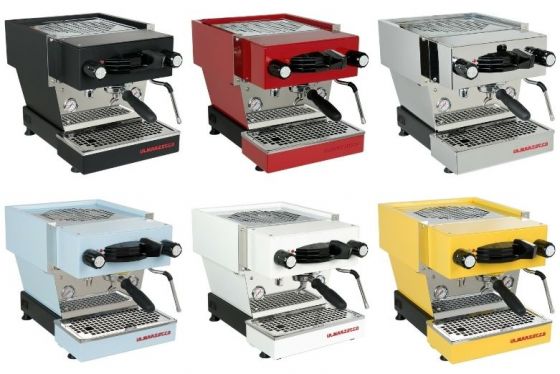 Available in a wide range of colours, the La Marzocco Linea Mini costs a huge $6,750, making it one of the most expensive manual coffee machines. Following a classic bench-top design with a classic aesthetic, a dual-boiling system, brew group, and a thermal stability system, the Linea Mini can brew large amounts of coffee while keeping the flavour consistent across every mug. You can pour two cups of coffee with one action from the Linea Mini, making it an efficient machine for coffee-loving couples and households.
Outfitted with knobs and dials for staying on top of your coffee as it's being made, the La Marzocco gives you a lot of control over the brewing process. You can even turn the coffee machine on and off from anywhere in your home through the La Marzocco smartphone app – in the app, you can adjust the water pressure too, and watch videos on coffee brewing tutorials, if you want to master the art. Keep in mind you'll need a coffee grinder, which is sold separately.
3. Jura GIGA 6 − $6,319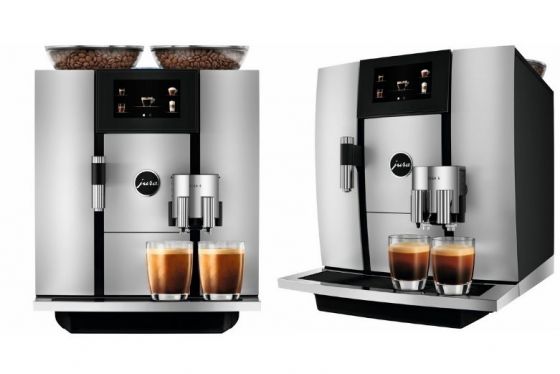 The Jura GIGA 6 weighs in at an expensive $6,319, making it one of the most pricey automatic bench-top coffee machines in Australia. The GIGA 6 is quite a big bench-top beast, able to brew two coffees at once, with two adjustable disc grinders built into the top of the machine – this also means that you can grind two bean types individually, and blend them later along in the process.
Artificial intelligence also comes into play with the GIGA 6. A touch-screen on the front allows you to control the device to your specifications, whereas a self-learning AI in the device adjusts to your preferences, and will start to recommend relevant information, giving you the essentials.
4. V-ZUG Supremo XSL 60 − $5,999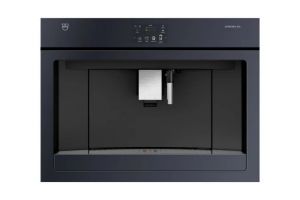 Priced at $5,999, the V-ZUG Supremo XSL 60 is a built-in coffee machine with an unimposing design, capable of producing two cups of coffee at once with an integrated cleaning program. With a touch-screen control panel inbuilt, the user can create the coffee they want down to the coarseness of the bean grind and the quantity of coffee desired.
The Supremo XSL 60's grinder is quiet, and the black design of the coffee machine is bound to match your kitchen. It matches other V-ZUG products well, and could be a great pick for a coffee-loving household.
5. Fisher & Paykel Built-In Coffee Maker − $5,949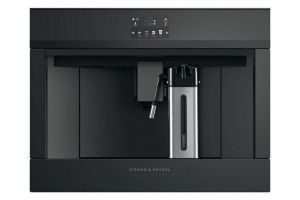 At $5,949, the Fisher & Paykel Built-In Cofee Maker clocks in as one of the lower-priced most expensive coffee machines available in Australia. The Fisher & Paykel coffee machine is designed to be easy to use and simple to look at, with a matte black aesthetic that won't clash with the colours of the modern Australian kitchen.
This machine comes with a self-cleaning function, so you don't have to worry about cleaning it all on your own, along with the ability to memorise your favourite coffees and brew your coffee each morning at a set time, with 13 coffee options available. This machine is designed to be built into the wall of your kitchen, so don't expect to be able to just have it sitting on your bench.
Is an expensive coffee machine worth the money?
None of the above coffee machines are cheap because the amount of innovation and technology crammed into these machines is nothing short of remarkable. But, if you think about how much you spend annually on your coffee order, it will give you a bit of context as to why they come with the price tags they do. If you were to purchase any of them, and willing to clean and maintain them regularly, you'll probably be more than satisfied with the quality of the coffee you're drinking. Put simply, if you're a massive coffee-lover, you'll definitely find joy in a quality machine.
What coffee machine should I get?
Coffee machines come in all shapes and sizes, with several different types commonly available. For most households, the choice lies between manual coffee machines, automatic coffee machines, and capsule coffee machines, with both manual and automatic coffee machines mentioned in the listings above. Homeowners might also want to consider built-in coffee machines that can be built into the side of your kitchen, however, this is typically a more expensive solution. Read more about purchasing the right coffee machine for you in our coffee machine buyer guide.
If you'd like a quality-made coffee without the fuss of grinding the beans yourself and adjusting the buttons and dials to your exact specifications, consider an automatic coffee machine, like the Jura GIGA 6.
If you'd prefer to make a coffee yourself, including grinding the beans and controlling the water pressure, consider a manual coffee machine, like the La Marzocco Linea Mini.
If you like no fuss and value convenience over quality, consider a capsule coffee machine, which functions as an automatic machine, with the added convenience of simply slipping a pre-ground capsule into the top of your machine.
If you're a homeowner after a coffee machine built into your kitchen, consider a built-in coffee machine.
Compare Espresso Coffee Machines
*Prices taken from respective retailers, correct as of September 2021.