Synonymous with breakfast, a slice of toast is often a staple for many households when it comes to starting the day. Regardless of your preferences for toppings such as jam or butter, a crunchy piece of toast for breakfast can be enjoyed whether you're in a rush to get out the door, or have plenty of time to lounge around.
As a result, a toaster is an essential for the kitchen, with the small appliance often the unsung hero for many. But when it comes to picking up a new toaster, consumers are often met with a wall of options, making the decision a tricky one. Thankfully, with the help of this Canstar Blue review, you may be able to narrow down your search and find the best model for you.
Top Toasters
Breville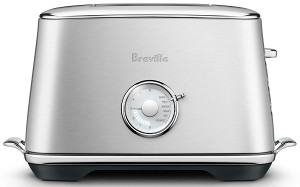 A worldwide kitchen appliance brand, Breville has a number of model lines for you to choose from, regardless of whether you're after a two-slice toaster for a light breakfast or a four-slice model to feed plenty of hungry mouths. Available in predominantly white and stainless steel models, Breville offers households an appliance that can fit in with any kitchen's aesthetic.
Breville's introductory toaster, the Lift & Look model, gets its name from the 'Lift & Look' function, which allows you to manually lift the lever to check the progress of your toast without interrupting the toasting cycle, meaning burnt toast can be a thing of the past. With a cool-touch plastic exterior, the Lift & Look has multiple settings to cook your toast how you like it, along with wider slot design for larger cuts of bread.
In addition to the basic model, Breville also offers the Lift & Look Plus, the Lift & Look Pro, as well as the Lift & Look Pro 4-Slice in the series, allowing for plenty of variety when it comes to your morning toast. While these models may be more expensive, they do come with additional settings for fruit bread and crumpets, along with a self-centring slot design for an even toasting, which may be well worth the larger price tag.
For those who can never seem to get their toast right, Breville may offer a solution in the form of another line of products, the Bit More series. With similar functions to the Lift & Look, the Bit More models come with a 'Bit More' button, which adds an extra 30 seconds to the toasting cycle to help you get the toast you want. Available in both a 2-slice and 4-slice model, the Bit More series may a handy addition to your kitchen.
If you can't decide between the Lift & Look and Bit More toasters, Breville has combined the functions of both in its Toast Control model. With the basic model retailing close to $80, the Toast Control offers settings for multiple bread types, as well as the Lift & Look and Bit More functions for handy operation. The Toast Control also comes in a 4-slice variety, as well as a Long model, which contains extra wide and deep slots for larger breads, such as artisan or Turkish bread, making it handy for any meal.
If you're looking to brighten up your kitchen, Breville's Toast Select toaster may be the one for you, coming in a range of colours, including red, blue, black and gold. In addition to the colourful range, the Toast Select includes all the functions of Breville's other models, as well as an LED progress indicator and a sound alert for when you don't hear the toaster finish. Including a two year warranty and a removable crumb tray, the Toast Select may be a handy appliance if you don't mind forking over a bit more cash.
For those serious about their toast, Breville's top of the line model, the Smart Toast, combines all of the features of Breville's range into one toaster, making it a powerhouse in the market. While the range will set you back between $150-$200 depending on whether you go for the 2-slice or 4-slice model, you'll be getting plenty of options when it comes to sorting breakfast in the morning. With a solid die-cast metal body, the Smart Toast also includes an onboard cord storage integrated into the base for easy packing, with Breville also offering a two year warranty for peace of mind with your serving of toast.
DeLonghi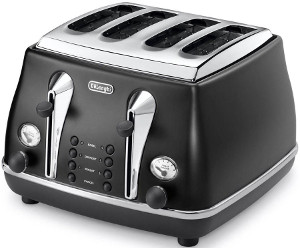 Operating for over 100 years, DeLonghi is an Italian manufacturer producing a wide variety of kitchen appliances, including toasters. With a wide range of colours, finishes and flash designs, DeLonghi may be a suitable option for those looking to make a statement with their kitchen appliances, although you may have to pay a bit more for style.
The cheapest toaster available, the Argento 2-slice model, will set you back close to $100. But it comes with a crumb tray for easy cleaning, an extra lift position to easily grab your toast out of the slot without burning your fingers, as well as electronic controls to select your preferred toasting level. With non-slip feet, the Argento is also available in a 4-slice model, with separate controls for each slot, meaning you can toast to people's preferences, making it a handy addition when it comes to that busy breakfast rush.
Slightly more expensive than the Argento, the Brillante offers a higher wattage to help toast your bread to perfection, with a neon indicator helping you keep track of the multiple functions and timers. Made from plastic with a multi-faceted finish, the Brillante will look at home in any kitchen.
DeLonghi also offers the Icona, Distinta and Avvolta models, with each series offering similar functions and features, with the differences coming primarily in the dimensions, weight and material. Available in 2-slice and 4-slice models, each series provides a different aesthetic for personal preference, with some available in plastic while others are available in a stainless steel finish.
DeLonghi's top of the line toaster, the Scultura, may shock some buyers with a price tag over $200, but does offer plenty of variety when it comes to the control settings. With six browning temperatures and two crumb trays, the Scultura also has controls specifically designed for crumpets, while offering the standard reheat and defrost controls.
All DeLonghi toasters are covered by a one year warranty
Kambrook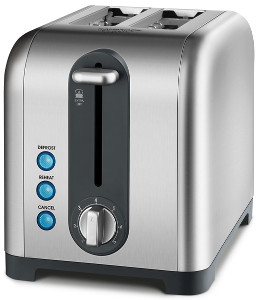 One of the most affordable ranges available, Kambrook has a number of 2-slice and 4-slice options for households to choose from, starting from around $30. Coming in a variety of plastic and stainless steel finishes, Kambrook may be the option for those on a budget, or those who don't need all the bells and whistles.
With extra wide toasting slots for those larger slices, Kambrook toasters all contain removable crumb trays for easy cleaning, as well as a control with extra lift to help you grab your toast without accidently burning yourself. Other consistent features include reheat, defrost and cancel settings, as well as six stages of browning to help ensure you get the perfect texture to your toast.
For those looking for a bit extra, Kambrook's top of the line toasters also include a higher wattage for additional browning controls, along with cord storage to ensure it doesn't take up much bench space, making it ideal for busy kitchens.
All Kambrook models come with a 12 month warranty
KitchenAid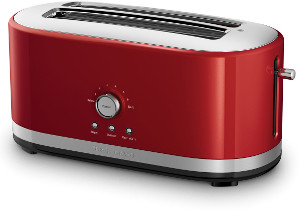 Creeping up to 100 years of operation, KitchenAid offers a wide variety of kitchen appliances for all household sizes and preferences alike, with the toaster no exception. With 2-slice and 4-slice models available, toasters come in a variety of finishes and colours, helping to fit in with any kitchen style.
With wide slots, and an easy high lift lever to help grab your toast when it's done, KitchenAid also offers a variety of toast settings to suit your preferences, in addition to a setting for those who prefer a bagel over toast in the mornings. KitchenAid also has you covered if you struggle to time it right, with a Keep Warm function able to keep your toast warm for up to three minutes after the toasting cycle is finished.
KitchenAid's top of the line series, the Pro Line, comes with a variety of handy features, including an LED digital display and countdown bar, along with the Keep Warm feature. While a bit more pricey, the Pro Line toasters set themselves apart with the Sandwich Rack, where households can create tasty toasted sandwiches without investing in a whole separate appliance.
KitchenAid offers a two year warranty on most toasters, with a five year warranty on the Pro Line model
Russell Hobbs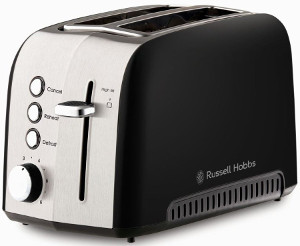 A veteran in the kitchen appliance market, Russell Hobbs has been operating for more than 60 years, with products readily available from local appliance retailers. With plenty of 2-slice and 4-slice models for households to choose from, Russell Hobbs is worth checking out if you're in the market for a new toaster.
The 2-slice toasters are split between the Heritage and Classic models, with each line available in either stainless steel or coloured finishes. The Classic model comes with all the features you'd come to expect with a toaster, including a removable crumb tray, wide slots and button functions, with the Heritage line available with more colours and illuminated buttons for easy use.
If you're after a 4-slice model, Russell Hobbs offers plenty in terms of colours and finishes, helping you find the perfect fit for your kitchen's colour scheme. With a wider range that includes a 4-slice variety of the Heritage and Classic models, consumers are also offered the Brooklyn, Lunar, Siena and Vintage series, all with different dimensions and aesthetics. All come with a number of browning settings for personal preferences, as well as safety features to ensure that your breakfast is the only thing that is toasted.
If you're looking to completely fit out your kitchen, Russell Hobbs offers plenty of appliances in similar finishes and colours, helping give your kitchen a stylish look
Smeg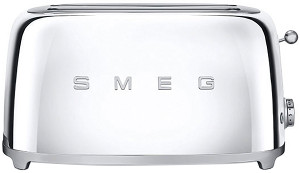 While it might not offer the widest range in terms of functions and features, Smeg will have you covered if you're looking to make a statement with your appliances, offering both 2-slice and 4-slice toasters in a 1950s retro style, including a wide range of colours and chrome finishes.
Smeg's toasters come equipped with a crumb tray, cord storage, anti-slip feet and automatic centring racks for even toasting. With a number of toasting levels, including an option for bagels, Smeg will have breakfast sorted regardless of what you're eating.
Smeg also offers a range of matching appliances, including kettles, to help create an eye-catching aesthetic
Sunbeam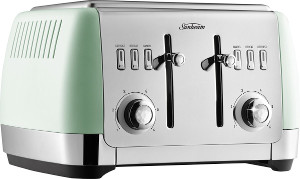 Offering one of the largest ranges of toasters, Sunbeam will have a model for your kitchen regardless of if you're looking to pinch your pennies or spend big. With 2-slice and 4-slice models available across all series, Sunbeam also offers Long Slot toasters for larger slices, opening up plenty of meal time options for households.
Sunbeam's range begins with the 2-slice Quantum toaster, which will set you back around $30 at your local retailer. Coming with everything you need in a toaster, including multiple browning settings, cord storage and anti-slip feet, the Quantum toaster will suit those who aren't looking for anything special, or are on a tight budget. The Quantum also comes in a Thick & Thin model, which is ideal for larger slice of bread, or for bagels, crumpets and muffins.
If you're partial to artisan bread or Turkish bread for a fancier feed, (or you just really like your bread), Sunbeam has the Long Slot toaster to accommodate for larger slices, or different types of bread. With additional features such as self-centring slots, a high lift lever and a QuickCheck function to make sure you're not burning your toast, the Long Slot may be a handy addition for larger households.
For those looking to fit out a kitchen, Sunbeam offers the Diamond collection, which has a matching kettle to help you find a style. The Diamond toaster comes with seven browning settings, in addition to the classic defrost and reheat settings, with cord storage and a removable crumb tray also available with the model.
Busy households, as well as those who skip breakfast, may have found a saviour with the Turbo Toaster, with Sunbeam claiming a toasting time one-third of a regular old toaster, with Sunbeam utilising a fan to force extra air into the cooking area, working similar to an oven. Additionally, the Turbo Toaster uses half the amount of energy as opposed to other toasters, helping households to save on their energy bill.
For those looking for a high-end toaster, Sunbeam offers plenty of toasters with additional features to make breakfast time a bit easier. The Gallerie series has extra browning settings to suit those who are particular about their toast, while the Maestro series boasts an LCD countdown display so that you can always grab your toast fresh. With Sunbeam's higher-end models retailing between $100 and $200, they might be a bit more of a financial investment, but may also make the breakfast rush less stressful.
All Sunbeam toasters come with a 12 month warranty
Westinghouse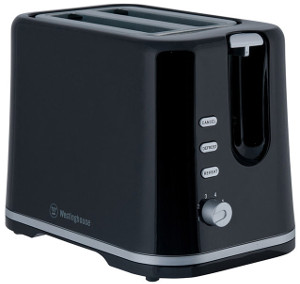 While it may not be the most extensive range on the market, Westinghouse offers a cheaper alternative, with the American brand well-known in the appliance market. With all toasters retailing for under $100, Westinghouse offers 2-slice and 4-slice models, with a range of colours available.
With Westinghouse providing similar features across its toaster range, the main difference comes from the look, with the Pearl series built with rounded edges and a polished finish, whereas Westinghouse's other 2-slice model comes in a more traditional mould. A 4-slice model is also available, coming with all the essential features to put crispy toast on the table, including backlit buttons and adjustable toasting settings.
Westinghouse offers a 1 year warranty on all toasters
Kenwood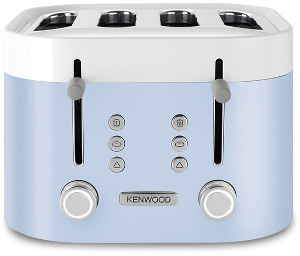 Operating since the 1940s, British manufacturer Kenwood offers households a chance to brighten up their kitchen with a range of eye-catching toasters, with a range of pastel finishes, along with the more traditional stainless steel models, available for purchase through local retailers.
Kenwood's kMix model, which includes 2-slice and 4-slice toasters, includes functions such as preview, bagel, defrost and reheat, with an adjustable temperature to ensure you get the toast you like. With a removable crumb tray and illuminated buttons for easy operation, the kMix would be a worthwhile option for many kitchens, regardless of the household size.
Kenwood's other series, the KSense, contains similar functions, but sets itself apart with the Eco 1 slot, which allows you to toast just one slice at a time, handy for those concerned about their power bill, or those that aren't hungry in the morning. Retailing for over $200, Kenwood may not suit all households, but are worth checking out if you're not phased by price.
Morphy Richards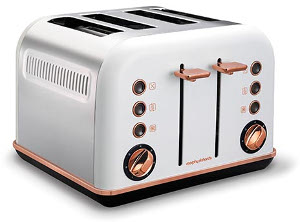 While not the most well-known brand, Morphy Richards has been operating for over 80 years, servicing households around the globe for their kitchen appliance needs. Its toaster range includes a wide range of colours, as well as various finishes to blend in with your kitchen.
The Accents model, Morphy Richards' introductory model, is available in 2-slice and 4-slice varieties, with all models coming with variable settings, non-slip feet and a removable crumb tray for easy usage.
Morphy Richards also offers the Evoke series, with a coated stainless steel body with chrome accents making for an eye-catching design. Feature-wise, the Evoke series is similar to the Accents model, although it does offer variable width slots, coming in handy for larger slices and longer bread types.
Which toaster should I buy?
When it comes to kitchens, toasters are one of the first appliances you think of, handy for breakfast or a quick snack. As a result, plenty of brands offer a wide variety of models and makes, giving you plenty to choose from. But with similar features, finding one that will suit your kitchen and household may prove a big ask, making the final decision a stressful one.
As with all appliances, it's best to do your own research, as while some toasters may appear the same, some brands will offer you more cooking options, as well as handy features such as timers, bigger slots for larger slices, as well as additional safety features, making it worthwhile to explore your options.
Ultimately, even buying a toaster will be a personal decision, as those who are partial to a slice or two in the morning may find it more worthwhile to go for a model with more features, whereas those who only occasionally enjoy toast may be better off with a standard model.