Robot vacuum cleaners could be helping create a generation of lazy Aussies.
That's the upshot of the Canstar Blue survey on vacuum cleaners, which found that more than half of young Australians put off doing the vacuuming for as long as possible. They also hate getting their hands dirty, with the same number refusing to empty the dust bag for as long as they can.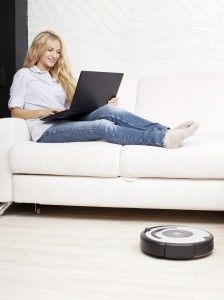 With our Generation Y survey respondents the most reluctant to get up and do the vacuuming the traditional way, it's perhaps of little surprise that they are leading the way with purchasing automatic cleaners. One in five of our youngest respondents have purchased a robot vacuum cleaner, compared to just 8% of Baby Boomers.
And not only are Gen Y boys and girls the most likely to put their feet up while the robot does the vacuuming, they are also the most likely to pay someone else to do their dirty work, with 17% preferring to employ a household cleaning person.
The Canstar Blue survey, of more than 1,200 Aussies who have purchased a vacuum cleaner in the last three years, also reveals that more than a third of Gen Y respondents resent their partner because they don't pull their weight with household chores.
According to our findings, young couples are three times more likely to disagree over who does the chores than Baby Boomers are. Perhaps older couples have more established routines and know where they stand with housework. Or maybe they've just become bored of arguing about it!
It's also worth noting that women seem to resent partners not pulling their weight with chores more than men do – you can draw your own conclusions with that one.
Regardless how much they enjoy doing the cleaning, Aussies across all generations seem to be happy to spend as little as possible on their vacuum cleaners, with two thirds unwilling to spend more than $400. Just 10% are happy to spend more than $700.
Most people would consider them an essential household item, but a quarter of our respondents admit they buy cheap vacuum cleaners and simply replace them when they break. That might be one reason why only a third of those we questioned said they enjoy vacuuming.
Shark has received Canstar Blue's Most Satisfied Customers Award – Vacuum Cleaners, with five-star ratings across all survey categories.
Shark achieved top marks from Australian consumers for ease of use, noise level, size, effectiveness, value for money and overall satisfaction.
Other brands rated in the survey included Dyson, Miele and Hoover. You can read the full report here.