One of the most popular music streaming services, Apple Music features on every Apple product available, giving users access to millions of songs across a wide variety of genres to suit their musical tastes. While listening to your favourite tunes is a good way to relax, running out of data because you've streamed too much music is anything but relaxing. So how much data does Apple Music actually use? If you're worried about data usage when you're on the AUX, read on to find out if using Apple Music is causing your data usage to hit a high note.
How much data does Apple Music use?
Estimates show that 20 minutes of streaming through Apple Music will use around 13MB data, meaning that an hour-long album will use up just under 40MB. While no official numbers have been released by Apple, you can check out our data usage estimates in the table below.
| Minutes | Average Mobile Data Used |
| --- | --- |
| 20 | 13MB |
| 40 | 26MB |
| 60 (1 Hour) | 39MB |
| 120 (2 Hours) | 79MB |
Estimates only
As these are just estimates, the precise amount of data used by Apple Music is ultimately dependent on a number of factors. Apple Music uses a variable bit rate for streaming (64kbps, 128kbps and 256kbps) which changes based on your mobile or Wi-Fi connection. This adjusts the audio quality which, in turn, affects your data usage. If you're worried about your data usage, you can turn off high quality streaming via Settings – Music – Cellular Data.
Can you only use Apple Music on Apple Devices?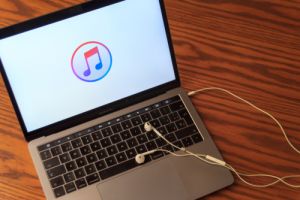 Apple Music is not exclusive to Apple devices such as iPhones, iPads, iPods or Macs. Fortunately for Android and PC users, you can download the Apple Music app as long as your device has Android 4.3 (Jelly Bean) or above. To download the app on Android simply pop over to Google Play or the Apple Music website and download it free of charge – (note that you will need an Apple ID account in order to use Apple Music).
Can you use Apple Music offline?
A benefit of Apple Music is its ability to download your daily tunes for offline listening. Simply select which songs, artists, albums or playlists you wish to listen to while you're out and about and download them via your home Wi-Fi before you leave home.
Is Apple Music the same as iTunes?
Apple made the decision in 2019 to shut down the popular iTunes program, instead splitting its content into three new apps – Apple Music, Apple Podcasts and Apple TV. However, your iTunes library would have been transferred to Apple Music, meaning you should still have all your favourite albums ready to go.
How do I use Apple Music on CarPlay?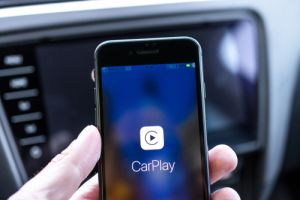 To launch Apple Music on CarPlay, use Siri or simply tap the Music icon on the infotainment unit and pick your favourite playlist. If you want to listen to Apple Music without pairing your phone, open the Apple Music app and follow the onscreen instructions to sign into your own Apple account. Enter the verification code you receive on your smart device to complete the setup. Using CarPlay Apple Music will consume the same amount of data than if you were to just use Apple Music off your phone.
What's the deal with Apple Music and data usage?
As Apple Music continues to be one of the top apps for music streaming, its paid service will eat up a lot of mobile data if you're not careful. Downloading at home is essential if you're wanting to save on your data consumption, as streaming new music while you're on the go can prove to be costly in the long run. While there are ways to get around a high data usage, there are also some telco providers out there who may offer Apple Music data-free as an extra feature, which could be music to your ears.

Photo credits: mirtmirt/shutterstock.com, Vasin Lee/shutterstock.com, parlanteste/shutterstock.com