Who knew that one small, innocent, mispronunciation of words like "beaucoup" in French could lead to a seriously embarrassing – and potentially offensive – faux pas? Well, avoid being left red in the face and start learning a new language with our app guide.
You can keep your teacher in the palm of your hands, literally, with everything from gamified apps to lesson programs that connect you to native speakers through live video chat and instant messaging. There are also plenty of five-minute lessons so you can practice on the bus, on the loo, or while waiting for your frozen meal to heat up in the microwave. The apps mentioned below are available on iOS and Android devices, with some also compatible on desktop, meaning you can learn on the go or properly settle in for a study session.
Multilingual Apps
Tandem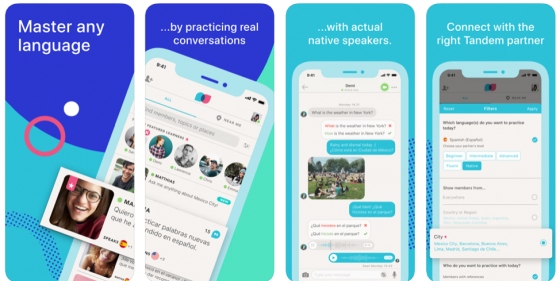 What better way to speak like a local than to actually learn from one? Tandem allows its members to partner up and teach each other their own native language through video chat, instant messaging, audio and pictures. You can also meet face-to-face once you've built up your profile (and successfully apply beforehand). Profiles display things like your interests, goals, members you 'follow' and reviews from your partner, allowing you to find the best study partner.
Tandem is free to download and use, although you can also upgrade to Tandem Pro for additional access to existing features.
One-month subscription: $9.99
Three-month subscription: $19.99 ($6.67 per month)
One-year subscription: $49.99 ($4.17 per month)
The paid version includes extras like unlimited translations, profile visitor insights, profile verification, and the ability to search members near you and by city. Plus, there's no ads, meaning no interruptions when you're hitting the books.
Get the app here on iOS and Android.
Memrise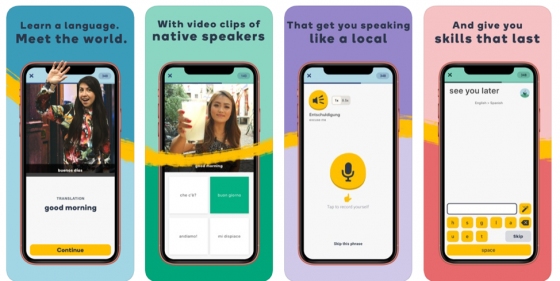 If you're a visual or auditory learner, Memrise might be one to keep in mind. The app is designed to help you become more confident by providing a customised learning experience which aims to give a more authentic sense of the language that people really use in everyday life, their accents and their culture. Plus, Memrise supposedly utilises scientifically proven memory techniques to make sure the new words and phrases you've just learnt don't fly away.
While the first lesson is free, you will need to choose one of their paid subscription plans to continue:
Monthly Language Learning Plan: $13.99
Annual Language Learning Plan: $107.99 ($8.99 per month)
You'll learn conversational phrases through games designed to give 'one-on-one coaching', before putting what you've just learnt into practice with Speed Review, Listening Skills, Difficult Words and Classic Review. The 'smart-tech' also allows you to record your voice to check pronunciation and make sure little mistakes don't accidentally turn into big insults. Although if you are a bit cheeky, Memrise does teach a few swear words.
Price: First lesson free, subscription-based learning after
Get the app here on iOS and Android.
Duolingo
If you want to make a long-term commitment to learning a new language – or if you have trouble with self-motivation – Duolingo can be a pretty useful gamified app. Duolingo even claims that 34 hours on the app has been proven to equal one semester of a language course at university.
Lessons are fairly short and each question is immediately graded once you submit your answer. The different topics have multiple levels and you'll need to complete at least one level in each stage to progress to the next. Similar to other apps, Duolingo helps you learn how to read, write, listen and speak in the language you want to learn.
While Duolingo is free, you can upgrade to Duolingo Plus to remove ads and access bonus features. But unlike with many apps, you won't miss out on any of the content in the free version. The paid upgrade is focused more on motivation.
Get the app here on iOS and Android.
Beelinguapp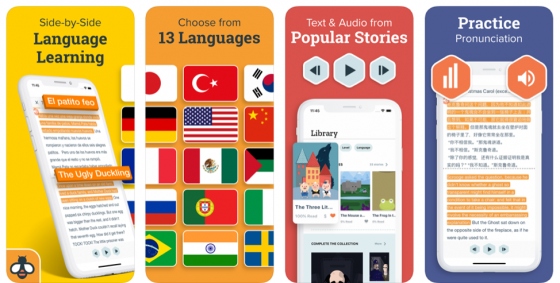 Bookworms, rejoice! If memorisation or gamified language apps aren't your thing, the Beelinguapp keeps things fairly traditional with bilingual read-along audiobooks. Read different stories in the language you want to learn while simultaneously reading it in your own language as a frame of reference, so you can understand the various words and phrases as you go.
There's also a karaoke feature, which allows you to replace the original audio with a native speaker as well as practice your pronunciation.
Get the app here on iOS and Android.
HiNative

Can't get your head around it when a sentence in Spanish should use the word 'ser' instead of 'estar'? Or maybe you need some recommendations for your next trip? Based on a Q&A approach, HiNative is a global community which lets its language learners connect with native speakers to answer any burning questions, and similarly helps others with questions on anything they may want to know. HiNative also uses multimedia to offer people the flexibility to expand their knowledge with customised responses, meaning you'll be able to pick up any slang or common expressions.
A premium feature is available for users who want access to more features, such as the ability to play voice answers to others' questions. This costs $11.40 USD (approximately $16.50 AUD) per month.
Get the app here on iOS and Android.
Language Learning with Netflix
It turns out a Netflix binge can actually be productive. Better-suited for people mainly looking to build their listening comprehension skills, Language Learning with Netflix is a Chrome extension which teaches you by displaying subtitles in your native language and in the language you want to learn. You can also change the playback speed and listen to subtitles one at a time. Plus, the extension recommends all the important words you should get to know and a pop-up dictionary is available.
Similar to many phone apps, this Chrome extension includes a number of paid optional features. The 'Pro' Mode gives you extra options for subtitle translation, and lets you save words and phrases which will be highlighted whenever they appear.
Get the Chrome extension here.
Apps to learn specific languages
MosaLingua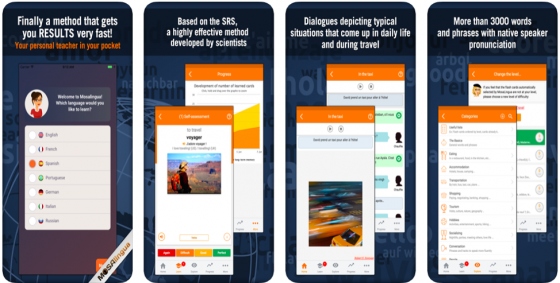 Traveling for work? Need some extra exam prep? In addition to the regular classes, MosaLingua offers specific apps like MosaLingua for medical and business topics. There are also apps for those planning on taking language proficiency tests – namely the TOEFL and TOEIC. Otherwise, you could use the regular MosaLingua app or any of its language-specific apps. The creators claim you can memorise 600 useful words, sentences and expressions in two months by practicing for 10 minutes per day. If you prefer to learn using flashcards, MosaLingua might be an app to consider.
The app can be fairly flexible because it allows beginners to start from square one, before progressing through the standard class program, but also lets you to work through specific topics like time or tourism to get extra practice or fill in any gaps in your knowledge. There are also apps for specific languages, so be sure to check out all options on the MosaLingua website.
Price: Free, or $7.99 for premium
Get the app here on iOS and Android.
RIDBC Auslan Tutor

If you're looking to learn sign language, the RIDBC Auslan Tutor is a video-based app created by the Royal Institute for Deaf and Blind Children. It teaches more than 500 signs, with each shown multiple times as a single sign as well as in phrases and sentences, allowing you to understand letters, words and phrases.
Get the app here on iOS and Android.
The Korn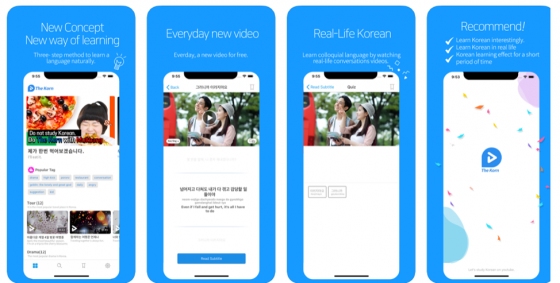 Ever thought your favourite "Oppas" from boy bands such as BTS and GOT7 could help you learn a new language? The Korn brings new meaning to useful practical learning by teaching Korean through popular K-pop videos, K-dramas, K-movies, K-tv shows, celebrity interviews and even Mukbang on YouTube. Its main purpose is to help you understand how to use different expressions and common idioms in a range of situations.
So, rather than repeating each character from the Hangul systems several times before progressing into phrases, the app breaks the script down sentence by sentence. When you reach the quiz stage, you will have to piece each word together to form the phrase on the screen.
Get the app here on iOS and Android.
Human Japanese

Whether it's mastering tricky pronunciations, or building your own sentences using a totally different grammar structure than what you're used to, learning a new language can be pretty intimidating. So, it's pretty comforting to have apps like Human Japanese which try to explain concepts with humour and a warm, engaging tone.
Described as "your personal sensei-in-a-box", Human Japanese also incorporates mediums like discussion, recordings, animations, illustrations, photos and reviews to help you get a deeper understanding of how the language works.
While Human Japanese is a paid app, there's Human Japanese Lite which you can download for free.
Price: $14.99 (iOS devices) or $15.99 (Android devices)
Get the app here on iOS and Android.
ChineseSkill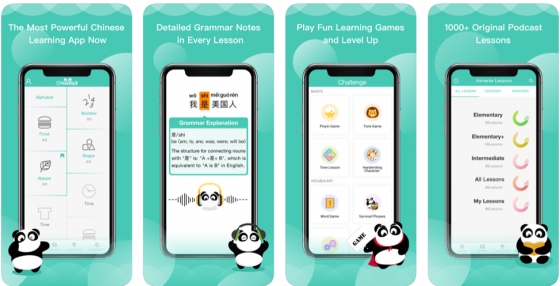 Wanting to learn the basics of Mandarin Chinese? ChineseSkill provides a task-driven game-based course for beginners, containing mini-games to test listening, reading, writing and speaking skills. The lessons cover a variety of topics such as greetings, food, travel and even dating.
While this app is free to download, you'll need to pay for a membership to access all the courses and features. Keep in mind the prices below are for US customers, although we've given a rough estimate of what the cost translates in Australian dollars.
Monthly subscription: $5.99 USD ($8.80 AUD)
Three-month subscription: $13.99 ($20.54 AUD)
Annual subscription: $35.99 ($52.85 AUD)
ChineseSkill claims its course is based on the Common European Framework of Reference (CEFR), an international standard measuring a person's skill level in a certain language.
Price: Free to download, subscription-based afterwards
Get the app here on iOS and Android.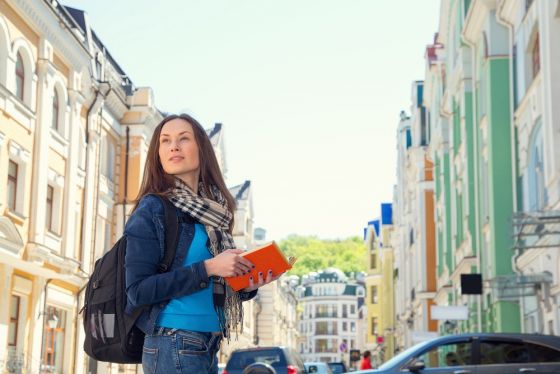 Do language apps work?
Planning on learning Korean because you're tired of rewinding every scene of your favourite K-drama just to catch up on the subtitles, before being able to finally watch what's happening on screen? Or has Despacito got you grooving away from Google Translate and towards a Spanish class? Don't worry, there are plenty of language apps that can help you ditch boring and outdated textbooks for a learning style to suit you.
With plenty of apps out there, there's no shortage of teachers, classes and lessons for you to immerse yourself in, with many of them allowing you to go at your own pace. While you'll have to pay for some apps, how much you splurge will be up to you, as there are also plenty of free apps out there that will help you grasp a new language, or at least the important phrases. "祝你好運!" (That's good luck in Mandarin.)
Here is a selection of postpaid plans from Canstar Blue's database with a minimum of 10GB of data, listed in order of standard cost, lowest to highest, then by data allowance, largest to smallest. Use Canstar Blue's phone plan comparison tool to see a wide range of plans on offer from mobile providers. This table includes products with links to referral partners.
Here is a selection of prepaid plans from Canstar Blue's database with a minimum of 10GB of data, listed in order of standard cost, lowest to highest, then by data allowance, largest to smallest. Use our comparison tool to see a wide range of plans from other providers. This table includes products with links to referral partners.
Picture credits: panuwat phimpha/shutterstock.com, David MG/shutterstock.com, Daxiao Productions/shutterstock.com, A StockStudio/shutterstock.com