With a bumper-to-bumper ridesharing market in Australia, we're spoilt for choice when it comes to getting to where we need to be. Add in electric scooters wheeling onto our streets, and you've almost got no excuse to be late for your next meeting, date or event. But while we have the big names such as Uber, Ola and DiDi available on Aussie shores, there's one big name that currently hasn't left the lot: Lyft.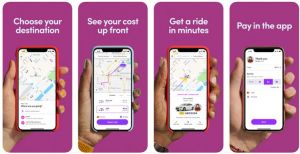 What is Lyft?
As the name suggests, 'Lyft' is a ridesharing app that allows you to catch a lift from Point A to Point B. Like many other ridesharing apps, you can book by simply opening the app, entering your destination and then wait for a driver to accept your ride and pick you up.
Lyft also allows you add an extra stop along the way, allowing you to pick up a mate or stop for some snacks if you're heading to a party. Or if you're not in a rush, you can always go for a Shared Ride, where you can pick up other passengers along the way, which will cost you less at the end of the journey.
Lyft also offers Lyft Bikes and Lyft Scooters, making for an easier way to zip around town if you want to avoid the gridlock of peak hour traffic. Simply find a bike or scooter on the app's map, unlock it via your account and you're good to hop on and go. However, both Lyft Bikes and Lyft Scooters are only available in certain cities in America. You can even check for nearby public transport options in the Lyft app, making it almost a one-stop-shop for all your needs for getting home.
There are two Lyft apps available – one for drivers, and one for passengers. Both are free to download on both iOS and Android operating systems.
How much does Lyft cost?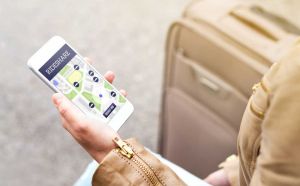 Lyft doesn't outline the costs involved for booking a trip on its website, although it does offer a fare estimate for when you look to book a trip in advance. Like other ridesharing apps, you can also see an estimated cost of your journey before you book, although the final amount you pay will be dependent on city, how many stops you make along the way, any peak time costs as well as what type of car you book.
Types of Lyft rides
Like many of its competitors, Lyft offers a number of vehicle options and rides for passengers to choose from, allowing you to rock up in style with a Lyft Black, or roll in with the squad with a Lyft XL. Here are the types of Lyft rides you can book:
Lyft Line: carpool with others along your way for a cheaper, although longer, car ride.
Lyft: most common Lyft ride, book a four-seater car for yourself.
Lyft XL: larger vehicle for when you have plenty of people to sit.
Lyft Lxx: what Lyft describes as an entry-level luxury car.
Lyft Black: the higher end luxury car option, for when you really want to arrive in style.
Where is Lyft available?
Lyft is available in every American state, covering major cities across the country. Recently, Lyft also expanded into Canada, although only in select cities, with a full list of locations available on the Lyft website.
Is Lyft available in Australia?
Currently, Lyft is not available in Australia, with no word on an Australian launch in the future either. Don't be fooled when you book a Lyft for Melbourne (MLB) Airport either because you'll be booking a Lyft for Melbourne in Florida, rather than the laneway capital city of Victoria.
Despite Lyft not being available in Australia, there's still plenty of ridesharing services available for when you need to be somewhere. Of course, there's still taxi services and, if all else fails, you can always call in a favour from one of your mates, although you might have to shout them a drink at the bar in exchange.
Latest Phone Deals
Looking for a new smartphone? The following table shows selected published 24-month phone plans for the 256GB Samsung Galaxy Note 10+ on Canstar Blue's database, listed in order of cost, from the lowest to highest and then by data allowance, largest to smallest. Use our comparison tool to see plans from a range of other providers. This is a selection of products with links to a referral partner.
Picture credits: Preto Perola/shutterstock.com, Tero Vesalainen/shutterstock.com, Linda Parton/shutterstock.com