Meditation isn't reserved for moments where you're on the verge of a mental breakdown, or on a healthy high from drinking kombucha and eating a Buddha Bowl after taking your first yoga class. And you certainly don't need to ditch your phone and head off the grid for a week to 'be in the moment', or to practice mindfulness.
So, what exactly is 'mindfulness'? It's about paying full attention to what's happening right this moment. Practicing mindfulness simply involves activating your senses to observe everything around you, without labelling it as 'good' or 'bad'. You could achieve this with activities such as yoga or – for something more convenient – meditation. To help you out, we've listed the best apps we think can help you incorporate meditation and mindfulness into your day in a more practical and meaningful way.
Mindbody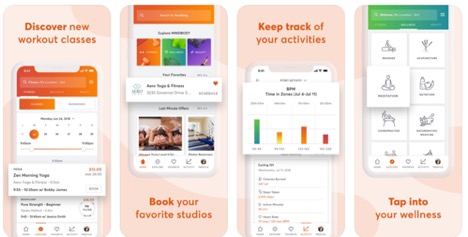 Available on iOS and Android.
Looking for places to go bar(bell) hopping? Prefer to crawl out of a CrossFit class than a pub? The MINDBODY app offers a directory to a wide variety of fitness classes, salons and wellness services for things like nutrition, massage and cryotherapy. The MINDBODY app lets you book spots, pay for passes, read reviews, as well as save your favourite places, classes and teachers to help you stay motivated and excited about improving your health and wellness. You can also sync your fitness tracker to see calories burned and track other progress.
Get the app here on iOS and Android.
Sanvello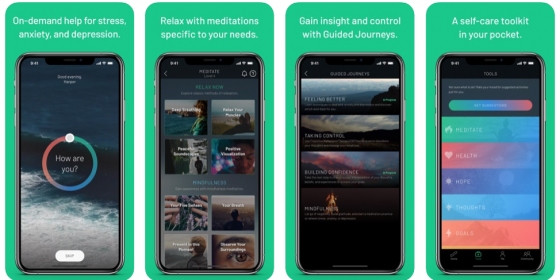 Available on iOS and Android.
If you have anxiety or depression, or struggle with stress or negative thought patterns, Sanvello is a psychologist-designed app which contains a number of tools to help relieve symptoms and improve mood over time. A unique feature of Sanvello is its use of cognitive behavioural therapy (CBT), a type of psychotherapy that has been proven to be effective to manage stress, anxiety and depression.
You'll learn different CBT techniques through guided videos, audio exercises, activities, and mood and health habit tracking. The app will also provide progress assessments based on your mood data, so you can see the connections between your experiences, activities and emotions. Sanvello is also home to a supportive community, offering extra encouragement and tips from people with similar experiences. Sanvello is free to download and use, but there is also a paid subscription available if you would like unlimited access to all features.
Get the app here on iOS and Android.
Stop, Breathe & Think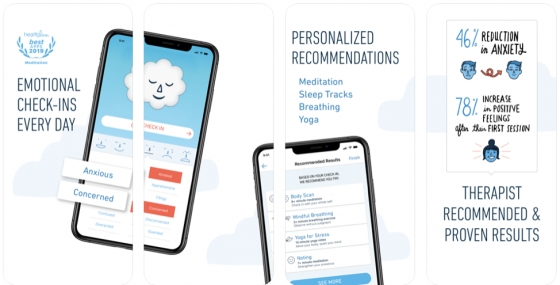 Available on iOS and Android.
Knock, knock – have you checked in with yourself today? If keeping a journal seems too complicated and time-consuming, the Stop, Breathe & Think app lets you quickly track mood and meditation progress on your phone. This allows you to see things like your top emotions, daily streaks, how settled you felt throughout the week and the total time meditated.
Unlike with other apps, Stop, Breathe & Think provides customised meditations to help you enjoy a more effective practice. Before you begin each session, you'll be quizzed on how you feel mentally, physically and emotionally. These answers will then determine the meditation options you can choose from.
The app features guided meditations, yoga videos and acupressure videos that are said to help with issues like stress, anxiety, depression, focus, compassion and sleep. The foundational mediations are free to access, but you will have to pay for a subscription to continue.
An estimation of the prices for Australian users:
Monthly Subscription: $9.99 USD (approx. $14.55 AUD)
Annual Subscription: $58.99 USD (approx. $85.80 AUD)
Get the app here on iOS and Android.
Smiling Mind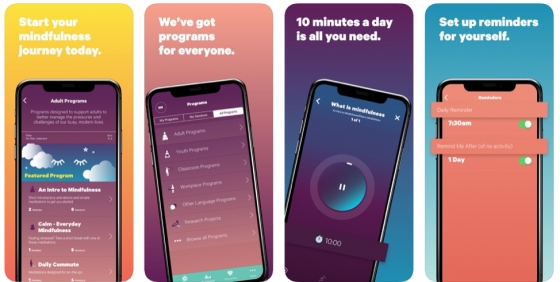 Available on iOS and Android.
Smiling Mind is an Aussie non-for-profit and app-based tool designed to help people manage with the pressure, stress and challenges of everyday life. The sessions are said to be developed by psychologists and educators, with a variety of programs created to suit different age groups, scenarios and goals. Programs target specific concerns like sleep, mindfulness in the classroom or workplace, sports, and other issues affecting everyone from school kids to teens and adults.
The creators say you only need about 10 minutes a day to start seeing "real changes", although the app features both guided and 'freestyle' sessions varying from a couple of minutes to 45 minutes.
Get the app here on iOS and Android.
Headspace

Available on iOS and Android.
Feel like your mind is hoarding piles of negative, stressful and just generally unproductive thoughts? Try and declutter your noggin' with guided meditations and mindfulness techniques. Headspace aims to help you become more aware of your emotions and feelings through a series of Mindful Moments to keep you present throughout the day, and shorter two-minute "mini meditations" for a quick mental reset.
Headspace offers a free Basics course which teaches you techniques on how to meditate, breathe, improve focus and live mindfully. According to the developers, training your mind improves your ability to become less distracted and reactive, and instead more capable in achieving calm, wellness and able to balance every day. This is said to ultimately help you better manage stress and anxiety, relationships, and improve your sleep cycle. But once you finish the initial training, you'll need to subscribe to continue using the app.
The different courses cover topics such as restlessness, navigating change, self-esteem, acceptance, patience, creativity, productivity, regret, leaving home, rehab, mindful eating, pregnancy and grieving. The Headspace app also features guided meditation for kids. The prices below are for customers in the US, but we've listed a rough estimation of the cost for Aussie users.
Monthly: $12.99 USD ($18.99 AUD) — first week is free
Annual: $69.99 USD ($101.80 AUD)
Get the app here on iOS and Android.
10% Happier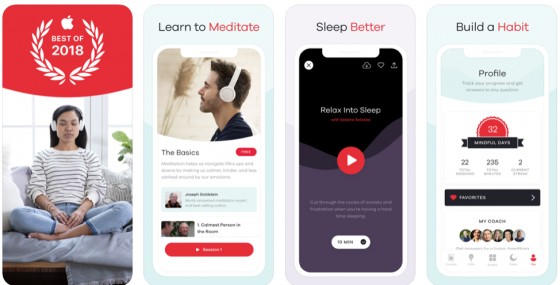 Available on iOS and Android.
Not convinced about the effectiveness of meditation? ABC news anchor Dan Harris wasn't either. But after suffering a nationally televised panic attack, the journalist (and self-confessed former meditation skeptic) managed to tame the "incessant, insatiable voice in his head" with something he assumed was "either impossible or useless: meditation".
The origin story of the Ten Percent Happier movement could be considered a person's worst nightmare, especially for someone who has anxiety. But the creator proves there is truly something for everyone, it's just a matter of finding what works. If you're low on motivation, the 10% Happier app works like a personal trainer. It provides practical guided meditations, videos, short stories and other goodies to help you make meditation a regular habit.
While the app is free to download, you'll need a paid subscription to access all of the content.
Get the app here on iOS and Android.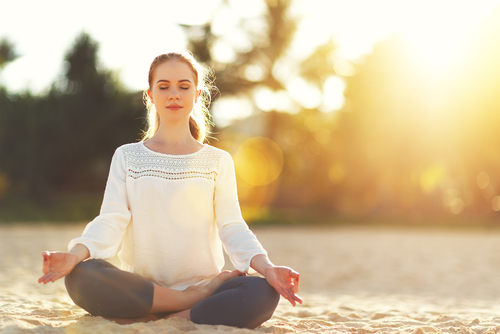 Do meditation and mindfulness apps actually work?
Practicing mindfulness isn't just about slowly huffing and puffing for the sake of taming your inner Hulk, it's about finding what works for you when it comes to taking a step back from it all. Mindfulness apps are a convenient way to train your mind into using techniques that can help you manage stress, anxiety, and depression in a more productive way at any time of the day.
Specific 'SOS' meditation sessions on apps such as Smiling Mind and Headspace are especially useful to help deal with moments of panic, while also offering a range of other programs to target other common daily challenges. Plus, there are plenty of quick-guide meditation sessions to cater to even the busiest people, helping you take some time for yourself.

Here is a selection of postpaid plans from Canstar Blue's database with a minimum of 10GB of data, listed in order of standard cost, lowest to highest, then by data allowance, largest to smallest. Use Canstar Blue's phone plan comparison tool to see a wide range of plans on offer from mobile providers. This table includes products with links to referral partners.
Here is a selection of prepaid plans from Canstar Blue's database with a minimum of 10GB of data, listed in order of standard cost, lowest to highest, then by data allowance, largest to smallest. Use our comparison tool to see a wide range of plans from other providers. This table includes products with links to referral partners.
Picture credits: Albina Glisic/shutterstock.com, Evgeny Atamanenko/shutterstock.com