Phone games are no longer confined to the realm of keeping your annoying younger cousins entertained, they can be great for teasing your brain, soothing your nerves or simply killing time while waiting for the bus. As smartphones have evolved, bigger screens and touch screen capabilities have transformed them into the ultimate handheld gaming device, (although Snake on the old Nokia still holds a special place in our hearts). But with so many games available on the App Store and Google Play, which ones are worth downloading?
Top Phone Games
We take a look at five of the most talked about games for your mobile phone in 2020:
Alto's Odyssey
The sequel to 2015's visually stunning and much-beloved Alto's Adventure has been celebrated by critics as everything that made the original memorable and more. In this iteration, you're no longer snowboarding in the mountains, but travelling through three separate environments. Each of these environments feature unique features and visual elements, such as waterfalls and temples, that can also be interacted with to boost your performance. For example, you can slide along the temple walls for a speed boost, bounce on top of hot air balloons or travel vertically up walls using the sandboard that is unlocked after the first few levels. Another aspect of Alto's Odyssey that has people talking is the dreamy soundtrack so definitely play with headphones.
Google Play: Free, requires in-app purchases
App Store: $7.99
Fortnite Battle Royale
Unless you've been living under a rock, you've likely heard of the online video game Fortnite that has swept feverishly through popular culture in recent years. The 'Battle Royale' version drops 100 players onto an island to scavenge for weapons and supplies, then they must defend themselves from other players to be the last one standing. Players can play in teams, pairs or solo and even use the supplies to build fortresses and obstacles, all while the island slowly constricts, forcing players closer together and speeding up the game. The mobile version boasts the same maps, gameplay and weekly updates available on other devices so that you can have the traditional Fortnite experience at your fingertips at all times.
Google Play: Unavailable, but the app can be downloaded on compatible Android devices from the Fortnite website or by scanning the available QR code
App Store: free, in-app purchases available
Plague Inc.
Although created in 2012, the Plague Inc. app has controversially risen up App Store and Google Play charts around the world since the recent Coronavirus outbreak in China. The object of the game is to create and evolve a pathogen in order to infect the whole world and wipe out humanity, while the human population works to defend themselves. Nice, huh? The game's creators have said that the game's popularity often surges when there is a real-life outbreak, mostly due to our curiosity about how diseases spread and the complexities of viral outbreaks. While the app is first and foremost a game and not a scientific model, you may find yourself similarly intrigued.
Google Play: Free, in-app purchases available
App Store: $0.99
Monument Valley
Loved for both its visuals and gameplay, each of Monument Valley's 10 levels takes place on an abandoned monument inspired by the perspective optical illusions of M.C. Escher. The aim is to guide a princess named Ida to the top of each monument to place a geometric figure while avoiding a number of characters and obstacles along the way. The obstacles – flightless birds called crow people – are countered by twisting the architecture and bending the laws of physics to reach the summit. If you are looking for an aesthetically pleasing puzzle game with an easy-to-follow storyline, Monument Valley is a great choice.
Google Play: Free, requires in-app purchases
App Store: $5.99, in-app purchases available
Donut County
The premise of Donut County may seem absurdly simple – you're a hole in the ground whose aim is to swallow as much stuff as you can. The more destruction you cause, the bigger the hole grows, until suddenly you've progressed from the odd bit of paper and blade of grass to swallowing the town's residents and entire homes. While this sounds chaotic, the destruction is surprisingly clean and peaceful, making the game oddly satisfying, despite the fact that you are throwing everything and everyone you meet into a hole 999 feet under the ground. The storyline involves a raccoon named BK who happily joins the other raccoons who have taken over Donut County by driving the remote-controlled hole, until he falls in one himself. Confronted by the angry townspeople below, BK can choose to solve puzzles to help them or continue to destroy stuff to his heart's content, giving this simple game a healthy dose of moral compass.
Google Play: Not available
App Store: $4.99
Free gaming apps Vs. Paid gaming apps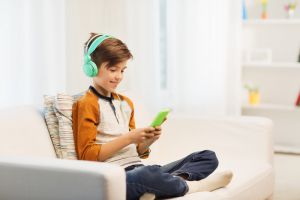 Like with most apps, do you go with the free app, or should you spend a bit of money for more enjoyment? Ultimately this will come down to your personal preferences, and if you're actually willing to part with a few dollars for a game, but most gaming apps nowadays will have free content as well as give you the option to pay for additional stuff in the form of microtransactions. While this allows you to make the most of your time on the app, it can be a slippery-slope, so be sure to keep an eye on how much you're actually spending on your "free" app.
Happy gaming!

Photo credits: sutadimage/shutterstock.com, Syda Productions/shutterstock.com