2012 – Cars Ratings – Hatchbacks
Posted by Canstar Blue November 8th 2012
You are viewing the archived 2012 award for hatchbacks. Go to the current hatchback awards.
Go to our current hatchback customer satisfaction ratings.
Two in three drivers need their tech 'fix' on the road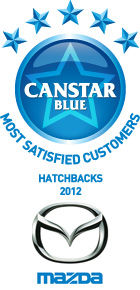 Our recent survey of car customers found nearly two thirds thought it was important their car had technology-based options which enabled them to plug in their phone, MP3 player or other gadgets.
We found drivers from Victoria (70%) and New South Wales (69%) were the most likely to consider tech-integration to be an important feature in potential car purchases, while only 51% of Queenslanders felt the same.
Our survey also looked at customer satisfaction with hatchbacks, where Mazda took top spot receiving Canstar Blue's most satisfied customers award in a hotly contested field which included Honda, Hyundai, Ford, Holden, Volkswagen and Toyota.

Read more …
Mazda was the winner of Canstar Blue's most satisfied customers award for hatchbacks receiving a five star rating for overall customer satisfaction as well as for value for money, reliability and performance.
A number of other brands featured prominently in our hatchback ratings including:
Hyundai which received five stars for value for money, after sales service and reliability.
Holden received five stars for after sale service
Volkswagen, five stars for performance, and
Toyota received a five star rating for the reliability of its cars.
Canstar Blue commissioned Colmar Brunton to survey 7,500 Australian consumers over a number of months to measure their satisfaction across a range of motoring products and services. The outcomes reported are the results from customers within the survey group – in this case, 565 people – who had bought a new hatchback car from a dealership in the last 3 years.
Brands must have received at least 30 responses to be included. Results are comparative and it should be noted that brands that received three stars have still achieved a satisfaction measure of at least six out of 10.
Overall customer satisfaction
Mazda received five stars for overall satisfaction for its hatchback fleet; ahead of four star recipients Hyundai, Ford, Honda and Holden. Both Volkswagen and Toyota received three stars for overall satisfaction in this category.
Value for money compared to other cars in this class
We saw two brands excel in this area with both Mazda and Hyundai each receiving five stars for value for money. Ford, Honda and Volkswagen all received four stars, while Holden and Toyota received three each.
After sales service (i.e. from the dealership / manufacturer)
Quality of after sales service is an important consideration for many drivers and It is something Hyundai and Holden both do well, the two brands each receiving a five star rating for this criterion. Ford and Honda received four stars for after sales service with Mazda, Volkswagen and Toyota receiving three.
Reliability of the vehicle purchased
When it came to reliability three brands received Canstar Blue's five star rating – Toyota, Mazda and Hyundai. Ford, Honda and Volkswagen received four stars for reliability and Holden received three.
Performance of the vehicle purchased
Performance for most motorists means better handling and efficiency. Mazda and Volkswagen delivered in this area, the two brands receiving five stars for performance with a four star rating awarded to Ford and Honda, and three stars for Hyundai, Holden and Toyota.
Past Ratings
Cars – Most Satisfied Customers (2010)
Cars – Most Satisfied Customers (2011)
Cars – After Sales Service Award (2011)
Cars – Hatchbacks (2011)
Cars – Reliability And Performance Award (2011)
Cars – Sedans (2011)
Cars – Value For Money Award (2011)