Tissues are an essential in every Australian household, so what tissues do consumers rate best?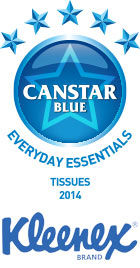 Tissues are an innocuous item – they sit in the house, usually unnoticed, until they're suddenly called to action when the situation calls. We've asked Australian shoppers how satisfied they are with products they purchase on a regular basis, to find out which tissues to stock up on.
This year, Kleenex achieved our Everyday Essentials Award – Tissues. It was a competitive set of results, with Sorbent, Quilton, ALDI, Woolworths, and Coles Brands also being compared.
Canstar Blue commissions Colmar Brunton to regularly survey 2,500 Australian consumers across a range of categories to measure and track customer satisfaction. The outcomes reported in these Everyday Essentials Awards are the results from customers within the survey group who have purchased and used tissues in the last three months – in this case, 1,937 people.
Brands must have received at least 30 responses to be included.