How OzKleen "cleaned up" with bathroom cleaners award
Posted by Simon Downes November 25th 2014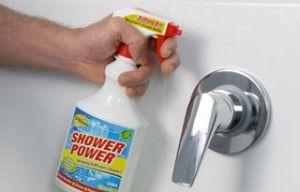 OzKleen has wiped the floor with 17 other top brands to achieve our Most Satisfied Customers Award for bathroom cleaning products, so we caught up with Sales and Marketing Manager Colin Heron to discuss the company's Aussie success story.
Based in the small town of Ormeau in Queensland, OzKleen's products, which include Shower Power, are exported all over the world, but the company remains 100 Australian-owned – and proudly so.
Q) The genesis of the business was word of mouth – how difficult was it to get that initial supermarket foot in the door opportunity and how did it change the business?
We launched Shower Power into Woolworths in 1995. The Woolworths buyer (from the Woolworths office in QLD) took it home, tested it and absolutely loved it. It removed a stain that she had not been able to remove. Shower Power's sales in Woolworths continued to grow and it quickly gained full distribution.
We received a phone call from the Coles buyer who contacted us after hearing how good Shower Power works. The Coles buyer was told from a relative about Shower Power and we soon gained full distribution into Coles. It is completely unheard of and very rare that a Coles buyer would contact a supplier to request a product.
Approximately six months after Shower Power gained full distribution, it became the number one selling product in the household cleaning category.Word of mouth was the biggest form of advertising that drove Shower Power to its success. When we first launched it into the major retailers, it was relatively easy because there was not a bathroom cleaner on the market that performed anywhere as good as Shower Power.
Before Shower Power was launched into the retail market, OzKleen made around 100 or so products which was sold through a factory style retail outlet and through distributors. Shower Power outsold its other 100 products combined and after the successful launch, we deleted all our other products and just focused on Shower Power through the main retailers.
Q) You say on your website that your products "actually work" and Shower Power is clearly hugely successful. Can you tell us how much work goes into developing your products and have they changed over time?
When we first launched Shower Power, we were inundated with letters of praise for it.We received thousands of testimonials and a common phrase from the letters was that customers were shocked that it actually worked, so we copied these terms to use for the marketing for the product.We have kept these terms to use not just for Shower Power but for the company and our other products.
Before we launch a product into the market, we conduct a huge amount of research and product testing to ensure that it's far superior and work better than what is currently on the market.Our opposition are mostly marketers where as we are manufacturers with a R&D team.
Q) Our research suggests the bathroom is the area of the house that people dislike cleaning the most – why is that?
Before Shower Power was launched, it was certainly the hardest place to clean. With the shower, as soon as you clean it, you have a shower and it's dirty again… That was a common comment that we received. One benefit with Shower Power is that it leaves a protective film to help keep the shower clean longer.
Q) Your business has gone from strength to strength – can you share any future plans?
We have been working on a laundry detergent for around two and a half years which is set to be launched next year. From our test performance results, we have perfected the formulation and our results clearly show that it's the best performing laundry detergent on the market. The extra benefit is that it's antibacterial and anti-fungal. ?