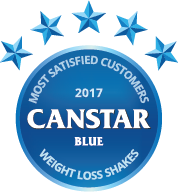 Most Satisfied Customers | Celebrity Slim
There is a new top-rated brand of weight loss shakes in town and it goes by the name of Celebrity Slim. But the good news is you don't need to be a celebrity to drop the kilos. Celebrity Slim shakes were rated five stars by consumers on hunger satisfaction, taste, variety, and overall satisfaction in 2017.

Could you slim down like a celebrity?
Losing weight can be a huge challenge, but in weight loss shakes you have a willing ally, provided you use them correctly. Finding the best diet shakes for your personal tastes and needs is the first step on the road to a slimmer, healthier you, and Canstar Blue's 2017 review of weight loss shakes can help you along the way. Once again we've surveyed dieting Aussies around the country to find out which brands are successfully fulfilling our thirst for weight loss, in respect of hunger satisfaction, effectiveness, taste, variety of flavours, value for money, and overall customer satisfaction.
All the big brands have been put to the test, with Celebrity Slim emerging as the highest rated of the lot. It scored five-star reviews from consumers in four out of the six categories, with only a handful of other five-star ratings achieved by other brands:
Rapid Loss scored five stars for the taste of its shakes
ALDI Slim & Trim also rated five stars on taste, as well as value for money
For overall satisfaction, it was four stars for ALDI Slim & Trim, IsoWhey, Nature's Way SlimRight and Optislim, while Bodytrim, FatBlaster, Optifast and Rapid Loss all earned three-star reviews. However, it's interesting to note that not a single brand achieved the maximum five stars on effectiveness. That leads us on nicely to our first question:
Do weight loss shakes work?
Yes, they can work. That's the short answer, but only if you follow the guidelines properly and really commit to the challenge. Weight loss shakes are not a magic solution or magic pill that will see you shedding kilos in no time. Losing weight requires patience, dedication and will power. The diet shakes you buy can help you along the way, but their success or failure will, ultimately, be determined by you. Stick to the advice of your chosen weight loss program (this will typically involve replacing one or two meals per day with shakes) and supplement your shakes will a healthy, balanced diet and regular exercise.
According to the Weight Management Council of Australia, meal replacement shakes have been shown to produce weight loss of 3 to 9.5kg. But be prepared to feel hungry! Weight loss shakes can be very low in calories. Associate Professor Tim Crowe, a practicing dietitian and nutrition researcher at Deakin University, said the following of meal replacement shakes in this ABC article on losing weight:
"An advantage of using shakes to help with weight loss is they are very easy to use. But to lose weight, you do need to eat sensibly around them, and your other meals still have to be portion controlled. They are reasonably high in protein and lead to a feeling of fullness. But as part of a calorie reducing diet, you will be hungry. You can't hide that."
To find the best, most effective, weight loss shakes for you, you need to find a brand that keeps you feeling full up and your appetite satisfied between meals. The danger of consuming shakes with very few calories (usually between 50-200 calories per serve) is that you could be prone to snacking, or even turning to the sort of meals you are supposed to be replacing.
Weight loss success rate
When asked whether they have lost weight using diet shakes, survey respondents in 2017 told us:
Yes, all the weight intended: 11%
Yes, I lost some weight: 54%
No, I have not lost any weight: 30%
No, I have put more weight on: 5%
In many cases, dieters are not helping themselves. Just 46% of respondents said they stick strictly to their recommended program. In addition, 66% admitted they often snack on foods outside of their recommended daily intake. Just 63% of respondents would recommend diet shakes to friends trying to lose weight.
Do weight loss shakes work in the long-term?
Expert opinion suggests that weight loss shakes can indeed be an effective way to lose a large amount of weight in the short term. Many programs are specifically designed to last about 12 weeks, giving you the rapid weight loss you want, very quickly. The other question is, however, can weight loss shakes lead to long-term weight control? There's not much point losing all the weight if you're only going to put it back on again.
As most weight loss shakes are designed for short-term success, once you've achieved your desired weight loss, you're on your own. You'll have to get used to preparing healthy, balanced meals each day. For some people, this could result in a slip back into old eating habits. If this is a concern for you, a weight loss program that involves replacing just one meal per day, rather than two, could be the way to go. This means your weight loss could take a little longer, but you'll get there without radically changing your eating patterns. As they say, slow and steady wins the race.
Overall, weight loss shakes can offer a low-calorie, structured and convenient diet plan, with most of the essential vitamins and minerals our bodies need. They promote behavioural change and nutritional education. When used properly, and as part of a healthy, balanced diet, you can expect to lose weight.
How do weight loss shakes work?
The great thing about weight loss shakes is they are quick and easy to prepare. You also get the benefit of trimming down by drinking shakes that taste like chocolate, or caramel! Weight loss shakes normally come in powder form, and just need to be mixed with water or skimmed milk (obviously choosing water means even fewer calories). This means they are easy to prepare in the morning and take to work, or grab when you get home with an empty stomach at the end of the day. While the ingredients of weight loss shakes varies between brands, the basic idea is to keep your body fuelled with all the vitamins and minerals you need, while suppressing your appetite.
What's in weight loss shakes?
Weight loss shakes are made with a combination of different fibres, proteins, vitamins and minerals, plus some other additives or flavours depending on the brand. The ingredients lists found on some products can appear a little scary, packed with long words and numbers you've never heard of. Some brands are better at detailing their ingredients than others, but as a guide, we recommend checking out the ingredients listed on the IsoWhey or Optifast websites.
It's hugely important to pay attention to the sugar content of weight loss shakes, which varies significantly. Some products are packed with up to 23g of sugar per serve, while others include less than 2g. Not only is an excessive amount of sugar bad for you, it's unlikely to suppress your appetite for very long. If you want a weight loss shake that keeps you feeling full up for as long as possible, look for those that have a large amount of protein. IsoWhey is one brand that includes a high quantity or protein. Another is The Man Shake.
You may also be interested in:
How much do weight loss shakes costs?
Using weight loss shakes to replace one or two meals each day can be an expensive way to drop the kilos. Dieting Aussies spend an average of $68 a month on their shakes, our 2017 survey found. However, the best way to judge the real cost of diet shakes is to work out how much you would normally spend on the meals you are replacing. You might suddenly realise it's not so expensive after all. There can be a big difference in prices between brands, but make sure you check how many servings you are getting for your money. Generally speaking, buying weight loss shakes in bulk will be the cheapest way to go. Some shakes come in sachets – which makes it easy to work out how many you need for a week or month – while others come in larger tubs, requiring a little more brain power to determine how much you will need.
Picking the best shakes for you
Six out of ten respondents to our survey (62%) have tried more than one brand of weight loss shakes, which suggests it may take a little trial and error before you find the best for your personal preferences. You might want a brand that delivers the tastiest shakes, the widest range of flavours, has the highest protein content, or is simply the cheapest to buy. Our research identified the following drivers of customer satisfaction:
Hunger satisfaction (i.e. keeps you feeling full): 31%
Effectiveness: 26%
Taste of shakes: 20%
Value for money: 19%
Variety of flavours available: 4%
As you can see, there are a lot of boxes to tick. To help you find the right weight loss shakes for your needs, let's have a closer look at each of the brands in this year's review and what they offer.
Celebrity Slim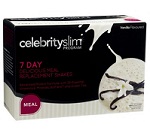 The Celebrity Slim product range is quite diverse, including Rapid Shakes, Rapid Low Sugar Shakes, Meal Replacement Shakes, Dairy & Gluten Free Shakes, Low-Carb Shakes and pre-mixed To Go individual serving cartons. Across the shake powder range, most varieties come in a choice of individual serving sachets (sold in boxes of single flavours or as variety packs) and bulk tubs. Flavours available include chocolate, vanilla, banana, coffee, caramel, strawberry, choc orange, berry, choc mint, cookies & cream, and choc caramel. Celebrity Slim diet shakes can be purchased directly online, or from supermarkets and some major chemists.
There are three different suggested programs for users to follow – Rapid, Trim, and Maintain – as a sequence of phases, although you can also start at any phase of your choosing. The Celebrity Slim website offers healthy eating tips, recipes and meal plans, as well as exercise tips and plans. There's also a forum for users to share their experiences and ideas.
This year's winner was the only brand to receive five stars for hunger satisfaction and variety of flavours, while it was one of three receiving five stars for taste of shakes. Celebrity Slim rounded out its performance with four stars each for effectiveness and value for money.
ALDI Slim & Trim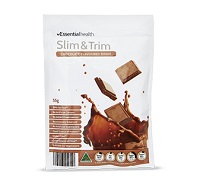 As usual, ALDI offers a concise yet still highly popular range of weight loss shakes, with one formula coming in a choice of four flavours – vanilla, strawberry, chocolate, and coffee. Shakes come in individual serving sachets, so you can buy exactly as many of each flavour as you like, and can avoid getting stuck with a whole box or tub full of a flavor that doesn't end up taking your fancy. They're also handy to chuck in your bag or keep in your work drawer so you've always got a short-notice meal replacement on hand.
A former three-time winner in our diet shakes review, this year ALDI Slim & Trim received a solid four stars minimum across our ratings, with top marks for taste of shakes and value for money. In fact, ALDI was the only brand to reach five stars on value for money, unsurprising given ALDI's track record for bargains.
IsoWhey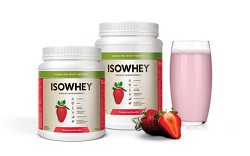 Unlike many other weight loss brands, IsoWhey places a heavy focus on the use of so-called 'superfood' ingredients. The weight loss shakes range is gluten-free and contains alkaline seagreens, probiotics, and digestive enzymes. The original IsoWhey shake comes in five flavours – Ivory Coast Chocolate, Madagascan Vanilla, Strawberry Smoothie, Banana Smoothie and Classic Coffee. They can be purchased in tubs (448g, 672g or 1.28kg) or boxes of sachets (7 or 21 per box). Diabetics are also catered for with the IsoWhey Diabetic Formula product, a meal replacement designed to support healthy sugar metabolism. This is available in Ivory Coast Chocolate and Madagascan Vanilla flavours, in 640g tubs.
IsoWhey also offers meal replacement bars, while venturing beyond the weight loss range are wholefoods protein powders, wholefood and superfoods snacks, dukkah and superfood sprinkles, and even probiotic chocolate bars. Older people may also be interested in the shakes designed for supplementing nutrition for aging bodies.
Last year's overall satisfaction winner hasn't managed to hold onto top place, but this year has still showed a consistently solid performance with four stars across the board.
Nature's Way SlimRight
Offering three different types of weight loss shakes, SlimRight is a family-owned company which manufactures right here in Australia. The original SlimRight shakes come in a choice of three flavours – vanilla, chocolate, and strawberry with raspberry ketones. The SkinnyGut shake formula includes weight loss probiotics and comes in Rich Chocolate flavour. Finally, the SlimRight 3-in-1 includes three 'superfood' ingredients – garcinia, chia seeds, and green tea extract – in a Chocolate Decadence flavour. All come in tubs, and can be purchased from supermarkets and a number of major pharmacy chains.
Nature's Way SlimRight also offers other weight loss products, including fat burner tablets, superfoods powder, SkinnyGummies with garcinia, and Skinny Drops 'water enhancer' with garcinia, all said to help boost fat and carbohydrate metabolism.
SlimRight's weight loss shakes have this year received four stars for overall satisfaction and for hunger satisfaction, taste of shakes, and value for money. However, in a slight dip in performance from last year, they've received three stars for effectiveness and variety of flavours.
OptiSlim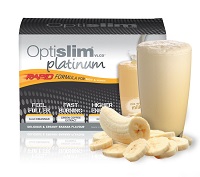 There are four different OptiSlim diet shake ranges to choose from, depending on your goals. The OptiSlim VLCD Classic range comes in chocolate, strawberry, espresso, vanilla and banana flavours, sold in boxes of 21 individual sachets. The advanced VLCD Platinum shake (coming in the same flavours as the Classic range) kicks it up a notch with increased fat burning, reduced hunger, and higher energy levels for faster results, says OptiSlim. For a less intense weight management program, the OptiSlim LCD Life range comes in the widest range of flavours, some of which you'd be hard pressed to find in other brands – banana, chocolate, vanilla, coffee, strawberry, caramel, honeycomb, lemon cheesecake, choc mint, and French vanilla. These can be purchased either as boxes of 7 sachets of the same flavour, or as a variety pack containing the first five flavours.
For even more variety, OptiSlim also offers a number of different bars, soups, and even cookies among the various product lines, making it easier to grab a snack without worrying about your weight loss progress. Unique for a weight loss shake brand, OptiSlim has a number of packet meals including hearty recipes such as spinach & ricotta tortellini, beef stroganoff, and vegetarian tikka masala among others.
Compared to last year, OptiSlim has picked up on its performance among customers. OptiSlim achieved four stars for overall satisfaction, as well as for effectiveness, taste, and variety of flavours. In the hunger satisfaction and value for money categories it received three stars.
Bodytrim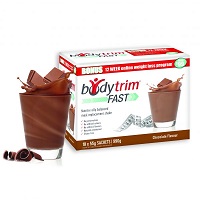 Keeping things simple, Bodytrim offers just two flavours of weight loss shakes – chocolate and vanilla. These can be purchased as either boxes of 18 single-serve sachets or as 495g tubs (containing 9 serves). These nutritionally balanced meal replacement shakes are gluten free and contain no preservatives, artificial flavours or artificial colours. Bodytrim does offer a bit more variety for those looking for easy meal replacements for their weight loss journey, with toffee bars, slices, fudge bars, and cookies in multiple flavours. Bodytrim products can be purchased at supermarkets and Priceline pharmacies.
Bodytrim didn't receive the sample size to make it into our ratings last year, but has returned this time with three stars across the board except for a two-star rating on value for money.
FatBlaster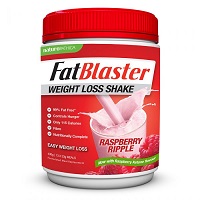 Among its many weight loss products, including detox drinks, weight loss pills, and superfoods supplements, FatBlaster offers two types of weight loss shakes. The regular diet shake range comes in Vanilla Ice Cream, Double Chocolate Mocha, Chocolate Smoothie, and Raspberry Ripple flavours. These are all also available in a version with 30% less sugar and containing green tea extract. The Fatblaster Super Shake range comes in two flavours (Vanilla Bean and Rich Milk Chocolate). The Super Shakes contain four 'super foods' – green tea extract, chia seeds, maca powder, and green coffee bean. All are sold in 430g tubs, containing 13 servings.
In our 2017 review, FatBlaster has lost a star from every category compared to results from last year, with three stars for overall customer satisfaction and all other categories but for effectiveness, in which it achieved just two stars.
Optifast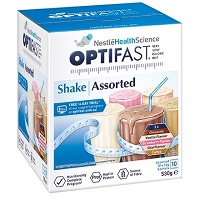 Optifast weight loss shakes come in a number of flavours, including chocolate, caramel, vanilla, coffee, banana, strawberry, and chai. These can be purchased as a single-flavour box of 12 or 18 sachets, or as a 10-pack assortment (2 each of chocolate, coffee, strawberry, vanilla and chai). Optifast also offers several meal replacement snack bars, plus new additions to the line of soups and desserts. The brand's website offers guidance for consumers to adopt its suggested Optifast VLCD Program as well as other tips and information for healthy weight loss. Optifast memberships (costing a one-off $99, with a free 14 day trial) offer further support, with personalised meal and exercise plans and trackers, recipes, access to a members' forum, and articles by healthcare professionals.
Optifast received mixed results in this year's review – across overall satisfaction and most other categories the brand received just three stars, with four stars for effectiveness but just two stars on value for money.
Rapid Loss
Designed as a 'bridging diet' to help you transition into a long-term healthier diet and exercise lifestyle, Rapid Loss meal replacement shakes come in 10 different flavours. If you're easily bored by repetition, there's plenty of variety between the lemon cheesecake, chai latte, salted caramel, choc mint, vanilla, latte, strawberry, banana, and chocolate flavours. Rapid Loss shakes are available in 450g and 750g tubs, sold on the brand's website as well as in some pharmacies and health food shops. According to Rapid Loss, shakes can be used as either meal replacements (when mixed with milk) or as low-calorie snacks (when mixed with water). The powder contains 25% of the RDI of vitamins and minerals, as well as high fibre and protein content to help you feel fuller and keep control over those between-meal cravings.
Interestingly, this year Rapid Loss received three stars for overall satisfaction, an outstanding five stars for taste of shakes (an improvement on last year's results), but just two stars on effectiveness and value for money.
Frequently asked questions
Canstar Blue commissioned Colmar Brunton to survey 6,000 Australian adults across a range of categories to measure and track customer satisfaction. The outcomes reported are the results from customers within the survey group who have purchased and used a weight loss shakes in the last six months – in this case, 766 people.
Brands must have received at least 30 responses to be included. Results are comparative and it should be noted that brands receiving three stars have still achieved a satisfaction measure of at least six out of 10. Not all brands available in the market have been compared in this survey. The ratings table is first sorted by star ratings and then alphabetically. A rated brand may receive a 'N/A' (Not Applicable) rating if it does not receive the minimum number of responses for that criteria.