Less than half of us feel safe catching the train at night, according to results from a new survey by Canstar Blue. Only 48% of the over 1,600 respondents from across Australia's five biggest states said that they felt safe catching night trains whilst around one in five people said that the threat of terrorism has made them more nervous catching the train.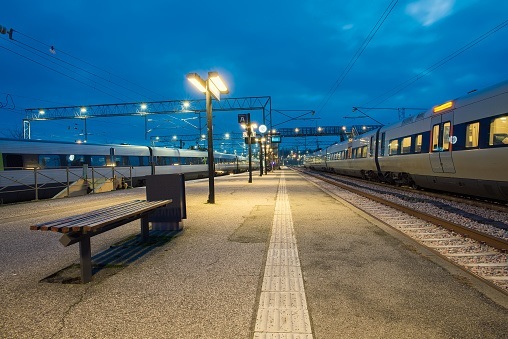 You can view the survey results for city trains here
Comments made by the survey respondents included:
"Safety, reliability are both questionable. I would not travel after dark particularly at weekends."
"The only time I feel safe travelling on the train is during absolute peak hours."
"I never feel safe travelling on the trains I don't like my wife or child travelling on trains."
"On the Werribee line I often feel a bit worried about safety as there are some dodgy people on the trains."    
"Trains are not safe after dark and I would NOT use them."     
Safety tips for catching night trains
Everyone has a right to feel safe at all times. When catching the train at night, here are some safety tips to consider:
When travelling alone,  try to sit in the carriage closest to the driver's cabin (the first carriage)
 Try to sit in carriages with other customers, or with visible security, rather than by yourself
Plan your journey. Find out exactly what time your service arrives and departs to minimise your wait times at stations
If being picked up from a station after a train journey, try to organise your transport to pick you up from the station straight away
Keep up with all the latest line disruptions and delays by regularly checking with your train service provider
When waiting on the platform, stand in an area which is brightly lit, covered by CCTV and close to Emergency Help Points
Carry a mobile phone and spare change
Call 000 in an emergency or Crimestoppers (if not urgent) on 1800 333 000 if you are in trouble or witness a crime or anything suspicious
So what are the security initiatives for trains across the state? We countdown the safest states with major train networks and outline their security measures below:
Queensland trains – 57% feel safe riding at night
$39 million invested by QLD Government in security initiatives across Queensland Rail.
South-East Queensland has a police "railway squad" of around 60-70 officers
Queensland Rail deploys approximately 200 private security contractors across the network.
Private security guards deployed on selected evening services on weekdays and every timetabled service leaving the Brisbane CBD after 7pm on Fridays and Saturdays (these services are marked as 'Guardian Trains' in online rail timetables)
Mobile security patrols consisting of 11 teams of private security guards and dogs patrol stations across the Citytrain network.
More than 8,900 CCTV cameras
Emergency phones on most Citytrain network trains and station platforms, along with enhanced lighting and video camera surveillance.
NSW trains – 50% feel safe riding at night
610 police officers patrol trains, coaches and stations.
Police officers supplemented by 150 "transport officers"
On Friday and Saturday nights between 15:00 and 06:00, Police Transport Command officers, both high visibility and plain clothed, patrol train, bus, ferry and light rail services as well as stations, stops and wharves to improve security and reduce crime.
Over 10,000 CCTC cameras across the NSW Trainlink and Sydney Trains networks
750 visible customer help points that allow direct communication with CityRail staff
7000 safety-enhancing high intensity lights.
Victoria trains – 46% feel safe riding at night
Victorian Government has spent $212 million since February 2012 on train security
940 Victoria Police Protective Services Officers introduced at all train stations in Melbourne and at major regional stations.
Police patrol the network from 6pm every night until the last scheduled service.
Click here to see a full list of all the Victorian stations patrolled by these officers
All railway stations and many train carriages are equipped with CCTV cameras
Stations have marked "Safety zones" which are well lit and located within reach of the public emergency communication system. Safety zones receive video surveillance throughout the train station's hours of operation.
South Australia Trains – 45% feel safe riding at night
100 Transit Police
Over 80 Passenger Service Assistants and security guards
Security guards ride on all trains leaving the Adelaide Railway Station after 6pm 7 days a week; and
all trams after 6pm on Friday, Saturday and Sunday nights.
CCTV cameras operate 24 hours a day on all buses, trains and trams.
Over 1000 CCTV cameras at O-Bahn interchanges and train stations across the network.
Western Australia Trains – 40% feel safe riding at night
Over 1,300 security cameras on all train stations
Over 250 "Transit officers" on the transperth trains
Every train after 7pm has two officers riding along with the train
Enhanced security lighting at every station