This competition has now closed. A winner will be announced shortly. Follow the link for info on terms and winner.
Enter for a chance to win
How do you start your day?
Our friends at Nescafé have offered one lucky winner a chance to win a Nescafé Dolce Gusto Jovia Coffee Machine (in red).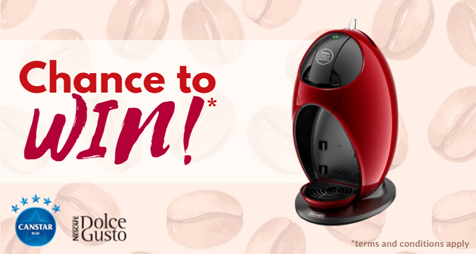 To enter the draw simply
Fill out the form below, and
Comment on the Facebook competition post, with how you start your day (found here)
By filling in this entry form, you are subscribing/resubscribing to our newsletter. (If you're already subscribed to our newsletter, you still need to fill in the entry form to be entered in the draw)
Please be sure to enter the name used to comment on the Facebook post and use your current email address, as this is how we will identify and contact the winner.
Full terms and conditions can be found here.
Good luck in the draw!
The competition closes at 11:59pm AEST on 29th August  2017. The winner will be randomly selected from a list of eligible entrants between 10:00am – 12:00pm AEST 30th August 2017.