The Australian Capital Territory (ACT) has become the first Australian state or territory to achieve 100% net renewable electricity.
The territory has begun purchasing electricity produced by the Hornsdale Stage 3 wind farm in South Australia, tipping it over the line to offset all electricity used by its residents.
It means the territory is now purchasing and generating enough renewable electricity to make up for what it uses.
But while the ACT does have solar systems and a few small wind farms on its borders, this achievement is best attributed to the renewable energy sources outside of the territory. The territory began purchasing renewable power earlier this year through what's called 'reverse-auctions', where the cheapest bid wins over the most expensive.
ACT Minister for Climate Change and Sustainability, Shane Rattenbury, ascribes the 100% green title to the SA wind farm agreement acquired through reverse auction.
I'm pleased today to announce that with the right infrastructure now in place, the ACT is set to deliver on our 100% renewable electricity target. (Thread)

— Shane Rattenbury MLA (@ShaneRattenbury) 1 October 2019
"The Hornsdale 3 wind farm is the last of our 10 large scale renewable energy generators that are spread across the country and are helping to power the ACT on clean energy at low prices," Mr. Rattenbury said.
"Like so many other Australians, Canberrans are already making the switch to clean energy.
"We're acting now to deliver a long-term vision for our city so that we make an orderly transition away from an inevitable carbon-restricted future."
This shift to renewables has helped the ACT reduce its greenhouse gas emissions by approximately 40 per cent, moving at a steady pace towards the territory's aim of zero net emissions by 2045.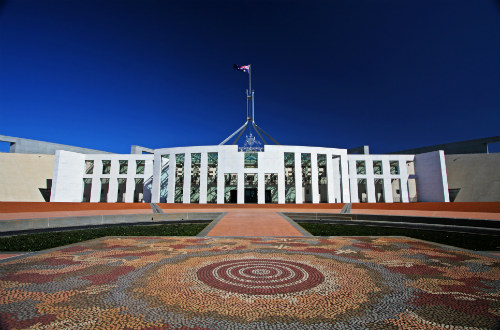 So, what about the other states?
It's no secret that Tasmania is leading the pack when it comes to renewable power generation, with plentiful wind and hydro power in its portfolio. The state is on target to deliver self-sufficiency in renewables in the next few years, but what about the others?
NSW: No published renewable energy target
VIC: 40 per cent net renewables by 2030
QLD: 50 per cent renewable energy target by 2030
SA: Wants to achieve 100 per cent net renewables by the 2030s
WA: No published renewable energy target
NT: 50 per cent renewable energy by 2030 goal

Image credits:Steven Tritton/shutterstock.com, Dan Breckwoldt/shutterstock.com