Following the recent launch of its new subscription model energy plans, Amaysim Energy is offering new customers their first month of electricity for just… $1.
This promotional offer is only available to those in Victoria who sign up to one of the retailer's new prepaid power plans before an undisclosed closing date (in the week beginning May 13).
"Off the back of NSW and VIC energy prices soaring to their highest level on record in the first quarter of 2019, we wanted to give consumers some respite with the newly launched Amaysim subscription energy products. $1 for the first month for Victorian customers," an Amaysim Energy spokesperson told Canstar Blue.
"Following the first month, customers will then pay a fixed monthly price for a set amount of energy, just like their mobile. This is based on a clear and consistent flat rate, so there are no hidden prices or fees and no nasty surprises.
"We strongly believe that the Amaysim subscription energy plans will eliminate the issue of bill shock and energy anxiety and provide Australians with the flexibility to plan, control and easily monitor their energy use online. We want to change the way Australians think about and buy electricity."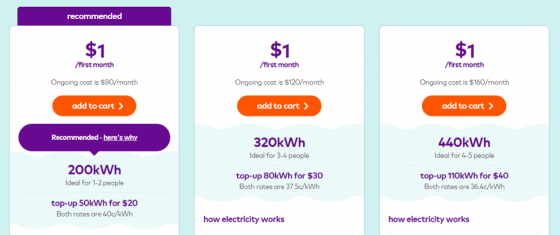 You could walk away after the first month….
Amaysim Energy is bringing a mobile-type business model to the energy space, with such $1 promotions now commonplace in a hugely competitive mobile market. And in true mobile plan fashion, customers who sign up to Amaysim Energy could technically walk away after the first month, having only paid $1.
It's worth mentioning, however, that the dollar amount customers pay for electricity in the first month only covers the allowance of the plan they choose, and that if the amount is exceeded, an additional top-up will be required to be paid.
What can I expect after the first month?
Whilst it's easy to get caught up in the allure of a seemingly good deal, it'd be wise to consider whether the plan you're potentially signing up to suits your budget and lifestyle in the long-run.
As a prepaid deal, Amaysim's subscription plans work slightly different to your run-of-the-mill power plan. According to the company, these plans aim to "eliminate bill shock" by charging customers a consistent amount each month, with any unused power credit rolling over for later use.
The table below shows how much an average three-person residence on the Citipower network in Melbourne can expect to pay for Amaysim's mid-range product. As you can see, according to our estimates, a household of this size would need to purchase a top-up, which is an extra $30.
Is Amaysim Energy a good deal?
This all comes down to what type of energy customer you are. If price certainty – and lack of bill shock – is important to you, Amaysim Energy could be a provider worth considering. Just keep in mind that if you go over your plan's kWh limit, you'll need to pay extra, removing that price certainty. So, it's important to understand – and monitor – your energy usage.
If, however, you are an energy customer happy to shop around and chase the best deals, there are likely cheaper deals on the market. You can compare plans in your area via the link below.