How 'bout a slice a' solar with your pizza? Domino's is set to save some serious dough on its power bills as it extends its renewable energy strategy to more stores in the coming years.
The pizza chain's renewable energy initiative initially launched back in 2017 when a Brisbane Domino's not (pepper)only installed a solar system, but also introduced energy demand controllers into the mix.
As a result, Domino's has claimed that this store has achieved a 34 per cent reduction in energy usage and a total 48 per cent saving in electricity costs.
Domino's Australia and New Zealand CEO, Nick Knight, has suggested that the success of the changes at the Aspley store has created a domino effect on others in the business.
"We are looking to implement this strategy in more stores across our network, with Domino's Ballina, Noarlunga and Kelso already operating with solar power systems and energy demand controllers," Mr Knight said.
"We currently have 70 stores with energy demand controllers installed, and an additional seven stores already in the works."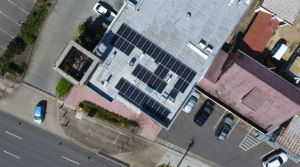 What are energy demand controllers?
Energy demand control systems work to reduce how much you pay in peak electricity usage hours by switching off any non-essential appliances and technologies during this time. These systems have been installed as a benefit of Domino's partnership with Construction, Supply & Service (CSS).
Canstar Blue Editor-in-Chief, Simon Downes, said that thinking outside the [pizza] box is a great way for small businesses to reduce their operating costs.
"Half of the small businesses we recently surveyed said that energy costs are their greatest financial concern, so many will be looking at ways to make savings. It's good to see a company like Domino's providing inspiration while also doing its bit to help reduce demand on our energy grid. However, the reality is that many businesses will simply not have the disposable funds to go out and install a solar system," Mr Downes said.
"Energy management systems and solar panels are great options for those who can afford them and are happy to focus on the long-term savings such investments will bring, but the best way to cut power costs right now is to find a better energy deal."