There's a lot of discussion about energy right now, and while it may seem uninteresting and over-politicised, the issues surrounding the Australian electricity market may soon hit your family budget. Hard. However, if you're a savvy electricity shopper, you could dodge the wholesale price rises and even slash your power bills. Read on to find out how.
How are electricity prices set?
To fully understand how a retailer sets its prices, you first need some knowledge of how the energy market operates. Essentially, your energy provider purchases electricity on your behalf from the energy market. The retailer pays a wholesale price for electricity, referred to as a 'spot price'. The spot price of electricity can change every five minutes and is largely influenced by generator supply and electricity demand.
Because there are regulations on when and how often energy retailers may set their rates, they must try to predict how the spot price will behave when setting their prices to charge customers. When the spot price is lower than expected, the retailer turns a profit, but when spot prices are high, the retailer is operating at a loss.
Through their rates, retailers will also collect transmission costs on behalf of the local distributor and tack on a little extra to cover their own costs. As you can see from the AEMO chart below, retailer charges and margins are usually only responsible for a relatively small portion of your electricity costs, while network charges and the wholesale price of electricity are the two largest contributors.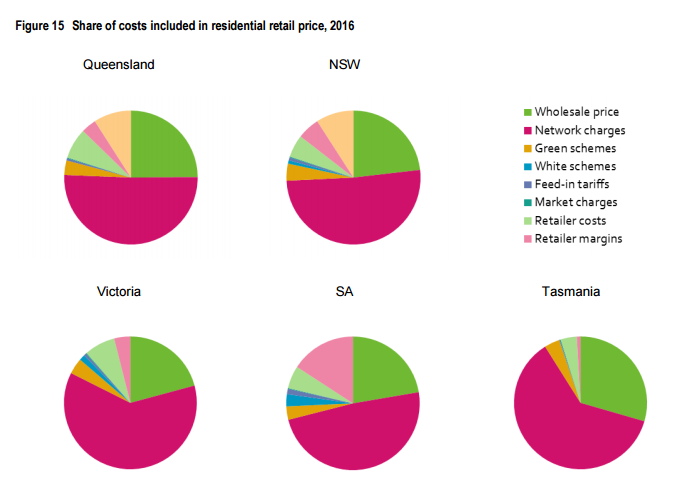 Why are electricity prices rising?
The summer of 2016-17 has been an absolute scorcher, with parts of Australia enduring record-breaking temperatures. As millions of Aussies sought refuge from the heat in the form of air conditioning, distribution networks were pushed to the absolute limit, and the spot price of electricity rose as high as $15,000/mWh! To put that into perspective, the average electricity price is usually only around $400/mWH to $600/mWh.
Electricity retailers are the ones who initially absorb this cost, meaning they are operating at a massive loss when spot prices get this high. To recoup these costs and better insure themselves against any future volatility, the retailers will likely increase their rates in the months following such an event.
Network charges have also been on the rise for some years, having been attributed as an unfortunate, but necessary consequence of renewable transition. Australians have become less reliant on grid energy thanks largely to solar panels and home storage systems, however distributors must still expand and maintain their networks to ensure they can handle future days when electricity demand peaks. Large-scale renewable generation investment, coinciding with cutbacks in fossil-fuel generation, has also been held partially responsible for the rising price of electricity.
South Australians are expected to be hit the hardest after the closure of the Hazelwood and Port Augusta generators in favour of wind power. While the state government and other proponents of this move insist there are long term benefits, the transition to renewables will come at a cost that is ultimately borne by the consumer.
How much will electricity prices increase?
The silver lining to this story is that electricity price increases are expected to remain relatively modest in the next few years, only increasingly by a few percent in most states, if at all.
That said, the Australian Energy Market Operator (AEMO) says that by 2020, Australia's renewable transition will be in full swing, and it could be a bumpy ride for consumers. In a 2016 report, AEMO claims that the cost of renewable investment and the maintenance of an increasingly superfluous energy network will send electricity prices soaring over the next two decades, before once again plateauing. By this time, however, it is expected the energy grid will play more of a backup role, as many households should be fairly self-sufficient.
What can you do?
Rising wholesale electricity prices doesn't necessarily mean it will cost you more to keep the lights on. Confused? The fact is simply that many Australians just aren't getting a good deal on electricity. The same as you would with your phone plan or health care, customers should regularly review their energy plans to ensure they're still receiving a good value product. If you receive a notice that your rates are about to change, be sure to compare electricity providers.
If you haven't switched providers in the last couple of years, you are almost certainly paying more for power than you need to, because of the nature of conditional discounts. To get the best deal on electricity, you need to be willing to compare offers and switch providers in order to take advantage of the best discounts. Wholesale prices may go up, but you could reduce your bills.
Alternatively, solar panels and storage units are now more affordable than ever and can potentially help you slash your power bill. It's being hailed as the future of energy, so why not get on board now? You can compare solar providers here.