Customer trust in the energy sector has reached a record low, according to a chief energy authority.
The Australian Energy Regulator (AER) has released its annual State of the Energy Market Report for 2018. It provides detailed information on the energy mix, the performance of the market, retailer complaints, and consumer sentiment.
According to the AER's report, only 39 per cent of consumers trust the electricity retail market, while just 25 per cent feel that it works in their interests. The figures suggest that the energy market is now trusted less than telephone, internet, insurance, water and even banking services.
The report finds that the record low levels of trust are largely driven by high power prices and a lack of transparency in the market.
"Perceptions the retail energy market is not working in the interests of consumers led the Australian and Victorian Governments to announce regulated pricing in 2019," the AER reports.
The dissatisfaction with electricity was reflected in the number of complaints to retailers. The number of complaints to ombudsman schemes rose in 2017-18 in NSW, Victoria and South Australia to about 1 per cent of all residential customers.
Billing was the biggest issue for customers, constituting about 40 per cent of complaints to the ombudsman in 2017-18. Credit issues – such as disconnections for non-payment, and collection of outstanding charges – also accounted for 15 per cent of complaints.
Complaints about customer service was another big issue, accounting for around 10 per cent of complaints across the NEM states, however this number rose to 30 per cent in NSW.
Complaints about customer transfers remained a prevalent issue in Victoria.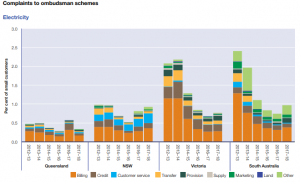 Source: AER – State of the Energy Market Full Report
Retailers behaving badly
The State of the Energy Market Report highlights the numerous instances of poor retailer conduct as a key contributor to low levels of customer satisfaction and trust in energy retail.
The AER says it issued multiple infringement notices in the past year. Three notices were issued to Simply Energy in 2017 for failing to obtain explicit consent before signing up customers, while Alinta Energy received two in 2018. Alinta Energy also paid a penalty of $300,000 to the Essential Services Commission for another 15 instances of similar conduct.
In 2017-18, Australia's consumer watchdog – the Australian Competition and Consumer Commission (ACCC) – also took action against retailers for misleading marketing and savings comparisons.
Alinta was required to compensate customers who switched based on misleading price comparisons
Amaysim Energy had proceedings commenced against it for alleged misleading marketing claims and savings customers could obtain
One Big Switch – a service that negotiates deals for its members – received two infringement notices for false and misleading price representations relating to advertised discounts and savings
In 2018-19, Australia's energy regulators and consumer watchdogs will ramp up their monitoring and enforcement activities. Customers in Queensland, NSW, Victoria and South Australia will see greater government intervention, with the introduction of the default market offer, as well as benchmarked bills and discounts from July 2019.
Compare Electricity Plans