EnergyAustralia has announced a partnership program with Aussie charities to help cut their power bills.
As part of the program, named Power for Good, the retailer will fund energy audits of participating charities to identify how they can run more efficiently and sustainably.
Based on the findings, EnergyAustralia will then offer to install solar power systems, including batteries, and provide suggestions for appliances that need upgrading.
The company says the program will be funded by an estimated $15 million raised from the sale of renewable energy certificates.
"We believe with the right approach and technology, it's possible to dramatically reduce annual electricity bills for eligible properties by as much as 50 per cent," EnergyAustralia Executive – Next Gen, Andrew Perry, said.
"When we find ways for a charity to spend less on electricity, it means more of the funds they raise can go toward doing what they do best – helping vulnerable people in need."
EnergyAustralia also plans to link the solar and battery systems to create a 'virtual power plant', potentially providing extra energy into the grid at peak times.
Canstar Blue Editor in Chief, Simon Downes, said that while the program could help charities save on power costs, they should shop around for the best energy deals like anyone else.
"Businesses of all types need to regularly compare energy plans and make sure they're getting the best deal possible. Like with residential plans, there can be a big difference in costs, and the last thing a charity would want to do is waste money on energy bills."
Renewables paying off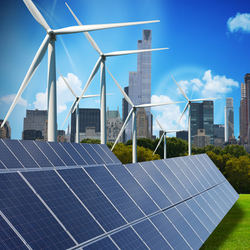 Under the federal Renewable Energy Target (RET) scheme, the power retailers surrender large-scale generation certificates (LGCs) to the Clean Energy Regulator, offsetting the energy produced from non-renewable sources. In total, EnergyAustralia handed over 2.6 million LGCs, 78.5 per cent of its group obligations for 2018, selling the shortfall, about 700,000 LGCs, to other retailers.
"We'll make good on any LGC shortfall over the next couple of years, which means that we will still meet our full responsibility to support renewable energy under the RET, while generating money today that can go to assisting out communities and all customers," Mr Perry said.
"This initiative will also deliver more flexible demand response to help ensure the electricity market can supply reliable and affordable electricity to all consumers. The program will add to the more than 50MW portfolio of demand response EnergyAustralia has already built to help the grid meet peak demands."