Families or large households across the country should take some time to review their energy plans in light of Canstar Blue research which shows a notable jump in the electricity usage rates being charged by retailers on market offers.
Canstar Blue's analysis of pricing movements shows that most retailers have started to weight their products more heavily towards usage rates rather than supply charges, meaning households that use lots of energy may be worse off than they were prior to the July reforms.
Electricity plans are made up of two main components – electricity usage rates, which are the per kWh costs that households incur for using power, and supply charges – which are fixed, daily costs for being connected to the grid.
Price changes from July have seen a general trend of retailers decreasing their supply charges, but increasing the prices customers pay for electricity usage on market offers. Retailers have increased usage rates by as much as 57% between June and July, Canstar Blue's analysis has found.
The shift in pricing structure follows significant regulatory changes to the electricity retail market in July, including the introduction of a cap on standing offers in New South Wales, south-east Queensland, and South Australia, and new 'default' tariffs in Victoria. Customers previously paying the highest electricity prices will now pay less on the respective default offer in their state. These default tariffs also act as a reference price for consumers to compare market offers.
While customers previously paying the highest prices are now getting some welcome relief, households on market offers have seen usage rates climb notably, with overall costs also increasing in most areas.
Canstar Blue Editor-in-Chief Simon Downes explains: "The dust has finally settled on the biggest shake-up to the retail energy market since deregulation, and it's crucial that all households now take some time out to reassess their electricity plan and how it compares to the default price in their area. It is especially important that families with children, or any large households, put some time aside to review their energy plan because the changes have generally seen retailers weight their plans more towards usage charges than supply charges, meaning any price increases will be felt hardest by those who use more energy.
"If your household uses lots of energy, the usage charges you pay will make up a higher proportion of your overall energy costs, so if you can, look for a plan with low usage rates. If your household doesn't use much power, focus on finding low supply charges – because these are the costs you'll need to pay regardless of energy consumption.
"While the default tariffs act as a useful tool to compare plans on annual costs, it's still hugely important to review the specific usage and supply charges that apply. How retailers get to the default price with their product structure in New South Wales, Queensland and South Australia is open to interpretation, and many retailers are getting there by weighting their plans more towards the usage component than supply charges. If this is the case with your energy plan, the more power you use, the worse a deal you're getting.
"It is a slightly different situation in Victoria where the default price is based on specific, regulated prices, not just a high-level figure."
The following table shows the average increase and decrease in electricity usage and supply charges between June and July, following the introduction of the new default tariffs (formally known as standing offers) and restructured market offers across the states.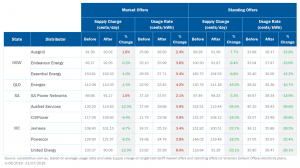 While the cut in supply charges on market offers could prove beneficial for smaller households, the increase in usage rates could significantly impact those with modest to high electricity consumption. The next table shows average price changes across the states based on household size, with most regions seeing overall price increases.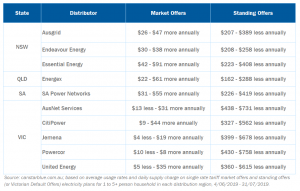 "The general trend is that customers previously paying the highest, standing offer prices have seen their costs drop significantly – which was of course the intention of the regulatory changes. But at the same time, the trend is that retailers have increased the cost of their market offers, meaning those who shop around to find the best deals are now likely to be paying more.
"It's simple economics, with retailers intending to recoup any losses from the July reforms on standing offers now increasing their costs with market offers. So, while the reforms are working for some energy customers, the savings are coming at the expense of engaged energy customers who shop around.
"Even if a customer has not switched to a new plan post July, if the rates on their existing plan have been changed and are now weighted more heavily towards usage costs rather than supply charges, they could have seen their overall energy bill increase, at a time when the government focus has been on reducing the amount households pay for power.
"This is why it's so important to review your energy plan now – and not just assume that energy prices are under control and you're now getting a great deal."

Picture credits: Evgeny Atamanenko/shutterstock.com