South Australians rejoice. A new report from the Australian Energy Regulator shows that average electricity bill in the state has fallen over the past year – a welcome relief for households who face some of the highest usage charges in the developed world.
Unfortunately, recently volatility in the wholesale energy market could mean this reprieve is short-lived, and prices will soon be back on the rise.
What are electricity prices in South Australia?
Twenty electricity retailers operate in South Australia, but 74% of the market is held by the big three – AGL (45%), Origin Energy (20%) and EnergyAustralia (9%).  While these three clearly dominate the market, South Australia is still one of the most diverse states on the National Energy Market, with various small retailers holding a combined share of 26%.
The AER report found the average annual electricity bill for a household consuming 3,700kWh annually on the median market offer was $1,324 in the 2015-16 period assessed. This represents a 3.4% fall in electricity prices from the previous 12 months, when the average bill was $1,370.
The price of more expensive standing offer contracts also fell 7.8% during this period, from $1,538 to $1,419. As you can see, the median standing offers were found to be $95 more expensive than the median market offer.
While only 15% of electricity customers in South Australia remain on standing offers, that still represents 150,000 households and small businesses that are paying more than they have to each year!
What are gas prices in South Australia?
Five retailers supply gas in South Australia, with AGL, EnergyAustralia and Origin Energy dominating with a combined share of 87 per cent. The remaining 13 per cent is shared between Alinta Energy and Simply Energy.
The gas market has experienced spot price volatility over the past year, largely due to growing foreign demand natural gas. This has led to increased gas prices across parts of Australia. In South Australia, the price of gas on the median market offer in 2015-16 was $1,047 – a rise of 3.9% when compared to the previous period. Standing offers were again more expensive, with the annual cost coming to $1,153 for the median standing contract. That is $106 higher than the median market offer.
Could we see electricity prices rise?
In August and September 2016, the AER reported three instances of electricity spot prices spiking beyond $5,000 per Megawatt (Mw). "Spot prices" is a term used for the wholesale price of electricity that retailers pay the generators before reselling that electricity to households and businesses.
Spot prices will fluctuate every five minutes depending on the supply and demand of electricity. In a deregulated price market, an electricity retailer will try to anticipate how wholesale prices will behave when deciding how much it charges its customers for electricity usage. When spot prices exceed $5,000 per megawatt of electricity, the AER will investigate as this is considered an extreme price.
The recent wholesale price spikes have no immediate impact on South Australian customers as the rate an electricity retailer will charge homes and businesses is fixed for a period of 12 months at a time. This means that these massive price hikes are coming at the expense of the energy retailers. To recoup these losses and account for future volatility, the retailers may raise prices next year.
The graph below represents the number of times electricity spot prices have exceeded $5,000/Mw. While the number of price spikes is nowhere near the market chaos pre-2011, South Australia has experienced more price spikes in two months than it has in any year over the past five years.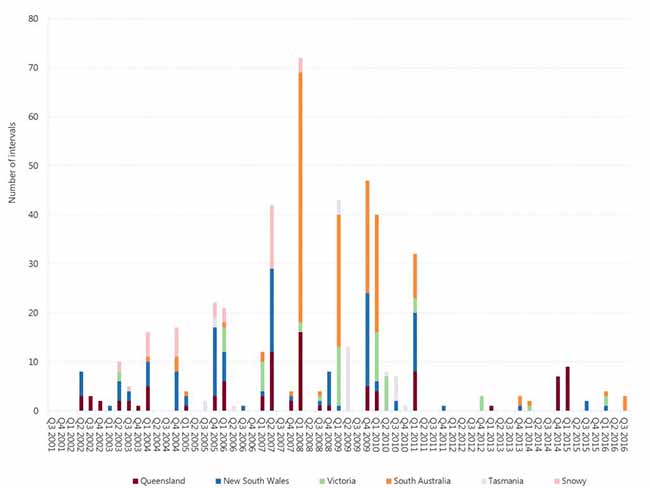 Source: Australian Energy Regulator
Why have South Australian gas prices increased?
Gas prices are determined in a similar fashion to electricity. Natural gas suppliers sell gas to retailers at a wholesale rate influenced by supply and demand forces. The retailer than sells this electricity to its customers.
While gas is less popular than electricity in Australia, natural gas has become highly sought after in Japan and China. Australia has expanded its gas mines to meet this demand, but is struggling to keep up. This ultimately leads to increases in gas usage charges both here and abroad.
Composition of South Australian utility bills
Electricity and gas prices are comprised of supply charges and usage charges. Supply charges are a daily cost incurred for being connected to the electricity or gas network. This cost is incurred regardless of whether you use any electricity or gas. Usage charges are what you pay for the electricity and gas you actually use. Below are the compositions of electricity and gas bills over the past four years for small or 'low-income' households.
Composition of SA electricity bills
| Year | Daily supply charges | Energy usage charges |
| --- | --- | --- |
| 2013 | 19.1% | 80.9% |
| 2014 | 18.9% | 81.1% |
| 2015 | 20.1% | 79.9% |
| 2016 | 21.2% | 78.8% |
Composition of SA gas bills
| Year | Daily supply charges | Energy usage charges |
| --- | --- | --- |
| 2013 | 28.8% | 71.2% |
| 2014 | 27.3% | 72.7% |
| 2015 | 25.8% | 74.2% |
| 2016 | 26.3% | 73.7% |
As you can see, electricity and gas usage fees will usually be the largest contributor to your energy bills. It's interesting to note, however, that electricity usage charges as a proportion of total bills have fallen over the past four years. This is likely due to South Australians reducing their usage or turning to solar to minimise grid dependency.