The way that households and businesses in parts of New South Wales pay for power is about to change once again.
Ausgrid, the energy distribution company that builds and maintains the poles and wires for the 1.7 million customers across Sydney and the central-east coast, has updated its tariffs to add a new 'transitional time of use' tariff for smart meter customers on its network.
Ausgrid has also introduced a seasonal element to all of its time of use (TOU) tariffs, meaning that how customers pay for power will vary over winter and summer months.
In this article, Canstar Blue explains what you need to know about these changes and what it means for your power bills.
What is a transitional time of use tariff?
The transitional time of use tariff (TOU) is designed to help customers with a smart meter (or interval meter) move from a single/flat rate tariff to a time of use tariff. The transitional TOU is in many ways similar to the traditional time of use tariffs, whereby customers are charged different electricity rates depending on the time of day. This is usually split into three periods:
Peak: Electricity rates are high as there is increased demand for electricity during this time
Off-Peak: Electricity rates are low as there is minimal demand for electricity during this time
Shoulder: Electricity rates are moderate as there is a manageable demand for electricity during this time
The key difference between the standard TOU and the transitional TOU is the rates. Standard TOUs charge incredibly high rates during peak hours, often in excess of 40c/kWh. Rates are much lower in off-peak (10-15c/kWh) and shoulder periods (15-25c/kWh). This tariff is great for customers who don't use much power during peak times when electricity is the most expensive, however it can leave customers worse off if they can't manage their energy usage. Compared to the standard TOU, the transitional TOU has a much lower peak rate, but a higher shoulder and off-peak rate. This makes it easier for customers to save, however you stand to save less by reducing your peak time energy usage.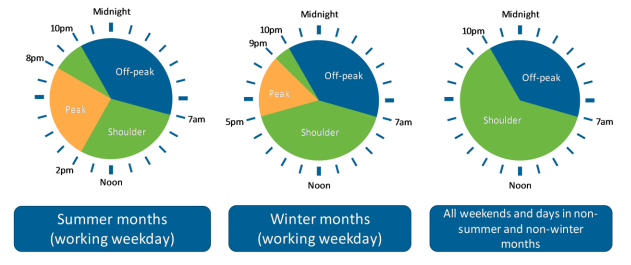 Seasonal Time of Use Tariff
From 1 July 2018, all time of use tariffs (both standard and traditional) are 'seasonal'. That is, the peak, off-peak and shoulder periods will vary depending on time of year. The peak period only applies during summer months (1 November to 31 March) and the winter months (1 June to 31 March). In all other months, the peak period is replaced with the shoulder period. Additionally, peak rates don't apply on weekends.
Summer TOU Periods
 
Hours
Period
Weekdays
Weekends
Peak
2pm – 8pm
N/A
Shoulder
7am – 2pm / 8pm – 10pm
7am – 10pm
Off-peak
10pm – 7am
10pm -7am
September 2018
Winter TOU Periods
 
Hours
Period
Weekdays
Weekends
Peak
5pm – 9pm
N/A
Shoulder
7am – 5pm / 9pm – 10pm
7 am – 10pm
Off-peak
10pm – 7am
10pm -7am
September 2018
Why are these changes happening?
To put it bluntly, the current time of use tariffs just aren't great value for a lot of customers, nor are they doing enough to manage excessive network loads during peak electricity times. The seasonality of time of use tariffs reflects the fact that power demand surges during the winter and summer months when everyone is blasting their heater or air conditioner. By setting higher rates during peak times in these months, customers are incentivised to find alternatives and reduce their energy usage in this period.
Time of use tariffs are widely considered to be the future of electricity retail, however Australia's uptake of these tariffs has so far remained low. Transitional TOUs are designed to help introduce smart meter and interval meter customers to time of use tariffs. Transitional tariffs let customers have a taste of how TOU tariffs work, with less risk of a huge bill if the customer hasn't changed their power habits and uses too much power in peak time.
What if I don't have a smart meter?
If you have an old analogue meter, then you are only eligible for a single rate tariff. This is because the meter is unable to take separate readings for different times of day. You will need a smart meter if you want access to time of use tariffs. You can order one by contacting your electricity retailer (not Ausgrid). Keep in mind that you may need to pay for the meter and installation up front, which can cost a couple hundred dollars. You can find more information on metering fees here.
Will these changes save me money?
Whether or not you will save more with a transitional TOU tariff verse a standard TOU tariff entirely depends on how you use electricity. For example, if you work a standard 9-5 job and tend to use a lot of electricity when you get home in the evening, the transitional TOU could be a good option. On the other hand, if you're a savvy electricity user who avoids using electricity on weekday evenings, then you might save more on a standard TOU tariff. If you don't believe you're on the right tariff for you, then contact your energy retailer to discuss your options.
Of course, while it's important that you're on the right tariff, it's equally as important to make sure that you're getting a good price from your electricity retailer. So if you haven't compared retailers lately, use Canstar Blue's customer satisfaction ratings and price comparison tool to check if you could find a better deal.