The Queensland government has rejected the Queensland Productivity's Commission's (QPC) recommendation to scrap the Solar Bonus Scheme which gives eligible solar customers a massive 44c per kWh feed-in-tariff. The government also rejected the QPC's proposal to modify eligibility requirements to exclude households which have installed solar storage.
Queensland Solar Bonus Scheme explained
The Solar Bonus Scheme was introduced by the Bligh government in July 2008 to encourage residential solar uptake in Queensland. The scheme was largely a success, with the number of residential solar systems in Queensland increasing from 1,000 in 2007 to over 400,000 in 2016 – or around one in four households.
The Solar Bonus Scheme was closed to new applicants in July 2012. Customers who installed solar beyond this date would instead only be eligible for an 'interim feed-in tariff' of 8c per kWh, or a retailer set feed-in tariff, usually between 6c and 10c per kWh. Despite this, the table below from the QPC report shows the number of residential solar installations in Queensland continues to grow, albeit at a declining rate since the closing of new solar bonus scheme applications.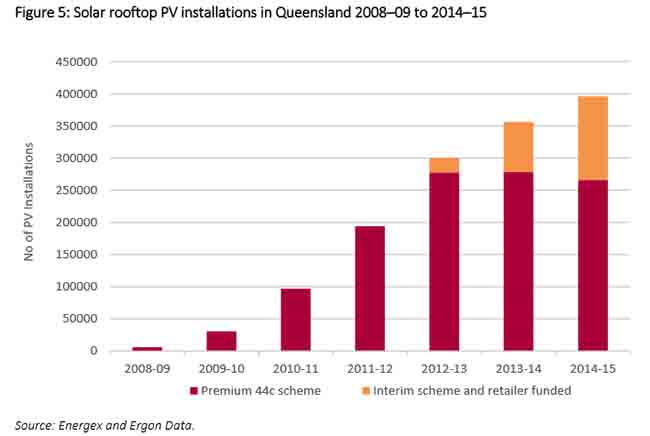 Approximately 275,000 households signed up to the solar scheme before the cut-off, and were promised their 44c/kWh feed-in tariff would be maintained until 2028 – an agreement the Queensland government has said it will uphold, despite the QPC report.
"Anybody who signed up for the Solar Bonus Scheme will continue to receive the feed-in-tariff and the current terms of their contract with their retailer will be honoured," Energy Minister Mark Bailey told the Courier Mail.
Winners and losers in Queensland
The QPC's report highlighted concerns with the affordability of continuing such a generous feed-in-tariff. These rebates are essentially paid for by the energy distributors Ergon and Energex, and are then credited to solar PV customers by their retailer. But this money has to come from somewhere, meaning higher network costs and greater supply charges for all customers – including those without solar.
The QPC estimates that the solar bonus scheme is costing the average Queensland household on tariff 11 $89 per year. The Newman government also committed to protecting the solar bonus scheme, but instead would mitigate the cost to households without solar through asset sales.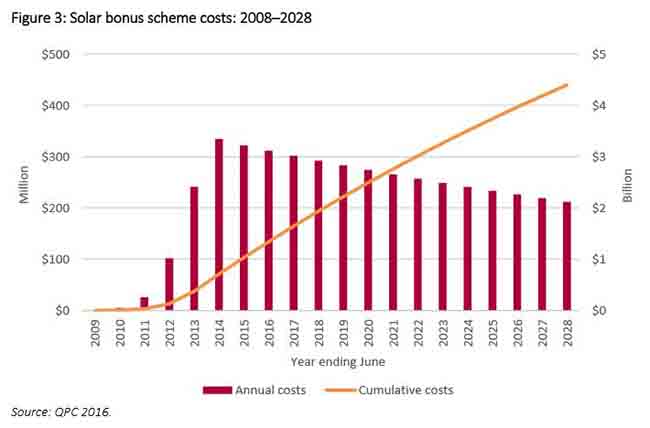 The QPC also suggested that households with solar storage should lose their eligibility for the Solar Bonus Scheme. This was strongly rejected for discouraging investment in solar technology.
In total, there were 52 recommendations made by the Productivity Commission, 43 of which were accepted. One of the accepted recommendations was for the Queensland government not to reintroduce any new premium feed-in-tariffs. That means new Queensland solar customers have unfortunately missed their chance to secure a massive feed-in tariff incentive.
Compare Electricity Plans
Eligibility requirements for the Solar Bonus Scheme
While Queenslanders who signed up to the Solar Bonus Scheme will continue to receive their generous benefit until 2028, this is subject to increasingly stringent eligibility conditions.
To maintain the bonus, customers must:
Consume less than 100 Megawatt hours (mWh) of electricity a year (the average home only uses around 6.1 mWh a year).
Maintain an electricity account at all times with an electricity retailer (i.e. they can't go completely off grid)
Keep the electricity account under their name
Ensure they replace any broken components with 'like' parts (i.e. don't upgrade the system)
A Solar Bonus Scheme recipient will also permanently lose their premium tariff if they:
Move house
Sell or rent out the property
Close the electricity account
Are disconnected (e.g. for failing to pay bills on time)
For more details about ongoing eligibility for the solar bonus scheme, visit the Department of Energy and Water Supply Queensland.