When it comes to carrying your precious baby, there are many different options and styles. If you are using a baby carrier, do you carry your baby at the front, or on your back? Here are a few pros and cons of each method.
Front
Pros: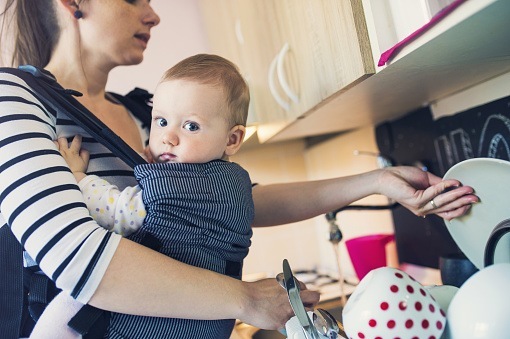 Easy access to baby – your baby is right there in front of you, so there's no need to take off the whole carrier to get them out. Also, you can feed them easily from this position too.
Snuggling – when wearing your baby on the front, they are next to your chest the whole time; snuggling is just nice!
Communication – being close to you, and being able to see their face, you are more instantly aware of how your baby is feeling.
Peace of mind – It's just nice being able to see your baby and having them right there in your protective space.
Cons:
Strain – as your baby gets bigger, having a weight on your front can put more strain on your back, shoulders and neck.
Inquisitive baby – if your baby is facing inwards and is a curious one and likes to look at the world around them, they may strain their neck from craning to see what is going on.
In the way – as your baby grows, it may be limiting to your mobility when they are strapped to the front of you.
Back
Pros: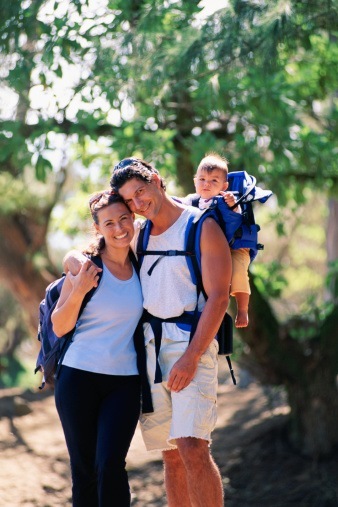 Access – as your baby gets bigger, you can do a lot more other stuff if your bub is on your back rather than at the front, as your arms have better access to things.
Strain – many mums and dads find that they can carry the baby on their back for longer, as they don't strain as much to stay upright.
Sight – if your baby is big enough and has good control of their head, neck, and posture, they can see what you see by looking over your shoulder.
The great outdoors – if you like going hiking or doing other outdoor activities, back carrying works better in this kind of environment – once your bub is old enough, of course.
Position – the position they sit in when on your back is optimal for hip and spine development.
Cons:
Little baby – babies less than 6 or 9 months old should not be carried on the back, as they will be too small and may not have good control of their neck, head, or posture.
Sight – smaller babies sometimes can't see over your shoulder when they are on your back. If you have an inquisitive bub, they will wriggle around to try and see, making things uncomfortable for you.
Caution – you must always be aware of the little one on your back, making sure you don't swing into something accidentally.
Advanced – back carrying is considered to be a difficult technique that requires a bit of practice to get it right for baby.
Safety
Safety is important, no matter which way you carry you baby, so here are a few things to remember.
Be careful: because baby wearing tilts your centre of gravity, you need to take care in making sure that you are balanced. Hold the rail when climbing stairs, and if you feel dizzy or lightheaded, take off the carrier and sit down.
Be mindful: be aware of what your bub can reach from the carrier. If you're wearing baby in the kitchen, make sure the hot pot or the sharp knife is out of their reach.
Watch their airway: you should always be able to see your baby's face without opening the fabric, and ensure their chin is not pressed against their chest. These checks will allow for easy breathing.
Check that it fits: firstly, ensure that the carrier fits you correctly. Secondly, make sure that baby fits in the carrier properly, either riding high up on your chest, or with their chin at the nape of your neck.
Double check: always check that everything is secure before you put your baby in the carrier. Also, if you are new to a certain type of carrier, give it a practice run around the house before taking it out.