Christmas is around the corner again. I know, right! It seemed like only yesterday we were all bringing in the New Year. With another year drawing to a close, Christmas gives us all time to reflect on the great – and not so great – moments of the year with our family and friends. Of course, Christmas also means rushed last-minute gift buying, a hit to the wallet, and frenzied shopping sprees at the local shopping centre, where humans resemble a pack of wolves more than homo-sapiens.
It doesn't have to be that way, though. With a bit of forward thinking, you can avoid the rush and arrive at Christmas lunch feeling like a well-organised, fully-grown adult with your Santa's sack of presents. At Canstar Blue, we've compiled a Top 10 list of presents we think are perhaps going to be a winner in a lot of books, checking all boxes for your family members. Without further ado, let's jump in and get a gist of what can stuff your stockings this Christmas.
Wahl Beard Trimmer

Most likely a gift for a male in your life (but who are we to judge?), beard trimmers are increasing in popularity. It's probably because beards are coming back in style, and people with long hearty beards want to groom theirs to have it looking spiffy.
A Wahl beard trimmer is a good bet for the discerning hairy hipster, a lumberjack, or for those trendy office-types with the five o'clock shadow everyone goes nuts for. Take for example the Lithium Ion Stainless Steel trimmer (pictured). Finished in an attractive stainless steel, this Wahl beard trimmer is frankly the bee's knees when it comes to fine-tuned beard trimming. It's rechargeable, and you can get a massive four-hour run time from an hour's charge. It also includes four attachments for all your bearded needs. It retails for about $170, so it's great for the bearded lover in your life.
Philips Electric Shaver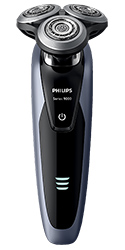 If trimming is not exactly your style, a full-on shave may be more your style. Similarly, there are also a bunch of Philips shavers available for women, but beware the message you may be sending by giving one to your mother-in-law! Philips has consistently been the standout brand in our customer reviews for electric shavers, so the Dutch electronics giant is a great choice for a gift this Christmas.
For men, there's the Philips Series 9000 (pictured), which represents the pinnacle of shaver technology. Philips claims that it's the "world's most comfortable electric shave", and for good reason. It's a rotary shaver, with v-shaped blades to cut hair going every-which-way. The heads also contour to the face in eight different directions, and it can be used in wet or dry conditions, making it perfect for the shower. The S9111 model retails for about $500, which makes it a high-end shaver and an impressive stocking stuffer.
Wahl Hair Clippers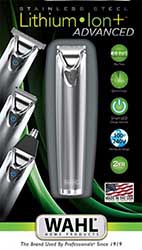 If your male loved one's beard is in check and they don't need a shave, but their hair is looking more 'Warwick Capper in the 1980s' than 'Ryan Gosling in the 2010s' then a set of hair clippers is an obvious choice.
Take for example the Wahl ChromStyle Pro clippers (pictured). It's a professional-grade clipper made in Germany. It boasts 100 minutes of cordless charge time from its lithium-ion battery with an LED battery charge indicator. The high-precision chrome-plated blades with integrated adjustable taper ensure a precise and fine cut. Of course, that's if he wants to shed the Warwick Capper look! It retails for about $270, which is nothing to sneeze at, but it's a pro-grade clipper that'll stick around in the bathroom drawer for a while yet.
A Lawn Mower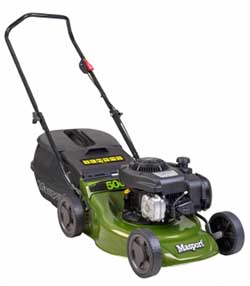 If it's more the lawn that needs trimming rather than a face, have you considered a new lawn mower? It might seem like a rather preposterous gift, but its usefulness is undeniable… that is, unless you live in an apartment. Nevertheless, Masport Mowers has emerged as a leading brand in our customer reviews.
Masport Mowers have been in Australia for decades now, and their range has something to suit a lot of budgets. Without a doubt the most standout series is the President Series that retails for between $350 and $500. Masport lawn mowers, like the one pictured, have strong steel chassis, wide decks for a greater cutting surface area, and a lot are powered by Briggs and Stratton engines. For those in the know, these pack a punch and are class leaders when it comes to mower motors. For the garden enthusiast in your family, you can't really go wrong with a Masport Mower.
A ghd Hair Straightener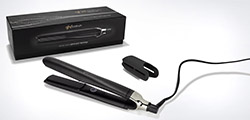 Finally! Something geared towards the women in your life (or men – again, who are we to judge?) The brand ghd has long been seen as the benchmark when it comes to hair straighteners. This has constantly been reflected by ghd's success in our customer satisfaction surveys on hair straighteners.
Take for example the ghd Platinum range. It's claimed that you can achieve "50 per cent less breakages" with the platinum hair straighteners. The heating plates feature three sensor zones to calculate the right amount of heat needed for your hair. As the flagship models in ghd's line-up, the Platinum range features a price tag to match at around $300-$330. However, it's the ultimate way to make a statement for your partner this Christmas, and arguably sends a better message than "Have a shaver because your pits are hairy".
A Baby Carrier for Expectant Parents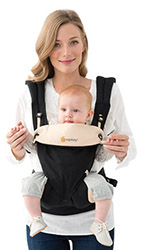 No longer just for the mums out there, baby carriers can be handy gift for the men and women in your life with young children. No longer will they get back pain from resting the little cherub on their hip – a baby carrier takes out much of the fuss of carrying the baby. Baby carriers also give back the parent's hands – to do important things like crossword puzzles and eat peanut butter sandwiches. In our annual customer satisfaction ratings, Ergobaby has been a standout performer.
Take for example the 360 Collection carriers. They feature superior ergonomics, with a deep seat to let your baby better grow into it as they grow bigger, with ergonomics to support healthy spine, neck and head development. It's called the 360 Collection because it has four different positions for the baby – front, back, hip and outward-facing front carry. This way you can keep your little one close to your heart, while allowing them to look out and see the world. Retailing for around $270, they are a high-end baby carrier, but you can't put a price on baby's development and comfort.
A Blender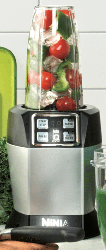 A blender is a safe bet for a wide variety of people in your life. Smoothies and protein shakes on the go are increasing in popularity, and blenders are a great way to ingest plenty more nutrients from veggies conveniently. "You mean there's an easier way?!" You shout. Take for example the Nutri Ninja brand, which has consistently topped our customer reviews for blenders.
The Auto IQ System blender (pictured) is one of Nutri Ninja's standout models. It has a multi-piece kit with cups from 500mL up to 900mL, with mixer bowls and pitchers from 1.8L-2.1L. It packs in a powerful 1500 watt motor, so veggies could be pureed before your eyes. It also allows for maximum convenience, with its Auto IQ system and pre-programmed functions. For about $200, it's a well-featured blender at a price accessible for many; a protein shake never tasted so delicious.
A Coffee Machine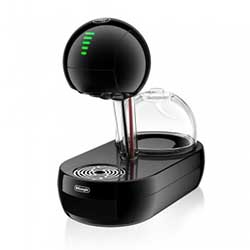 For the caffeine-addicted person in your life, a coffee machine represents a perfect gift to say 'I'm feeding your addiction' and 'Hey; maybe you can save some money'. It's really a blend of two perfect worlds. Coffee machines are becoming increasingly popular on kitchen counter tops, from simple "Press one button" models to full-blown barista-quality machines. Chances are there's one out there that's your perfect gift. A good place to start would be Nescafe's Dolce Gusto range, which is one of the leading brand identified in our customer reviews for coffee machines.
Take for example the 'Stelia' model (pictured).  Its unique and simple LED touch interface will help your loved one dial in their ideal drop every time. It's a pod machine, and Nescafe has a particularly wide range of pods to choose from. Its quirky design also means it is ideal for the modern kitchen counter, and at the very least provides a talking point. It retails for around $200, which is a fair price to pay for something that can cost up to $5 or more for a cup; you'll be doing your loved one a favour in the long run!
A Vacuum Cleaner

Albeit not as exciting as some of the other items in this list, a vacuum cleaner represents the perfect gift for someone who's more pragmatic in their approach to Christmas. While the Christmas cheer sucks their spirit away, their vacuum cleaner can suck the crumbs from Christmas dinner off the floor. If you want a quality product at a reasonable price, Shark could be a good starting point, based on our reviews.
Famous for their TV infomercials, Shark are particularly known for their stick-cleaners. Take for example the Rotator powered life-away stick vacuum cleaner (pictured). It features an ergonomic head to reach into the furthest nooks and crannies, and features a comprehensive kit bag of accessories to clean a wide variety of surfaces. Shark claims that it can clean better than the Dyson DC41. Why not put that claim to the test? It retails for about $200 so it's a modest price for something that claims to deliver so much.
Headphones
Who doesn't love music?! If your loved one is rocking out, but annoying their neighbourhood and household with their ground-shaking bass, it might be time for some quality headphones. Bose is tough to beat in this regard, our customer ratings have shown. Bose is a high-end headphone company, and a set of these is the perfect way to say, "I love you, but your music is grating".
Take for example the QuietComfort 35 model (pictured). Bose claims they're its 'best headphones yet'. A flip of the switch turns on the noise-cancelling mode, and it has 20-hours of 'unmatched' battery life. A 15-minute charge gives the listener 2.5-hours of musical bliss. They are built from impact-resistant materials and corrosion-resistant stainless steel. The listener is also ensured comfort with Alacantara material wrapped around the headphones; this is the material found in high-end luxury cars' seats. For about $500, they are some of the most premium headphones out there, but for the audiophile we suspect they'll be the most appreciated gift ever.