Pram versus baby carrier/sling: the honest truth is that as a parent, you will probably own at least one of each as a means of transporting your little one. It is also true that both of them have their own pros and cons.
So, what are the best places or times to use a carrier and a pram?
Carrier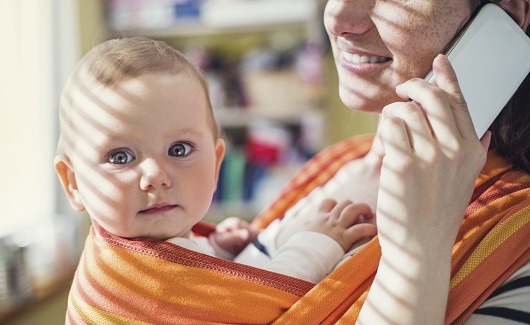 Parents love baby carriers because they enable baby to be close to you at all times. It is known that they are a contributing factor to the parent-child relationship and that they can aid in certain aspects of development as well.
They are convenient, as you can put the baby in, and then take them out again quite easily. Carriers are also compact, taking up less space than a pram; many wrap style ones fold away to about the size of a shirt. Continuing the convenience is the fact that smaller carriers such was the wrap style ones don't have to be taken off when baby isn't in them.
Say, for example, that you were putting your little one in the car after a quick trip to the grocery store. You've got your baby in the carrier and a few bags in hand, but rather than leaving your baby unattended, they're attached to you while you put the bags in the back. Then you lift baby out of the carrier and into their car seat, buckle them up then slide off your carrier (or leave it on if it is a wrap) and you're ready to go home. No tricky pram folding required.
Despite their excellent convenience and compactness, carriers do have one drawback – they can only be worn for up to a few hours at a time (depending on the parent). They can cause back and neck strain when they are worn all the time.
Prams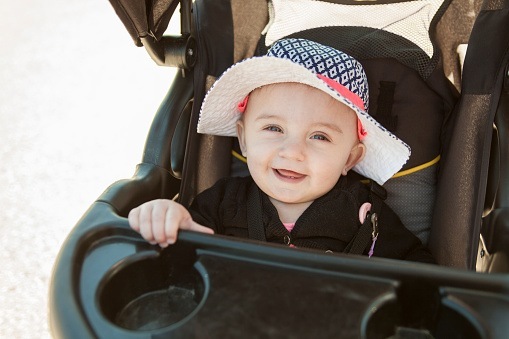 Prams certainly do have their merits when it comes to baby transport. They can be a blessing for small mums who can't carry their growing baby, and an even greater blessing for parents with two or three babies.
As well as carrying the kids, most prams also have handy pockets for all of the necessities from spare nappies, snacks, the shopping, and the all-important mobile phone.
The only real downside of a pram is the bulkiness and the difficulty of folding. Sometimes things can get a bit tricky when you've had a stressful day and are trying to get everyone in the car to get home. Also, they aren't the best for crowded spaces, or anywhere that doesn't have ramp or elevator access.
Whether you use a pram or a carrier; there will be benefits and disadvantages in any situation. However, the most important thing to make sure of is that the baby is safe, regardless of how you get them from A to B.