Does pushing your child around in a tatty, old pram make you a bad parent? Yes, according to almost one in three Aussie mums and dads.
A new Canstar Blue survey has uncovered a culture of pram envy and snobbery in Australia, with doting dads found to be even worse than mums.
It found 41% of parents would find it embarrassing to push their little one around in a cheap or poor quality pram. And 30% believe you need a good pram to be a good parent.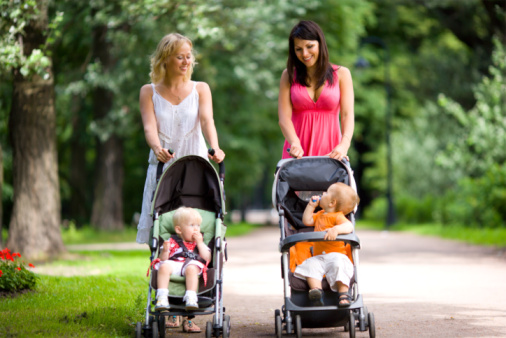 Parents Fork Out $$$ to Show Status
Head of Canstar Blue, Megan Doyle, said prams have become a status symbol for many parents.
"It's no longer just about functionality – some mums and dads clearly want to be the envy of their friends or family when they push their child around," she said. "Whether they're buying food, clothes or toys, some parents only want the best for their little ones. And when it comes to prams, it seems they want the best for themselves too. It's almost a competition – who can buy the best pram."
The survey, of more than 800 parents who have bought a new pram in the last two years, found the average spend to be $425. Almost a quarter (23%) of respondents said they wanted to buy a better pram than their friends or family, while 33% envy parents who own what they perceive to be a better pram.
And 24% would be willing to spend more than $1,000 on a top of the line pram, with men the most eager to splash their cash.
"It's fascinating to find that dads are even more determined than mums to spend big and look good," added Mrs Doyle. "Almost twice as many men believe you need a good pram to be a good parent and are a lot more eager than mums to outdo their friends or family with a better model.
"If you can afford a high-end pram then you have plenty of options to choose from, but don't judge a book by its cover when you see other parents pushing something less expensive."
We recently appeared on Channel 7 to discuss our research.
What do parents want from their prams?
The survey found that good handling and steering capability was easily the biggest driver of satisfaction for parents, followed by good storage compartments and flexibility.
Drivers of satisfaction
% of respondents
Handling and steering
26%
Storage compartments
16%
Flexibility (multiple seating positions)
15%
Compacting (ease of folding)
14%
Value for money
14%
Warranty
10%
Weight
5%

Source: Canstar Blue Prams survey of 820 parents.
"There's a lot to think about when you buy a pram and it's always a good idea to get a feel for how well it moves," said Mrs Doyle.
"Naturally you want your child to be comfortable, but you also need the pram to be flexible, compact and provide space for all the essentials you carry around with you. With so many things to consider, getting value for money becomes less of a priority."
One in four (26%) parents bought their pram online, the survey found.
What about strollers?
Canstar Blue also surveyed 800 parents who have a bought a new stroller in the last two years. It found the average spend on strollers to be $212, with compactness (26%) and handling (25%) the biggest drivers of satisfaction.
"Compactness is key for strollers," said Mrs Doyle. "Three out of five parents take their stroller everywhere they go, so they will obviously want a product that is easy to fold and store. And of course they want it to be easy to handle once they get moving."
Which brands do parents rate highest?
With so much to consider when shopping for a new pram or stroller, and so many different brands and models available, choosing the right one can be a difficult decision for parents.
Respondents to both surveys were asked to rate the products they bought across a range of research categories, forming Canstar Blue's customer satisfaction star ratings for prams and strollers. Several brands performed strongly in different areas, but Valco Baby was the only one to achieve a five-star rating for overall satisfaction.
See Our Star Ratings Report on Prams & Strollers
"Parents are convinced that Valco Baby ticks all the boxes," said Mrs Doyle. "It can be easy to spend hundreds – or even thousands – of dollars on a top of the line pram, but ultimately parents want a quality product at a reasonable price and that's what they report from Valco Baby."
What about baby carriers?
Canstar Blue also surveyed 600 parents who have bought a baby carrier in the last two years. A secure fit (28%) and ease of use (26%) were found to be the biggest drivers of satisfaction, with Ergobaby topping the ratings.
"The majority of parents with a baby carrier say it has given them the freedom to get out more and do more things as a family," said Mr Doyle. "About one in three of them actually prefer a baby carrier to a stroller.
"Some parents naturally have concerns about carrying their baby hands free, but Ergobaby gives them piece of mind – earning top marks in the most important areas and emerging as a clear winner for overall satisfaction."