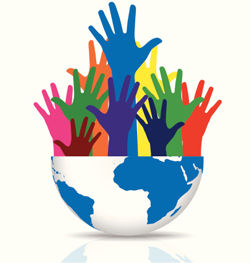 We could easily fill up several articles with last minute gift ideas with things such as:
Craft Beer Collection for Dad,
Homemade jam for Mum (which also shows you've learned how to cook over the years),
Mixed CDs for certain occasions (e.g. workout mixes, party mixes, the ultimate road trip mix, best opening songs of albums, best covers, etc.) for the music lover in your life, or
Photo albums for the sentimental chap or lass in your life.
We could go on. However, we feel there are so many different organisations and individuals around the world left wanting throughout most of the year – let alone at Christmas – that we felt compelled to list some of them here.
Here are some great choices for organisations you can donate to this Christmas. It is by no means an exhaustive list, so feel free to let us know of any others in the comment section below.
Donate your time
You can head down to your local hospital one night a week and cheer up some of the kids in the hospital. You can go to a retirement home and sing carols. You can head on over to a school and plant trees. Honestly, your options in how you can volunteer your time are inexhaustible.
It even extends to outside of charity. Why not head on over to your mate's house and offer to set up his media centre if you're tech savvy? Or visit Mum & Dad once a week and offer your services as a pseudo-personal trainer. Everyone has something they can contribute – even if it isn't money.
You can have a look for something in your area at http://volunteer.com.au/  or http://www.volunteeringaustralia.org/
KIVA
This one was brought to our attention by a Digital Producer at Canstar, and we think it's a really cool concept. Kiva offers micro loans to people in need, except you're the one fronting the loans. You can search through the front page and read the stories of people across the world (think Peru, the Philippines, El Salvador) that need money for their education, stock for their small business, etc.
Your small contribution will be combined with contributions of others to fund these enterprises. More often than not (approximately 99% of the time, reportedly), the loans are paid back, and you can reinvest the money into another worthy cause. KIVA's gift cards are a particularly good way of getting people started.
RSPCA
The Royal Society for the Prevention of Cruelty to Animals is another organisation that is easy to get behind. Every year they look after dogs, cats, and every other kind of animal – and do their best to find them homes and give them better lives.
The RSPCA is a not for profit that requires $38 million each year to continue its mission. That money goes towards running centres, employing staff, organising programs, sourcing supplies, etc. In conjunction with the revenue they need to keep going, they also have a dire need of applicants to their foster program. Could you take care of kittens and puppies for a few weeks? Of course you could!
Volunteer, adopt, or donate at the RSPCA website.
OXFAM
OXFAM is an organisation designed to root out and stop poverty. It works in areas during humanitarian crises, lobbies governments and communities to do better for their poorest citizens, and mobilises with partners to develop programs that prevent poverty from spreading.
It is difficult describe OXFAM in anything but such broad strokes as those above, because it operates on such a large scale in its mission to fight poverty. But because of the scope of this mission, the amount of money it needs to fight these battles is never insignificant. You can contribute something to OXFAM in cash, buy gifts from the store, fundraise, or do any other number of things to help out.
Surf Life Saving
Surf Life Saving has rescued 620,000 people since its inception more than 100 years ago, but it's easy to forget that many of the people who hurl themselves into uncertain waters to save complete strangers do not get paid for it.
Did you know that a defibrillator costs $5,000? That even a basic first aid kit costs $400? It's an expensive enterprise, being a volunteer paramedic service for this nation's beaches, so any small amount you can contribute to Surf Life Saving Australia would go a long way in saving lives.
—
And don't forget, these organisations need money throughout the year as well!