Summer is a magical time for children. How many of us remember the balmy days at the beach? Or the hot nights on the veranda, listening to the hum of cicadas? With school out and the parents on holidays, summer is the perfect time to bond with your kids, to enjoy quality time, and to forge memories which will last a lifetime. Here are five outdoor activities to enjoy with the family during the warmer months.
Outdoor cinemas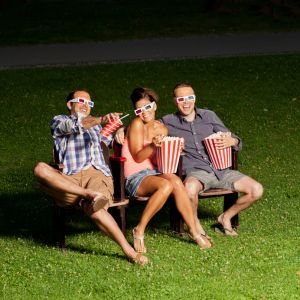 Some of us are old enough to remember December evenings, sitting on fold-out chairs or on the hoods of cars at the local drive-in cinema. These days, though, kids are more likely to see the latest Disney movie in a multiplex theatre. However, that doesn't mean the experience of enjoying a picture under the stars is lost.
During the warmer months, you can find rooftop and open-air cinemas across Australia – many of which screen the family classics that you grew up with. There are still a few drive-in cinemas in operation too, although you may have to drive a little out of your way to find them.
Farmers' markets
Local farmers' markets can be a great way to teach children about where their food comes from, while also supporting Australian farmers and growers.
Some markets even feature their own petting zoo. So, children can spend some time with friendly farmyard animals such as lambs, geese, and working dogs. Parents will enjoy the community atmosphere as well as the walk in the sunshine. They can also stock up on fresh vegetables and fruits for summer snacks and barbecues.
Go-karts
Your kids have probably spent hours cutting laps on their favourite videogame console, now take them out for a taste of real life racing. Go-karts are a fun way for kids to take to the road in a safe environment. They'll love driving, just like mum and dad. You can even race them if you want. Some tracks offer two-seater karts for the younger ones, as well as barbecue and picnic facilities for making it a day out.
Volunteering
Whatever your religious beliefs, or lack-thereof, the holiday season is a good time to teach children about charity and the importance of giving back to the community. Importantly, though, volunteering can be a lot of fun too!
You can plant seedlings as part of conservation efforts. You can don gloves and help to clean up your local park. Or you can gift wrap presents for donations to charity. Boys and girls are sure to love learning about nature while also doing a good deed. It's also a great opportunity for them to meet the neighbours and to make new friends.
Art and crafts at the park
During the school holidays, local parks and public spaces often offer arts and crafts activities for the kids. Everything from painting groups to kids' yoga classes are available. Many of these events are also free, so they can be a good choice for families on a tight budget. Paints and equipment are usually provided. But you'll need to pack your own lunch. Still! What's better in summer than a picnic at the park?
Sports and adventure activities, such as archery and dancing classes are an option for active kids. However, these classes tend to attract a fee.
About the author
Ace Karts is Melbourne's premier outdoor go-karting. With karts specially for the kids and bigger ones for the grown-ups, the whole family is sure to have a blast on our track.